Chinese government threatens mail couriers with hefty fines for circulation of any religious materials, as the goal is to eradicate them completely.
Xin Lu
In China, the sale of Bibles has been prohibited, and now it's not permitted for people to mail them, too. One house church preacher in northern China's Henan Province told Bitter Winter that in March of this year, he wanted to send a copy of the Bible to his nephew via YTO Express, but one of the company's employees refused, citing government law prohibiting it.
"It isn't only us. Other courier companies can't deliver them either," the employee said. The courier can earn 2 RMB (about $0.30) for each copy sent, but if the authorities discover them, they'll be subjected to a fine of 2,000 RMB (about $300).
The preacher was disappointed, considering that the CCP has made it impossible to purchase Bibles as early as March 2018, removing them from the shelves of major regular and online bookstores across China. He never expected that mailing the Bible would not be possible either.
In late 2018, a believer from Wenzhou City, in eastern China's Zhejiang Province, was preparing to mail some religious calendars via Best Express but was rejected. The courier company's staff said that this is a national regulation; as soon as they are found to have violated this rule, they will be fined. The regulations began to be implemented in 2017.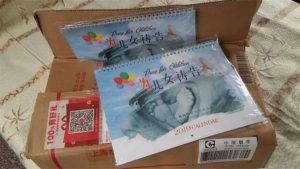 One courier company employee told me that during the shipping process, some packages are opened for random inspection. If religious books are found en-route, the courier will be fined 4,000 to 5,000 RMB (about $600 to $750), and the courier company will incur a fine of 10,000 to 20,000 RMB (about $1,500 to $3,000). He also revealed that since March last year, all courier firms have begun to implement a real-name system to register mailed items, the main purpose of which is to be able to track down the source.
Books involving political discourse are also included on the list of banned items for mailing. In the office where STO Express employees inspect parcels, the company's management has posted a proclamation promoting the "elimination of pornography and illegal publications." The poster reads as follows: "Do not make rash comments about national leaders and avoid political topics. Be alert about the vertical Traditional Chinese characters, and don't forget to inspect their content. Do not receive or mail illegal publications from Hong Kong, Macao or Taiwan. Content related to xie jiao, reactionism or separatism must be censored. Reproduction of pirated content is an infringement of rights, in violation of laws and regulations, and delivery of such items is prohibited. Strict inspections will be carried out when receiving or sending items under the real-name system, and those responsible will be held accountable. If a lead is discovered, it should be promptly reported. Let us work together to ensure secure mail delivery."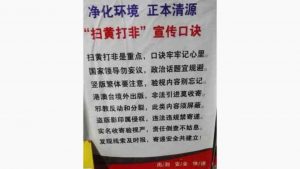 source:BITTER WINTER/Xin Lu