President Xi Jinping's dream of a "big family of the Chinese nation" came closer this Spring Festival, with a concerted drive to assimilate Uyghur Muslims as never before.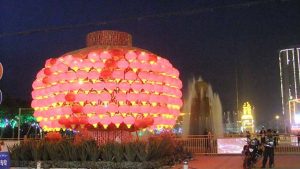 As Spring Festival fever grips the Middle Kingdom, the darker side of Beijing's war on terror mingles insidiously with the celebrations. Three thousand kilometers on the other side of China, beyond the reach of the Great Wall, the Lunar Year of the Pig has heralded a renewed push to ensure that Uyghur Muslims knuckle down to President Xi Jinping's vision of a New Era.
He could not have chosen a worse year to push his relentless experiment of uniting all 56 minorities under one flag since, for Uyghur Muslims, pigs and their meat have connotations which fly in the face of their Islamic beliefs.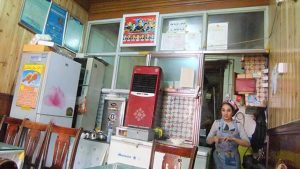 But this might not be an accident. Uyghurs this year have been compulsorily roped in as never before to take part in the festivities with their Han friends and compatriots, who they have been forced to adopt as "family," after last year saw a million Han Chinese cadres dispatched to every part of Xinjiang to live as "relatives" of Uyghur farmers. The drive is adding insult to injury after two years of unprecedented oppression which has seen at least one million Uyghurs sent to transformation through education camps, extrajudicial imprisonment or simply disappear in accord with the Chinese government's stated ambition to rid the region of the "virus" of Islam.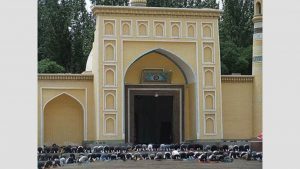 Reports that celebrations kicked off with pork meat distribution to outlying Muslim villages in the Ili Kazakh Autonomous Prefecture are in line with other moves the government has been making to discourage the practice of Islam. Mosques have closed or been demolished throughout the region, and now Friday prayers are a thing of the past.
"We are too afraid to go to the mosque anymore," said Tursun, a shopkeeper in downtown Urumqi. "For the past year, entrance with ID cards has meant that we are checked up on and risk re-education or worse, if we go." This used to be the highlight of his week when he would gather with thousands of other men to worship and then socialize with friends over lunch or ice cream afterward. "Now we can't even give our normal greeting 'Aslaamu Aleykum' or say 'God bless you' when we part," he said. "We used to pray openly after food but now are even afraid to do that. People are watching everything we do, and there are cameras everywhere. They want us to stop believing in God and become Chinese," he added scornfully.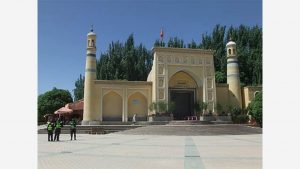 Uyghurs have always eschewed the festival. The more intransigent among them, pouring scorn on the holiday and complaining about pollution caused by two hours of fireworks at midnight and firecrackers to ward off evil spirits. Others simply ignore it and enjoy the time off work or studies. "This is not our new year," complained Ahmetjan, a university math student. "We have our own traditions as Muslims and keep our own religious festivals of Ramadan and Korban. Our own new year holiday is Navruz, on March 21st." He added: "We don't force the Han to keep our holidays. Why are we being forced to keep theirs?"
This year as never before, those masterminding the New Year festivities have compelled Uyghur school children to dance and sing New Year songs, dressed in traditional Chinese costumes, Uyghur officials to show evidence of their progress in "sinicization" by eating and drinking alcohol together with Han, and ordinary Uyghur people to paste the familiar red good luck banners on either side of their doors to show they are loyal Chinese citizens.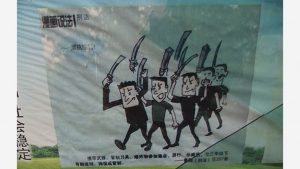 Reports on government approved websites and newspapers have come in from all around the region of Uyghurs rushing home to celebrate the festival with their families and Chinese "relatives," hanging Chinese red lanterns in the streets, pasting fortune couplets onto door frames and making dumplings, the special Han New Year dish. Everyone interviewed for these news reports would have known the numbers of relatives and friends missing in the camps on their doorsteps, but each had to be enthusiastic about the holiday and unanimous in their praise for Xi Jinping and his plans for China. Their own necks were at stake.
Against the sinister backdrop of mushrooming re-education camps and orphanages for tens of thousands of children abandoned once their parents are taken away, local Uyghur officials had no alternative but to be effusive in support of the regional leaders who they agreed were the best they have ever had in power.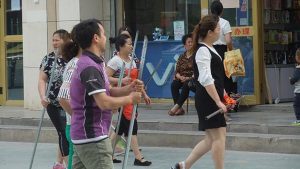 President Xi Jinping in his Spring Festival address stepped up his call for patriotism and fervent socialism, and the Xinjiang Daily newspaper reiterated the need to continue the fight against the three evils of separatism, terrorism, and religious extremism. The battle would be long and protracted, it predicted with particular dangers from "two-faced" officials who "lurked beneath the surface" hoping to destroy the State from within. The government would step up its efforts to purge ideological error in the fields of education, religion, and the public sector.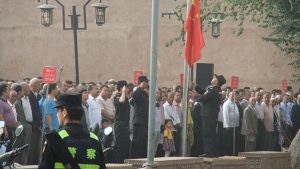 In rhetoric reminiscent of the Chairman Mao era and the Cultural Revolution, the rallying cry concluded with a mandate for a witch hunt to "courageously speak out" and prevent hostile forces from regrouping or subtly eroding the tenets of socialism in society. "Love the Motherland, love the People, love the Communist Party of China!" The "dormant" "two-faced people" who "eat Communist food and smash the Communist Party's pot" should be "rooted out" and never be allowed to win.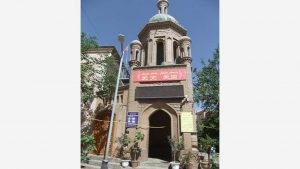 This year's Spring Festival message to Xinjiang's Uyghurs is clear: Bow the knee to Xi Jinping and his vision of New China, assimilate or perish. There will be no letup. The language is combative and the methods brutal.
SOURCE: BITTER WINTER/Ruth Ingram