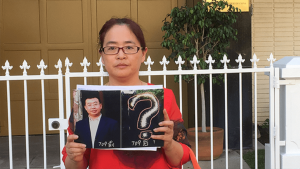 Authorities in the central Chinese province of Henan say jailed rights lawyer Jiang Tianyong will be taken to a location chosen by police following the end of his prison sentence on Thursday.
Jiang is scheduled for release from Henan's Xinxiang No. 2 Prison on Thursday, at the end of a two-year jail term for "incitement to subvert state power."
But Jiang's U.S.-based wife Jin Bianling said he may not regain all of his freedom in spite of being released from prison.
State security police called on Jiang's family members in recent days to inform them that the plan had changed, and that he wouldn't be allowed back home on his release, Jin said.
"[They] said that they would be taking him instead to the provincial capital Zhengzhou, where the authorities would find him a place to live and a job, because Jiang was … born in Henan and his registration is there," Jin said.
His family had said earlier they would travel to the jail to meet him on his release, and feared he would taken away before they could see him.
The state security police had told them that they could still travel to the jail to see him before being taken back to their hometown of Xinyang under police escort, Jin said.
Jiang's sister Jiang Jinping would be allowed to visit her brother in Zhengzhou and find out about the "new life" police had arranged for him, they said.
A person's hometown in China isn't always their place of work or residence as an adult, and some dissidents have been effectively isolated from their former lives by authorities in the home of their birth, and unable to take up their former employment.
At further risk of torture and ill-treatment
Jin said the family is also worried that Jiang could be "disappeared" on his release, putting him at further risk of torture and ill-treatment.
"That's what happened to [fellow rights lawyer] Gao Zhisheng, who was disappeared and denied medical treatment," she said.
"Jiang Tianyong has been forced to take medication in there, and his sister said his skin tone had gotten darker and his face was gaunt, so who knows what his state of health is," Jin said.
The family had been hoping that Jiang would be allowed to return to Beijing, where he had been based for a number of years before his arrest.
"Jiang Tianyong and I lived in Beijing, where it's easier to get physical checkups and medical treatment, for many years," Jin said.
"Zhengzhou is nothing but his place of registration; he hasn't lived there for years, and he has no place to live," she said. "He has been behind bars for two years, and I think they should let him be reunited with his family now that his sentence is up."
Former political prisoners are frequently "released" from prison sentences in China, only to find themselves taken to an unknown location immediately afterwards, according to Patrick Poon, China researcher for Amnesty International.
Others are placed under close surveillance, sometimes with cameras in their apartments, and are barred from talking to the media or traveling without police permission. Many face grinding poverty, while family members can find their jobs or schooling affected.
Poon said Jiang is has likely been subjected to torture or mistreatment during his detention, and the authorities don't want the details to get out.
"It's very likely that Jiang Tianyong has suffered serious and inhumane treatment while locked up, and there has been little improvement in his health," Poon said. "The authorities are making these arrangements so as to cover this up."
"This could turn into a form of secret detention," he said, calling on the authorities to allow Jiang genuine freedom on his release.
Forced medication?
Last June, Jiang's family said he was being forced to take an "unidentified medicine" in prison.
Jiang's father Jiang Lianghou reported back on "terrible" conditions after visiting his son at the jail, with Jiang only allowed to take his allotted exercise in the corridors, not in the open air.
Jiang was also being prevented from buying basic necessities using funds topped up by his family for that purpose, and from receiving clothing parcels from his relatives, the family said.
Amnesty International said Jiang appears to be one among hundreds of human rights lawyers detained in a nationwide crackdown since July 2015 who have been force-fed medication.
Jiang's sentence was based on his setting up of a campaign group in support of rights lawyers detained in a nationwide police operation targeting the legal profession since July 2015, the prosecution said during his trial.
Jiang had "speculated" on politically sensitive cases, "incited others to illegally gather in public places" and "stirred up" public opinion, the indictment said.
He had also "seriously harmed state security and social stability" by "attacking and slandering the current political system, and attempting to overthrow the socialist system," it found.
Reported by Gao Feng for RFA's Mandarin Service, and by Ng Yik-tung and Sing Man for the Cantonese Service. Translated and edited by Luisetta Mudie.
Source: Copyright © 1998-2016, RFA. Used with the permission of Radio Free Asia, 2025 M St. NW, Suite 300, Washington DC 20036. For any commercial use of RFA content please send an email to: contentrequests@rfa.org.