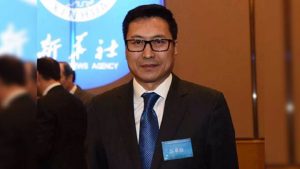 Exiled Hong Kong media boss Gu Zhuoheng, who has an Interpol red notice out for his arrest, has received death threats since tweeting that he will reveal details of assets owned by President Xi Jinping's family and other elite Chinese families, he told RFA on Wednesday.
"I was followed yesterday, and then today I received a lot of threatening phone calls today and death threats, trying to shut me up," Gu said.
Gu, chairman of Sing Pao Media Enterprises, which owns Hong Kong's pro-China Sing Pao Daily News, had earlier promised to reveal details of assets in southern China belonging to the president's relatives.
"I will gradually make public the extent of corruption in the Xi family, including the full range of their assets in Guangdong and Hong Kong," Gu tweeted on Tuesday, adding: "Watch this space!"
In a separate tweet, he accused the family of Xi Jinping of being "far more corrupt" than those of former president Jiang Zemin, former premier Zhu Rongji and former president Hu Jintao, among other current and former Chinese leaders.
He declined to give specific evidence of his allegations against Xi when interviewed by RFA, however.
"What I can tell the people of China and Chinese officials is that Xi Jinping is the most corrupt person in China," Gu said. "His family is the richest of all of the [elite] families."
He said he had obtained very large amounts of evidence detailing Xi-linked assets in Hong Kong and mainland China, including companies and stakes in companies linked to Xi's brother Xi Yuanping and the president's sister.
"There are also [assets linked to] the family of [late supreme leader] Deng [Xiaoping], including assets owned by his children, as well as Xi's closest aides, his immediate entourage, and other members of the Politburo standing committee," Gu said.
"They total around one trillion U.S. dollars in overseas assets," he said, adding that he has evidence of thousands of companies held from China and Hong Kong to Europe, the U.S. and the Middle East, with more than 3,000 company holdings in Hong Kong alone, the majority of which are shell companies.
Layers of shell companies
He said the assets are often holdings in extremely well-known Chinese state brands, carefully disguised with layer upon layer of shell companies, in a complex web of ownership enabling the ultimate owners to make "illegal overseas investments" without being noticed.
"A lot of them are companies that are household names, and which just look like regular state-owned enterprises on the face of it," Gu said. "But members of Xi Jinping's family control them from behind the scenes, and you can't immediately tell."
"You have to go through a lot of layers before you reach Xi Jinping's family; for example, they would get shares in company B via company A, but then company C holds a stake in company D, which holds a stake in company B: it's that complicated," he said.
"On the face of it, it all looks totally legal, but in reality, when you dig deeper, it's all illegal," he said.
Gu is currently living in California after leaving China on Feb. 25, 2015.
In July 2018, China put out an Interpol red notice for his arrest, accusing him of illegal financial activities in Guangdong.
Gu fled China after the Sing Pao ran a series of editorials criticizing then Hong Kong chief executive Leung Chun-ying and his connections to the Chinese leadership.
Beijing has accused Gu of involvement in a fraudulent investment scheme. State news agency Xinhua reported last July that he was allegedly involved in a criminal case linked to Shenzhen-based financial platform cnmeidai.com, to which a few hundred people fell victim.
According to the Interpol warrant, Gu faces charges of "illegally absorbing public funds" under Article 176 of the Criminal Law of the People's Republic of China, which carries a prison sentence of up to 10 years.
The crimes were allegedly committed from December 1, 2012 to November 30, 2014 in Shenzhen, Xinhua said.
Reported by Tam Siu-yin for RFA's Cantonese Service, and by Shi Shan for the Mandarin Service. Translated and edited by Luisetta Mudie.
Source: Copyright © 1998-2016, RFA. Used with the permission of Radio Free Asia, 2025 M St. NW, Suite 300, Washington DC 20036. For any commercial use of RFA content please send an email to: contentrequests@rfa.org.