Christian calendars, couplets or religious texts are banned and suppliers penalized, as authorities provide to believers counter-propaganda extolling Communism.
Bitter Winter has reported that authorities in Henan Province are prohibiting believers from posting religious couplets, and distributing to churchgoers "counter-couplets" advocating "loving the Party." New reports highlight the lengths to which Henan authorities are going to police thought and punish those who produce or distribute religious materials.
In February, the Urban Management Bureau of Lushi county, in Sanmenxia, a prefecture-level city in the west of Henan, issued a document entitled Statement of Commitment for Consciously Resisting Illegal Religious Activities, which includes the following orders: During the Spring Festival, organizing celebrations or promotions with religious overtones in public places is prohibited. Posting, hanging, or selling promotional materials or goods (such as couplets, ceramic tiles, murals, etc.) with religious themes is prohibited. Posting promotional materials or advertisements related to religion is strictly prohibited. Violators will have the relevant items confiscated.
As a result, not a single vendor in one of the county's local markets visited by Bitter Winter was selling couplets or calendars related to religious belief.
"In the entire market, no one dares to sell them," one vendor told Bitter Winter. "The urban management officers warned that people are not allowed to buy or sell any paintings, works of calligraphy, or couplets that are related to religious belief. As soon as such items are discovered, the vendor's stall will not be allowed to continue operating. These are the state's major policies and guidelines. They are conducting very rigorous inspections this year. Manufacturers don't dare to produce such items either. Every day, government personnel come to do inspections and take photos."
The monitoring and punishing have also spread to those who produce religion-related materials. As an example, on December 28, 2018, in Biyang county of Zhumadian city, more than 20 officials and police officers stormed into a printing house run by a Christian from the Great Praise Church and seized her computer and fined her 10,000 RMB (about $1,430). The reason for the fine? The woman printed some single-page calendars containing a cross that a believer was distributing to people on streets. Later, the printer was able to get the fine reduced to 2,000 RMB (about $290).
Bitter Winter continues to receive reports from Henan about the churches and individuals that have been persecuted because of the distribution or display of religious materials and couplets.
On January 13, the leader of Enhui Church in Yanji town, under the jurisdiction of Yongcheng city, distributed a calendar, with an image of a cross, to each believer. Since the sale of any Christianity-related calendars and couplets has long been prohibited in the locality, believers were thrilled to receive such a New Year's gift. The church leader instructed them to fold the image of the cross for their own safety to avoid being reported. Even so, the local officials soon learned about the calendars.
On January 21, all the leaders of Three-Self churches in Yanji town were convened for a meeting. They reprimanded and insulted the pastor and leaders of Enhui Church, saying that by distributing Christianity-related calendars they were adopting a confrontational position against the government. The officials demanded that each of the 1,000 calendars be recovered from believers, or the church would be shut down.
After the meeting, police took the leader of Enhui Church and one of the preachers to the local police station to "study the policies of the CCP for one week." The local government ordered that all of the church's activities be stopped on the grounds that "the church's fire control facilities are substandard." To protect the church, the believers handed over the calendars, which were later burned.
According to sources, the government also imposed a heavy fine of 28,000 RMB (about $4,000) on the church. After implementing a series of "reforms," the church was put into use again one week later.
The traditional Chinese practice of posting poetic couplets in and around homes for festivals, has also proved to be a problem. Before the Spring Festival, a Christian in a village in Weihui city posted a pair of Christian couplets on the door, but her husband, who is a village official, tore them off.
"The government doesn't allow Christian couplets to be posted," he said. "You're going to get us blacklisted!"
He explained that authorities had taken a decision to fine anyone who posts a Christian couplet 2,000 RMB (about $285). "After the Festival, the government will crack down on households that have Christian couplets. I'm scared since officials will face harsher punishment! If you disobey the Communist Party, they will devise every possible method to punish you. Who isn't afraid of them?"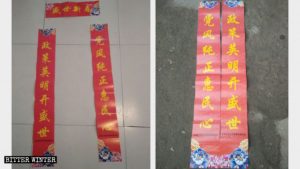 To replace Christian couplets, the local government is distributing couplets advising citizens to "love the Party." The pastor of a Three-Self church in Gaozhuang town under the jurisdiction of Yongcheng city expressed his concerns. "It is against our faith to post Spring Festival couplets that praise the Communist Party. But if we don't post them, the CCP might use this as an excuse to seal off the church. Now, even if we do the slightest thing that the CCP deems disagreeable, they will look for a chance to shut us down."
The leaders of some Three-Self churches in Chenji town have also received threats from the local government. They have been told that they would be held personally responsible if any believers posted religious couplets, and their churches would be closed. Provincial government officials were expected to conduct unannounced inspections.
This year, Christians in Kaifeng city's Weishi county received couplets with the admonition to "love the Party" and wall calendars with portraits of Xi Jinping. Government personnel demanded that believers hold the calendar and couplets and they took photos of them. Some officials even posted the "love the Party" couplets in believers' homes.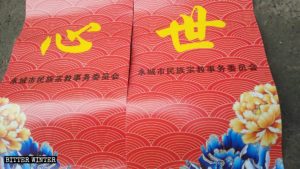 One grassroots government official from Yiyang county said, "Christian couplets are not allowed to be posted. The Communist Party is afraid of riots and rebellion, so it has to monitor them [Christians]."
Source:BITTER WINTER/Jiang Tao