Mobile app seeks to dominate workers' free time, indoctrinate citizens as they compete to attain high scores to satisfy Party and keep their jobs.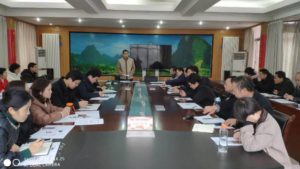 The Central Propaganda Department of the Chinese Communist Party (CCP) has been pushing the "Xi Study (Xue Xi) Strong Nation" app. The name of the app is a play on words, "Xi" being both the President's last name and the second character in the Chinese word xuexi (学习), which means "to study." The name implies that the study of the President's thinking is the most important study of all.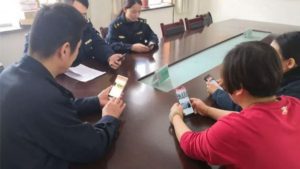 The app is available on both the Apple and Google Android stores, while many other apps (including religious-themed ones) are banned. In just a short period, the program has surpassed other popular apps in China such as TikTok and WeChat, and vaulted to the top of downloads rankings. But the overwhelming majority of these tens of millions of downloads are Chinese citizens being forced into lives of "study."
Bitter Winter has already reported about the digital cult of personality being built around the person of Xi Jinping, and about the stark contrast between the "Catholic Little Helper" app being suppressed at the same time that the Xi app is being promoted. But what is the experience of the average citizen who is forced to use the app?
Heavy Government Promotion, Reminiscent of Cultural Revolution
On January 21, a primary school teacher from Qingdao city in Shandong Province received a message from the school's WeChat group. The message demanded that all personnel of all units under the Education and Sports Bureau, including all teaching and administrative staff, were required to install the "Xi Study Strong Nation" App before 4 p.m. that day. The registration rate was expected to be 100%, and that each employee's registration status would be reported to the Education and Sports Bureau.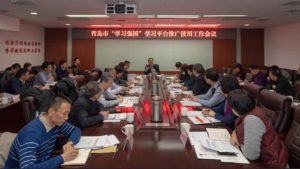 The software requires people to register using their real name, so school leadership had a record of all teachers who didn't download the app. Those who didn't download it were warned. Some older teachers who didn't know how to do it had to ask for assistance.
But it wasn't only government and public-sector personnel who were forced to install Xi Study Strong Nation. From January 22-25, the village committee of Dong Zhaojiazhuang village (in Jiaozhou city, Shandong) transmitted a broadcast for three consecutive days demanding that all villagers aged 60 and under bring their IDs and smart phones to the village committee office. There, they would register and have the government officers download the app for them.
Xi Study Strong Nation is being vigorously promoted by all local governments across the country. The governments of some regions have even convened special meetings over the matter, treating it as a political task to be supervised and implemented by the local Propaganda Departments of each province and city. As a result, the app's downloads ranking remains steadily high to date.
The extraordinary downloads of Xi Study Strong Nation have attracted the attention of the world. Some are reminded of the "Quotations from Chairman Mao Zedong" (《毛主席語錄》), known in the West as the "Little Red Book" and commonly nicknamed as the "Red Treasure Book"(紅寶書) by Chinese people. This book was vigorously promoted and widely distributed by the CCP regime during the Cultural Revolution, and was reportedly ranked number two in international circulation, second only to the "Holy Bible." The power of government promotion cannot be underestimated.
Following the outbreak of the Cultural Revolution, Lin Biao, Mao's second-in-command, called for the "study of Chairman Mao's writings – to be studied inquisitively, flexibly and pragmatically, and combine learning with usage," setting off an upsurge of "study" and creating the foundations for Mao Zedong's cult of personality.
An elderly man who experienced the Cultural Revolution told Bitter Winter that people used to memorize the "golden phrases" of the Little Red Book. It was a symbol of their loyalty to the Party. Reciting some words from the "Quotations from Chairman Mao Zedong" from memory could even help a person to evade strict political censorship.
Complaints About Forced "Study" Rise
Xi Study Strong Nation is also using points system to quantify the loyalty of citizens to the Party.
The Chinese New Year was anything but restful this year for nurse Zhang from a hospital in Qingdao city. As soon as she got a break during the holiday, she took out her cellphone to look at the news. Taking note of this uncharacteristically diligent "studying," her family was perplexed.
Ms. Zhang explained to her relatives, "The Qingdao municipal government is demanding that everyone from public-sector organizations, even street sweepers, pay attention to issues of national interest, such as Chairman Xi Jinping's activities. We have to know whether or not he is holding meetings or inspections domestically or going abroad, and what he's saying and doing. We are also required to answer questions and fill out forms. If anything interferes and we can't look at the news or we don't answer the questions, we lose points."
Several of Zhang's colleagues have also complained in private that Xi Study Strong Nation takes up too much of their personal time, especially married couples who have both work and house duties, and now have to use their remaining rest periods to complete study tasks. However, no one dares to oppose.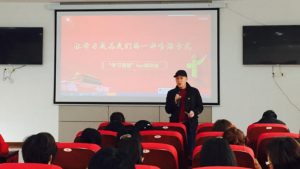 "The biggest headache is the points system and question and answer functions," one primary school teacher complained. "The setup of this app's scoring system forces us to 'study.' You get one point for every article you read, and the school uses the scores as a basis for bringing up praise and criticism with teachers. The school has even created a question-and-answer group with compulsory question items, and people can't relax during their time off."
Corporations help to enforce mandatory "studying"
Sino-hydro Corporation Engineering Bureau 15 Co., Ltd. has established a study-management organization to execute real-time reports on the status of staff participation, activeness, scores, etc. The company markets itself under the slogan "Log into the app, study current political affairs, do the questions, compare learning (progress)." The company aims to create a "dense learning atmosphere" that encourages "everyone to join in the study, and to compete with, catch up with, and overtake each other in study."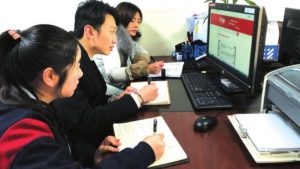 Some local governments have even promised to provide rewards to workers based on their scores. If they reach a certain level, employees can exchange points for book vouchers, movie tickets, museum tickets, data allowances with any of China's three main communication carriers, or high-speed rail tickets to go to designated 'Red' tourist sites.
source:BITTER WINTER/Li Mingxuan