CCP is tightening the purse strings on Three-Self churches by forcing them to deposit their money, i.e., Christians' tithes, into government-controlled bank accounts.
Ever since the new Regulations on Religious Affairs came into force in February 2018, the Chinese Communist Party (CCP) has placed the government-controlled Three-Self churches under stricter control, upping their surveillance and ID checks and purging the preaching staff. Authorities have also launched financial regulatory policies to obtain comprehensive control over church finances.
A source revealed to Bitter Winter that some Three-Self churches, in places like Shangzhi city in northeast Liaoning Province and Jalaid Banner in the Hinggan League of Inner Mongolia, have opened bank accounts that are supervised by the National Security Brigade and the Religious Affairs Bureau.
The alleged reason for this government-takeover of money, according to personnel from the Religious Affairs Bureau of Jalaid Banner, is to prevent any people from taking the church money abroad. Now, whenever anyone withdraws money from the church offerings, the Religious Affairs Bureau will know about it.
This, naturally, upsets believers. As one church member, who wished to remain anonymous, said that CCP officials are extremely greedy and corrupt, and that putting the church money in their hands is less secure.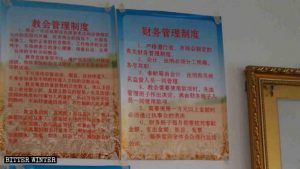 And that greedy corruption is evidenced by demands of local governments for Christians to make offerings – to fill up these government-controlled bank accounts.
Bitter Winter obtained a document issued by the Committee of the Three-Self Patriotic Movement (TSPM) of Protestant Churches in Linzi district on August 15, 2018, that designates August 19 as the "donation Sunday" and encourages Christians to make offerings on that day. The document demands that every Three-Self churches' meeting venue launch this program, initiated by the Zibo Municipal Two Christian Councils – the China Christian Council (CCC) and the TSPM, the two organizations governing the registered Protestant churches in China. Such donation Sundays should be organized in August each year.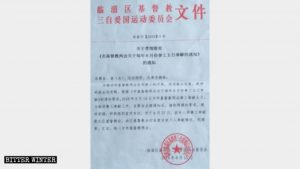 According to a source, the director of the city's United Front Work Department has set out the parameters of how believers should donate, saying, "People who believe in God must donate one-tenth [of their income] and must make offerings at least once per quarter. There is no limit on the donation amount; even 100 to 500 RMB (about $15 to 75) would be fine. There is no upper limit. Elderly Christians must donate at least 50 RMB ($7)."
He also demanded that the names of church congregants – there are 1,300 believers at the Three-Self church that the source attends – be registered in order to keep better tabs on how much people are giving.
Reportedly, authorities in eastern Shandong Province's Zibo city have also designated August as the month of compulsory donations each year.
"We are going to implement the offering program for 2019. Every preacher of every church must contribute 400 RMB ($60) per year," the deputy director of the Religious Affairs Bureau of Huimin county in Shandong's Binzhou city, who is also an elder of a Three-Self church, said. "Twenty percent of the monetary offerings made by the brothers and sisters of each church must be submitted to the government."
The government's forced levying of Christians' donations has aroused strong dissatisfaction among church pastors and congregants.
"The government is mandatorily levying offerings from Christians, without any consideration for the economic circumstances of our brothers and sisters," one person in charge of a gathering venue said. "Believers in God make offerings voluntarily. Besides, when we believers make offerings, we are offering to God, not to people."
source:BITTER WINTER/Yang Xiangwen