The director of a Taoist temple in Hubei Province was ordered to erect the Chinese national flag in front of his temple. He got sick, collapsed on the base of the flagpole, and died.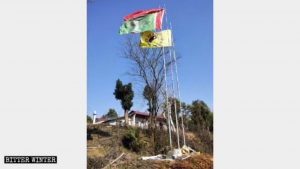 Cai Congxin
Bitter Winter has previously reported that the CCP was forcibly demanding that the national flag be raised at all religious venues in order to promote the sinicization of religion. However, a significant sum of money is required to buy flagpoles and to build flag stands. For some temples that have few visitors and limited resources, this is a heavy burden.
In September 2018, the president of Chinese Taoist Association in Xishui county, under the administration of Hubei's Huanggang city, demanded that Li Liyuan, the director of Xiannü Temple or Fairies Temple, buy three stainless steel flagpoles and erect the national flag in front of the temple. Afterwards, he gave Li three flags (one national flag and two Taoist flags), for which Li was required to pay 220 RMB ($33).
Li Liyuan thought that the stainless-steel flagpoles sold by the local unit of Chinese Taoist Association were of poor quality. Furthermore, the three flagpoles would cost 3,000 RMB ($445), which he felt was too expensive. In light of the temple's limited economic circumstances, in order to save money, he had no choice but to buy materials to make a flagpole by himself. In order to implement the government's requirement as soon as possible, although he had just recovered from cardiovascular disease, Li Liyuan started getting busy preparing to erect the national flag.
In late October, he spent another 1500 RMB ($74) to buy three steel tubes to raise the national flag. After welding the tubes together, he used a motorbike to drag the tubes halfway up the hill, and then carried them by himself to the temple on the hilltop. Later, he purchased three bags of cement for making the flagpoles' base, and carried them up the hill. Since he was so exhausted, he had to spend another 400 RMB ($59) to hire people to build a base for the flagpoles.
After the flag was raised, as Li Liyuan was preparing to use cement to level the flagpoles' base, he fell to the ground and became unconscious. After emergency treatment failed to revive him, Li Liyuan died later that day.
"He is gone now. There is no one to help me anymore. I'm all alone. My granddaughters and grandsons also cry because they miss their grandfather, which makes me so miserable," Li's wife, who was unable to conceal her sorrow, told Bitter Winter.
She said that since it was the government who demanded that the national flag be erected, they had no other choice but to suffer in silence.
According to local villagers, Li Liyuan's family was fully dependent on him for their living expenses. Now that he has died, the outlook for the family's life is bleak.
The absurd campaign to express loyalty to the government has not only angered religious figures, but moreover, it has squandered both manpower and resources. And now, a life has been lost as well. Behind the scenes of the raising of each national flag is the largely unknown sadness and suffering of a large number of religious people.
source:BITTER WINTER/Cai Congxin