Three-Self church pastors forced to undergo "ideological conversion." Xi Jinping and Mao must be preached together with Christ, or license to preach revoked.
Gu Xi
Since the new Regulation on Religious Affairs came into effect in 2018, the official Three-Self Church has faced increasing pressure. Churches have been torn down and meeting venues have been closed. But going deep to the core of the religion, the goal of "transforming" preachers has become a priority in an effort to "sinicize" Christianity and gradually erode the Christian faith.
In mid-December 2018, the Ethnic and Religious Affairs Bureau of Suiyang district in Henan Province's Shangqiu city conducted a three-day training session at the Three-Self Protestant Holy Love Church for all Three-Self preachers in the district. Exams were administered to ensure each preacher understands the policies and regulations of the Chinese Communist Party (CCP), a key requirement for them to continue to serve as a preacher.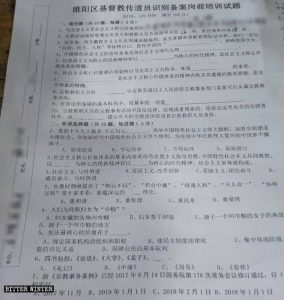 The main content of the training included "Xi Jinping Thought on Socialism with Chinese Characteristics for a New Era," the spirit of the 19th CCP National Congress, and "China's excellent traditional culture." The preachers who participated knew that such content is unrelated to the Bible, but they had to play along. If they didn't take part in the training and exams, their preaching qualifications would be revoked.
One preacher who wished to remain anonymous said that the director of the Ethnic and Religious Affairs Bureau intimidated them, saying, "You have no choice but to obey and accept. There is no room for discussion or negotiation. If you don't obey, we can let obedient people serve as church directors and come to preach…"
The exam and assessment questions covered all the topics mentioned about Xi Jinping's thought and party policy. Only those with a score of 80 points or higher are allowed to preach in the state-controlled church. The authorities no longer recognize any previous religious documents.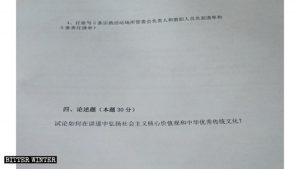 One elderly preacher told Bitter Winter that, in 1998, the church issued a baptism certificate to him. Eight years later, he obtained a basic-level qualification certificate of "church venue team management." In 2017, he participated in a quality improvement training course for Protestant pastoral workers in Shangqiu city and obtained a certificate of completion. "Now, all of these certificates are invalid," he said while holding the certificates in his hands.
Under the CCP's authoritarian control, most preachers have felt compelled to obey. But some have stubbornly refused to become "red" preachers.
Bitter Winter reported that some preachers in Henan Province's Sanmenxia city had their preaching qualifications revoked because they were "disobedient." In late February 2019, a preacher in the Urban-Rural Integration Demonstration Area of Shangqiu city who refused to take a political review examination, and refused to praise the CCP, was declared to have failed the exam and lost his preaching qualifications.
The preacher remarked, "If, according to the government's requirements, I have to talk about patriotism, preach about national policies, and praise CCP officials, I cannot do it. I would rather not be a preacher than offend God. People who believe in God have never been against the state, but the state should not force Christians to worship the government as if it were God."
Another preacher from Shangqiu who graduated from a theological college remarked, "Preachers who have gone through training and examinations no longer talk about 'the way of God' when standing on the holy podium. Instead, they preach about how good the government's policies are. The authorities are brainwashing people to erode the Christian faith." He reminded believers to remain vigilant, and he stressed that Christians should obey God rather than man.
source:BITTER WINTER/Gu Xi