The Chinese authorities have linked religious issues with the local governments' performance in office, intensifying religious persecution.
Xin Lu
By appraising an area as a "civilized city" or "civilized village," the Chinese government is attempting to set an idealized societal model. To do so, an area's economic development and construction of "spiritual civilization" are used as the selection criteria, but specific standards vary from place to place. If an area is designated as "civilized," it will receive recognition or be financially rewarded.
The presence of religion, however, is regarded negatively, and to receive government's appraisal, approval, and financial support, communities are forced to get rid of places of worship. This is yet another means by the regime to eliminate religion.
On November 28, 2018, the government of Dingzhai village under the jurisdiction of Xinxiang city in central China's Henan Province demolished a Buddhist temple. According to residents, the village's Party secretary told them that since Dingzhai was selected as a "civilized village," the state would give the village a reward of one million RMB (nearly $149,000), but it won't be granted unless the temple is demolished.
"A civilized village cannot have temple," a local official said.
"The village cannot develop without funding. Besides, we worshippers are afraid that other villagers will blame us if the village doesn't receive the reward due to the temple's existence, so we had no choice but to agree to have the temple demolished," said a Buddhist worshipper.
Earlier, in September, the cross was removed from a Three-Self church in Huangzhuang village, Qingfeng county, under the jurisdiction of Puyang city in Henan. Government personnel claimed that crosses must be dismantled in order to create a "civilized county."
Villagers at the scene voiced criticism about this. One of them said, "The government is using the removal of crosses as a metric for creating a civilized county; they really aren't attending to their proper duties. Instead of paying so much attention to this matter, they should work on improving people's livelihood."
As Bitter Winter has reported, the Chinese government has used the creation of a "civilized countryside" as a basis to remove religious symbols from private homes or paint over the traditional colors of Buddhist temples.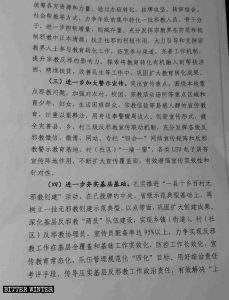 As for those religious groups that the Chinese Communist Party (CCP) has designated as xie jiao, the authorities have included the work of completely banning them in their "xie jiao-free township plan." The 610 Office of a county under the jurisdiction of Fuzhou city in the southeastern coastal province of Fujian issued a document in May 2018, stating that the authorities must promote activities for "xie jiao-free development in the county, ten townships, and 100 villages" (一縣十鄉百村無邪教創建) and "establish demonstration models of xie jiao-free areas, with one serving as a model for the entire area, to consolidate and expand the fruits of creating [xie jiao-free areas]."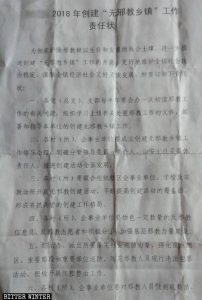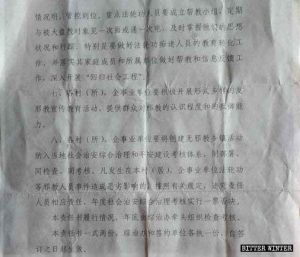 Bitter Winter obtained a document regarding the creation of a "xie jiao-free township," issued by the authorities of a town in southeast China's Jiangxi Province in 2018. The so-called "statement of responsibility" demands that each village, enterprise, and institution form a working group to create a xie jiao-free township. At the same time, they must also work together with schools and religious venues to carry out activities creating a "xie jiao-free" area. They must recruit "anti-xie jiao information officers" and intensify control over "xie jiao persons" in the jurisdiction.
source:BITTER WINTER/Xin Lu