Along with tens of millions of Party members and public officials, Three-Self Church believers are forced to use the mobile app "Xi Study Strong Nation."
Li Guang
Since the CCP launched "Xi Study Strong Nation" mobile app in January 2019, all Party members, civil servants, and teachers have been forced to download the app and study President Xi's thoughts and work, accumulating points for reading articles, watching and listening to speeches and answering questions. Members of the public have complained that it is like stepping back into the era of Mao Zedong.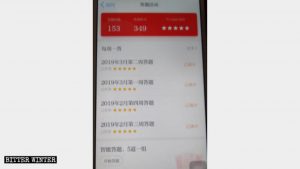 According to a March 27 report by Financial Times, as soon as the app was launched, programmers started looking for ways to cheat it and score points. One such program was Fuck-XueXiQiangGuo, uploaded free-of-charge to Microsoft's GitHub platform, that is causing quite a headache for the CCP. However, this hasn't seemed to affect the powerful offensive of "Xi Study Strong Nation" against the general populace.
Forced to "study Xi," doctors and teachers in no mood to work
An employee at a work unit in Pingqiao district of Xinyang city, in central China's Henan Province, told Bitter Winter that on March 14, he went to see a doctor. He noticed one doctor who, after examining a patient, immediately took out his cellphone to answer questions on "Xi Study Strong Nation" app, completely ignoring the patient next to him for over ten minutes.
Why was the doctor racing against time to study? According to the employee, to prevent people from cheating, time limits have been put on the app.
"You must study within the stipulated time; otherwise, you won't get points, which means you've studied for nothing," the employee explained. "The government has designated personnel to conduct inspections on the platform to monitor if everyone is studying. As soon as it is discovered that someone hasn't been studying, not only will they be considered to have a 'problematic political orientation,' but their wages will be reduced, too."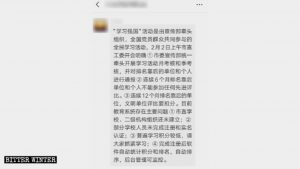 According to sources, since February, a middle school in Henan's Luoyang city has linked "Xi Study Strong Nation" with teachers' performance appraisals. If a teacher doesn't use the app to study, their eligibility to receive bonuses or earn advanced qualifications will be revoked.
Teachers at the school said that everything had been turned into a political task; employees are forced to study through the app every day instead of working on how to improve the teaching of their students.
One of the school's teachers told Bitter Winter that every day all of the teaching and administrative staff are trying to answer questions to increase their accumulated points, for fear that leaders will characterize them as "unpatriotic" or "politically problematic." This policy has caused teachers to become physically and mentally exhausted, leaving them in no mood for teaching.
Believers forced to study to love Party
It is not only public officials who are being forced to use the app. Now, this policy has been extended to include religious believers as well.
In mid-March, believers at a Three-Self church in Xinyang city's Pingqiao district were instructed by a local official to download "Xi Study Strong Nation" and attain at least 30 points every day.
When some believers said that believing in God doesn't require learning such things, the official rebuked: "Country comes before religion. Believing in God is something you can do in your spare time. Studying the Party's policies is the main thing."
Another official was even blunter. "It is because you believe in God that you are required to study and answer the questions. This is to change your thinking," he said, adding that thanking God instead of the Party, means that they needed to "study Xi" more.
Forced to engage in fraud to complete study tasks
The Party secretary of a village in Pingqiao district told Bitter Winter that every Party member in the village must download "Xi Study Strong Nation." Moreover, at least 120 people in each village are required to participate in the studies, or else the village's Party secretary will face trouble.
"Some Party members are of elderly age. They don't know how to use a smartphone, nor do they know how to answer the questions. We had to arrange for others to study in place of these elderly Party members and answer the questions on their cellphone," said the village Party secretary.
A local retired worker said that the CCP's approach is reminiscent of the Cultural Revolution when every family was forced to study Mao Zedong's quotations daily and write about their gains from the study. "Those who did not comply were treated as counterrevolutionaries and were publicly denounced, humiliated, and beaten. It's as if we have returned to the era of Mao Zedong," he said.
source:BITTER WINTER/Li Guang