More accounts about dismissed or demoted Communist Party members, demanded to sever any links with religion, under intensifying pressure from central authorities.
Gu Xi
On September 13, 2018, residents of Yedazhuang village, under the administration of Liudian township in Yucheng county, in Henan Province, were disturbed by the sound of stone being chiseled, coming from the local Buddhist Taishan Temple. As it turned out, local Communist Party officials were busy at work removing their names from the Temple's donor recognition stele.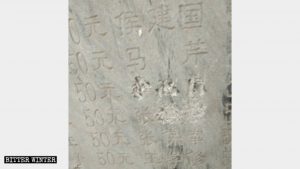 The reason for their hasty actions was a message on a WeChat group, demanding Party secretaries in each Yucheng county's village to urgently check if any donor recognition steles of temples contained the names of Communist Party members. If such cases were discovered during superiors' inspections, the guilty would be penalized according to the Disciplinary Regulations of the Chinese Communist Party. Adopted on August 26, 2018, the regulations foresee harsh punishment for political cadres' religious beliefs, and are called "the strictest in history."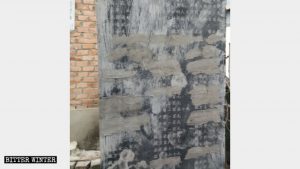 "It's like Cultural Revolution. People are only allowed to believe in the Communist Party. Anyone who dares to go against the Party's policies will be punished. A Party member in Jiazhai town was revoked of membership because he had donated 500 RMB (about $70) towards building a temple," a government official from Liudian township said.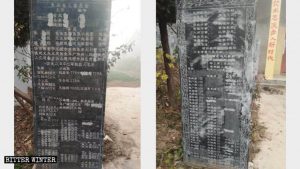 And the heads are rolling. Party members who had donated to places of worship have been expelled and had their family members implicated because of their faith. Moreover, Party members are required to comply with the Party regulations even after their death.
A former county-level official in Shandong Province's Zibo city passed away in December 2018 at the age of 76. The man became a Christian after he retired, and his greatest final wish was to have a religious funeral. However, when his church friends tried to hold a church ceremony for him, they were thwarted by government officials who claimed that their superiors didn't agree to a religious service since doing so would "affect the current leadership." As a result, the dead man's friends had no choice but to hold a religious memorial service in secret before his official funeral.
A long-term village official from Youxi county, under the administration of Sanming city in Fujian Province, was "exposed and criticized" because he had a hobby of fortunetelling. According to sources, in 2017, he was reprimanded and disciplined for telling people's fortunes in the past: for a year, he was not to be promoted or run for office.
In June 2018, during the elections for the position of the village secretary, villagers petitioned the town government asking to allow the official to run for office, but were told that it was useless to allow him to participate: "He has told others' fortunes. The city government won't approve such an election."
Dissatisfied with the government's decision, the villagers planned to hold a sit-in protest at the entrance to the government office, but were obstructed by authorities, and the village official lost the chance to be elected. In December 2018, he was demoted and transferred to work at a reservoir.
source:BITTER WINTER/Gu Xi