Protestant places of worship are pressured to join the government-approved Three-Self Church and submit to state control. Rebellious churches face consequences.
Tang Zhe
Since the new Regulations on Religious Affairs came into effect in February 2018, the Chinese authorities have been attempting to curb the growth of Christianity by ordering Protestant house churches to join the official Three-Self Church; those who don't comply are shut down.
This February, local authorities raided a house church in Yuncheng city, in north China's Shanxi Province after its leaders refused to join the Three-Self Church. Members of the congregation told Bitter Winter that since last year, government personnel have regularly visited the church to harass them into "becoming official." As a means of pressure, the authorities have installed surveillance cameras at the entrance to the church to monitor their gatherings.
On February 26, 2019, the local government teamed up with the police and hired some villagers to cut off the lock of the church gate. They then took away all the tables and chairs, religious posters, and the cross that hung over the lectern.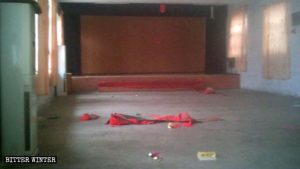 Two days before the raid, government personnel came to the church and ordered to seize congregating. One of the officials threatened the Christians: "If you come here to congregate again, your welfare benefits will be canceled immediately."
A few weeks later, authorities shut down a Great Praise house church in Tieshan district of Huangshi city, in central China's Hubei Province, also for refusing to join the Three-Self Patriotic Movement.
On March 19, the head of Tieshan district's United Front Work Department (UFWD) ordered the landlord of the building to stop renting to the church, claiming that all house churches that hadn't been approved by the UFWD constituted illegal congregation and that renting to such religious venues was unlawful as well.
Pressured by authorities, the landlord had to notify the church head that they must move out immediately although their lease hadn't yet ended.
Three days later, UFWD officials once again pressured the landlord, demanding him to repossess the building within two days and clear out all the churches belongings. That afternoon, the congregation site was forced to close and move out.
The head of the district's UFWD ordered the church head not to seek out another congregation site without the government's approval and stated that if they want to congregate again, they would need to join the Three-Self Church, submit to unified management by the government, and preach in accordance with UFWD's requirements. He also stated that to continue believing in God, they would have to believe in the state and the Party first.
The believers refused and now meet secretly in small groups to worship.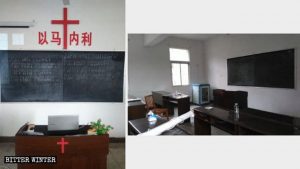 One of the church members stated: "Right now, we're facing high-pressure control and supervision. Christianity is undergoing "sinicization," we can only believe in Marxism-Leninism. Those who disobey will be treated in the same way as during the Cultural Revolution."
source:BITTER WINTER/Tang Zhe