The CCP authorities are intensifying anti-religious campaigns in schools, organizing marches and making parents keep their children away from church.
Wang Yichi
The Chinese Communist Party (CCP) is using a variety of pretexts to suppress religions. Through highly publicized nationwide campaigns, such as "cleaning up gang crime and eliminating evil" or crackdown on religious movements listed as xie jiao, the authorities are seeking to legalize their actions by painting religions as dangerous, and their suppression as something done for the common good and vital to the society's well-being. The manipulation of people's minds is most effective if started from an early age; this is why the Chinese authorities have been increasing their anti-religion efforts on school and university campuses, making it one of their top priorities.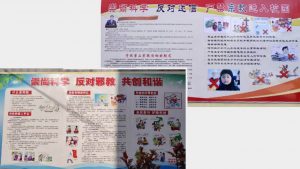 Campaign to "clean up gang crime and eliminate evil" enters schools
On April 4, 2019, a banner reading "Resolutely embrace the Central Committee of the Communist Party and the State Council's strategic plan for launching a special battle to clean up gang crime and eliminate evil" was posted on the teaching building of a primary school in Suiyang district of Shangqiu city, in central China's Henan Province. The same day, the school arranged for all of its students and teachers to sign a joint pledge promising "not to enter religious venues."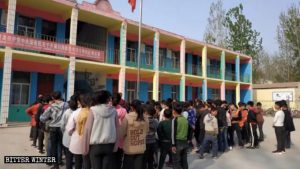 Around the same time, No. 2 Middle School in Lema township, an administrative division of Suiyang district, held a similar joint signing campaign.
One student said helplessly, "We don't even know what religion is. The principal just said that we wouldn't be allowed to leave until we signed our names. Teachers first signed it, and we signed afterward. When signing it, the teachers watched us from the side and took photos of us. We had no other choice; we had to sign it."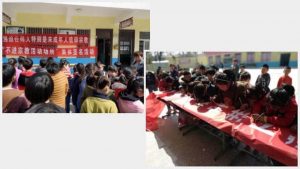 Parents forced to promise to keep their children away from religion
From March 22 to April 4, at least 26 schools in the administrative area of Henan's Lingbao city made students' parents to join the anti-religion campaign by signing a pledge promising not to let their children believe in any religious activities and keep them away from religious venues.
Video: A banner boycotting religion, signed by primary school students, was posted on a school wall.
Some schools even made the parents and their children pose for a photo, holding the signed pledge in their hands. They were also required to send the photo to the school's WeChat group as a way of supporting the campaign. Parents who would not cooperate were threatened to be "invited to the school for a talk."
Some students' parents have expressed dissatisfaction with this. One Christian parent said that the state's Constitution expressly provides for freedom of belief, but children aren't allowed to believe in religion or participate in any religious activities. "Isn't that dishonest and deceitful?" the parent asked.
School principals organize marches to boycott xie jiao
Other schools are coming up with more creative anti-religion activities, like a primary school in southeastern China's Jiangxi Province that organized its students to march the streets. On March 19, the principal of this school, located in Raobu town, Poyang county, under the jurisdiction of Shangrao city, organized students to beat drums and chant slogans: "Resist superstition. Believe in science. Boycott xie jiao" in the town's streets. The students were also distributing anti-religion propaganda leaflets to passersby.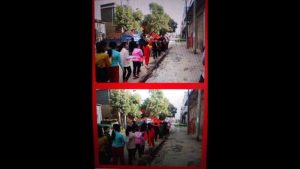 That same afternoon, the principal of another nearby primary school also took his students to march in a demonstration.
Some residents criticized this approach by the schools. They commented, "A school is supposed to be a place for study. How can schools become a propaganda front for the government to boycott religious belief? By organizing marches and encouraging students to discriminate against religion, these children are being put under intense indoctrination."
source:BITTER WINTER