Anything Islam-related must go: more reports on the Chinese Muslim minority being gradually deprived of any religious and cultural identity.
Wang Yichi
Following the guidelines of the five-year plan to "sinicize" Islam, provincial and local authorities are intensifying their efforts to dispose of anything related to the Muslim faith, indoctrinating believers in the process.
During the first days of April, the residents of Hui ethnicity in the Chanhe district of Luoyang city, in central China's Henan Province, received an increased dose of "patriotic education." On the eve of the Qingming Festival, a traditional Chinese holiday dedicated to showing respect to deceased ancestors, they were ordered to take part in the events that paid homage to Communist Party martyrs and visit a commemorative revolutionary exhibition.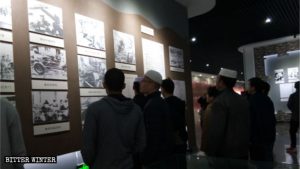 To reinforce the "sinicization" message by action, three days later, the authorities forcibly dismantled the crescent-moon-and-star symbol and dome-shaped structures from the entrance to the district's Tawan Mosque. The "education" was deemed successful since no one dared to protest or even watch the destruction.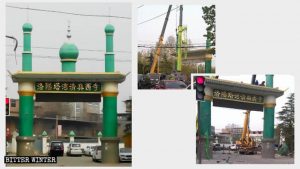 A local Hui resident commented, "The CCP promotes the 'great unity' of the 56 ethnic groups, but destroys symbols of our faith. Is that considered 'unity among ethnic groups'?"
Video: The traditional crescent moon and star were removed from the entrance to Tawan Mosque.
Earlier this year, Islamic symbols were removed from ethnic Hui schools in Zibo city's Linzi district, in the eastern province of Shandong. According to a teacher there, the local official demanded to replace all district's primary and secondary school's signboards that contained the words "Hui ethnicity" and "Hui people" or had any Islamic symbols with "New Era Civilization Vocational School." An accompanying order was issued, threatening to arrest anyone who would obstruct this process.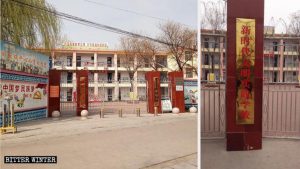 On January 17, government personnel of Jinling town, an administrative division of Linzi district, removed the signboards with Islamic symbols from the entrance to Jinling Hui Middle School and also from its cafeteria.
Around the same time, a plaque bearing Islamic symbols at a local Hui primary school was replaced with the "New Era Civilization Vocational School."
"By removing Islamic plaques, [the government] is seeking to remove our ethnic awareness, eliminate our faith, and 'sinicize' us," a teacher at the school remarked.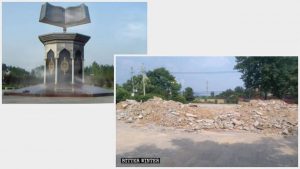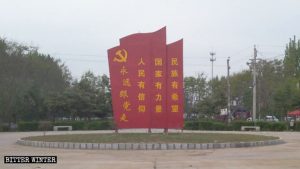 The constantly intensifying "de-Arabization and de-Saudization" campaign has been widely promoted across China since the new Regulations on Religious Affairs came into force last year. Symbols have been removed from mosques, Arabic-style buildings modified to look more Chinese, and Islam-related statues demolished. According to a recently obtained document, in April last year, the authorities ordered to demolish the 10-meter-tall Quran sculpture in Minzu Square in Shangdian town, under the jurisdiction of Wugang city. It was replaced by a four-meter-high propaganda sign, reading "The people have faith; ethnic groups have hope; the state has power; always follow the Party."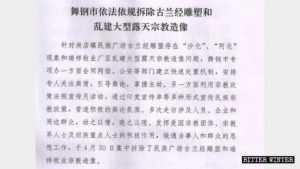 source:BITTER WINTER