Increased surveillance of ethnic minorities and people of faith was implemented in preparation for the 70th anniversary of the People's Liberation Army Navy.
Li Mingxuan
The celebrations of the 70th anniversary of the People's Liberation Army Navy that lasted for four days, ending on April 25, was a display of China's military power, led by President Xi Jinping himself and witnessed by more than 60 delegations from around the world. Held in the port city of Qingdao in the eastern province of Shandong, the event was a spectacle like no other: the military parade featuring China's 39 aircraft and 32 ships, musical performances, and other festivities.
To prevent any possibility of slipups or unrest, law enforcement in Qingdao, guided and supervised by the central government, implemented unprecedented "stability maintenance" measures before and during the Navy Day. Bitter Winter has reported that Uyghurs working in Qingdao were sent back to Xinjiang before the big event. New reports from Shandong reveal that other ethnic minorities and people of faith have also been targeted.
Believers investigated, religious venues shut down
According to a an official from a village in Qingdao's Chengyang district, in early March, each subdistrict and village committee in the area convened meetings to convey the central government's orders for Party members and grid administrators to intensify surveillance in their jurisdictions, investigating residents and outsiders under the pretext of "cleaning up gang crime and eliminating evil." A particular focus was to be placed on collecting information about residents' religious beliefs; Falun Gong practitioners and members of The Church of Almighty God had to be immediately reported, promising rewards for each found person.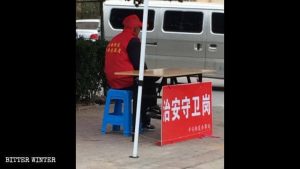 The crackdown on the religious in Qingdao intensified in early April, when officials from the Ministry of Public Security's anti-xie jiao supervision group arrived, demanding every grid administrator and building manager to ensure that no religious materials appeared within the area of their responsibility. Churches were ordered to shut down – house and government-approved places of worship alike.
A co-worker from one of the closed down churches commented that religious people always become key targets of surveillance every time the government holds a large-scale event. "As soon as Xi Jinping came to power, he vigorously cracked down on religion and designated religious groups as targets of 'cleaning up gang crime and eliminating evil.' The Chinese Communist Party (CCP) has really confused right and wrong. Even when drivers apply for vehicle permits, they must first obtain a no-faith certificate," the believer commented.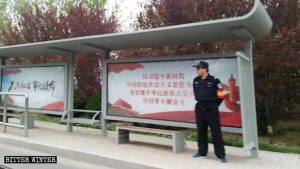 According to the notice issued by Chengyang district, wartime-like security and stability maintenance mechanisms were initiated starting April 15. All grid administrators were demanded to remain on duty 24 hours a day to ensure that everything goes smoothly for the Navy Day.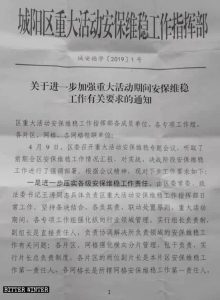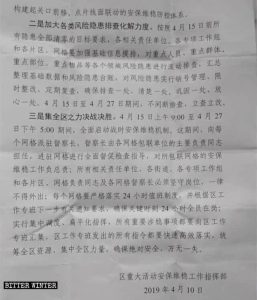 A security officer told Bitter Winter that the Public Security Bureau of Jiaozhou, a county-level city under the jurisdiction of Qingdao, issued to assistant officers in each village mobile phones with access to China's population database. During their investigations, officers could verify if a person under question had a criminal record or was associated with banned religious groups to take appropriate measures, including arrests of such residents.
Surveillance of ethnic minorities intensified
On March 21, over 300 building managers in Chengyang district were gathered for a meeting and informed to pay particular attention to ethnic minorities (including Huis, Tibetans, and ethnic Koreans) as well as foreign nationals living in their buildings. Any such resident had to be immediately reported to a local management committee or Public Security Bureau. All building managers were required to sign confidentiality agreements to prevent any leaks of information.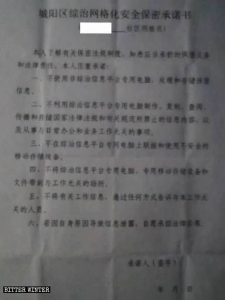 In some communities, emergency notices were posted, demanding homeowners to report any strangers on site. A resident complained, "The Chinese people have no freedom at all. Even if a stranger comes, we have to call the police. This is really scary! In the future, friends and relatives won't dare to come either."
Businesses and regular people suffer as well
The owner of a grilled meat shop was one among the many Xinjiang residents working in Qingdao who were forced to go home for Navy Day. Not being able to run his business, he suffered significant financial losses. "I don't know how long I will have to stay. The shop rent still has to be paid; I will lose at least 100,000 RMB (about $ 15,000)," the man complained.
The "stability maintenance" campaign also had a significant impact on the local retail, fishing, and construction industries. A fisherman revealed that a government order prohibited from going out to sea from April 18 to 26. The specially assigned personnel were patrolling the shore and arrested anyone who disobeyed.
LED shop signs were also included among the "stability maintenance" targets: faring that inappropriate information could be displayed by hacking the computers that run these light boxes, such signs were removed.
The authorities also ordered all construction projects to be halted, causing financial losses for building companies.
source:BITTER WINTER