Protestant meeting venues in Zhejiang and Fujian were demolished or closed down deemed as illegal or their land needed for government's purposes.
Tang Wanming
On March 12, more than ten government officials and special police officers from Chumen town in Yuhuan county-level city, under the jurisdiction of Taizhou prefecture-level city, in the eastern coastal province of Zhejiang, arrived at a Sola Fide house church, claiming that the church was an illegal building and had to be demolished. Members of the congregation were ordered to empty the church.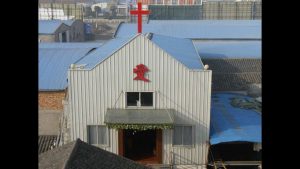 The police drove the church's head to the police station, drew his blood for the biodata database, and forced him to sign a statement of guarantee, promising not to convene gatherings of believers again.
One week later, commanded by local United Front Work Department officials, workers used an excavator to demolish the church.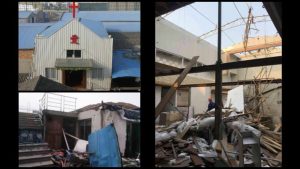 The church's believers revealed that the church spent more than 400,000 RMB (about $ 60,000) to construct the church. To avoid further persecutions, believers are now frequently changing venues for gatherings.
Video: Workers are demolishing the church.
In early April, a house church meeting venue in Tangxia town in the county-level city of Rui'an, under the jurisdiction of Zhejiang's Wenzhou prefecture-level city, was demolished under the pretext that the land – more than 1,000 square meters – was needed for the construction of an industrial development zone.
Eyewitnesses reported that more than 50 people surrounded the meeting venue, and an excavator razed the building to the ground.
Members of the congregation say that this meeting venue was founded 30 years ago, and the land for its construction was bought with the funding from the church. The church incurred losses of up to 3 million RMB (about $ 450,000).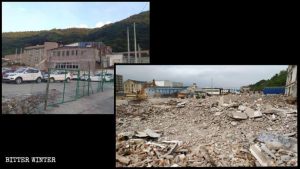 According to reports, in the past six months, at least seven house church meeting venues in Longyan city in southeast China's Fujian Province have been harassed by the government and ordered to stop holding gatherings.
On May 18, Xunsiding Church in Xiamen city was shut down by the local Ethnic and Religious Affairs Bureau. The church was founded by one of China's house church patriarchs, preacher Yang Xinfei (1928-2011).
Video: Government personnel gathering at the Xunsiding Church's entrance to stop believers from meeting there.
A house church preacher said that the government is cracking down on places of worship that are not approved by the government with the ultimate aim to eliminate such churches. "The Communist Party is afraid that having a large number of people who believe in God will threaten their rule," he said. "If you don't listen to them, you will end up just like Uyghur Muslims, tens of thousands of whom have been arrested and locked up in transformation through education camps, which they will never be able to leave."
Large and famous house churches, such as Beijing's Zion Church or Shouwang Church, Chengdu's Early Rain Covenant Church, Guangzhou's Ronggui Lane Church, as well as thousands of less well-known house churches or Protestant religious sites have been shut down since the beginning of last year for refusing to join the state-run Three-Self Patriotic Movement. According to reports, the CCP is implementing a well-organized nationwide campaign to reduce the number of Christian house churches to zero.
source:BITTER WINTER