The CCP is coming up with creative propaganda solutions to involve the general population in eradicating religious groups designated as xie jiao.
Lin Yijiang
The lists of xie jiao or "heterodox teachings," often misleadingly translated as "evil cults" by the CCP, have been created for centuries in China to eradicate religions disliked by rulers at different times. Having been revived in 1995, the current list of xie jiao includes the Falun Gong, The Church of Almighty God, the Shouters, and other religious groups that the CCP views as a threat mainly due to their fast growth. The authorities do not consider these groups religions and treat them as illegal organizations, mercilessly persecuting their adherents.
With constantly expanding propaganda efforts, the authorities are now mobilizing China's population to help them in cracking down on religious groups that the CCP has decided to be "bad" and need to be eradicated.
Suppressing religions through square dancing
In mid-May, authorities in Fuyang district of Hangzhou city, in east China's Zhejiang Province, organized an anti-xie jiao square dancing competition. High monetary awards of 3,000 to 10,000 RMB (about $ 430 to 1,450) were set up to encourage as many people as possible to sign up. Each participating team must first go to their township or sub-district cultural center to sign up and receive an instructional DVD to base their competition performance on.
Chinese square dancing is currently very popular among residents as a fitness activity characterized by fast speed and often performed in public venues, such as squares and parks.
Due to its popularity, the authorities employ square dancing to indoctrinate the public with the CCP ideology and anti- xie jiao propaganda. A member of The Church of Almighty God said that through participating in such popularized activities, the general population would choose the CCP's side in opposing religious belief, and practitioners in religious groups that the CCP has included on its list of xie jiao face the danger of being reported and arrested at any time.
While promoting square dancing, the authorities have also distributed a series of propaganda publications compiled by the Anti-Xie Jiao Association of Zhejiang, that include a lot of popular or interactive formats, like paper cuttings, nursery rhymes, folktales, picture books of sequential drawings, and alike.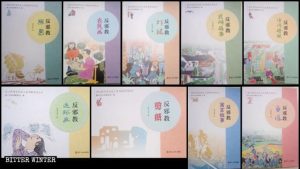 A local house church believer said, "Many people don't understand the real situation of these religious groups, but they can easily be incited to cooperate with the CCP and oppose them. The CCP exploits the masses so that they fight against each other. This is terrible."
"Anti-xie jiao" theme park in Wenzhou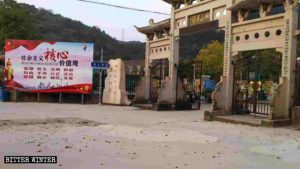 The village of Yan'er in Xianyan sub-district of Wenzhou city's Ouhai district established an anti-xie jiao-themed Shishan Park. Propaganda slogans like "Anti-xie jiao work has a bearing on the Party's ruling status," "Work hard to oppose xie jiao together," "Xie jiao harms the country, science makes the nation prosper" are displayed throughout the park. Even lawn stones are engraved with messages like "Resisting xie jiao starts with me."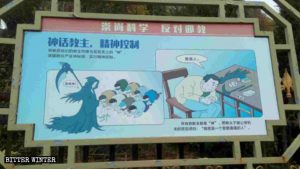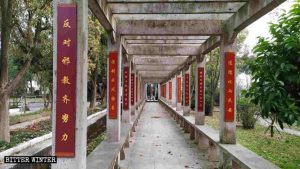 A local woman said, "I know that this propaganda isn't credible. I use my own judgment to understand religion." The woman is also concerned that for most people, such indoctrinating propaganda has a significant influence. She thinks that over time, people will start doubting their judgment.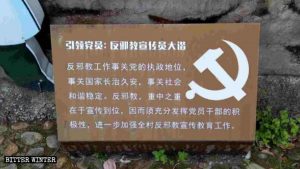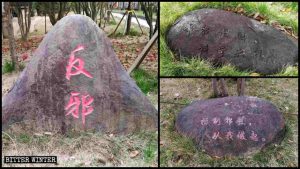 A sign calling Party members to resist religions: "Anti-xie jiao work has a bearing on the Party's ruling status," "To resist xie jiao, the most important thing is to have propaganda in place. Thus, the enthusiasm of Party members and officials must be fully unleashed, and anti-xie jiao propaganda, education work must be further strengthened throughout the village."
Masses mobilized to report believers
Municipal governments in southwest Sichuan Province carry out anti-xie jiao propaganda through public performances, speeches, parades, and public broadcasts.
In early April, a village in Yuechi county, under the jurisdiction of Guang'an city, broadcasted information about resisting religious belief through loudspeakers for several consecutive days. Villagers were told to report members of The Church of Almighty God, enticing them with monetary rewards of 500 to 2,000 RMB (about $ 70 to 290) for each believer who is arrested based on their tip-offs.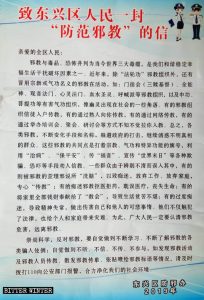 Around the same time, a village committee under the jurisdiction of Neijiang city held a working meeting to discuss the suppression of religion. "The government will strictly crack down on xie jiao organizations, especially people from The Church of Almighty God. The government will never be softhearted and demands to seriously dispose of such believers, investigate them village by village, and report anyone as soon as they are discovered," said the village director. He also emphasized that Party members who do not report these people would be expelled from the CCP or have their official duties revoked.
source:BITTER WINTER