A Uyghur woman living in Shanxi tells her sad story. Uyghurs living elsewhere in China are sent back to Xinjiang and arrested there if they look like devout Muslims.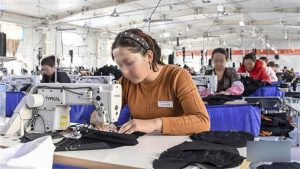 Zhang Feng
A Uyghur woman from north China's Shanxi Province, lives in a very tiny, yet allegedly temporary, home with her two sons. She told her story to Bitter Winter, asking us not to divulge her name. Her home is so tiny that a double bed fills a room that's smaller than eight square meters. The only valuable appliance in the room is an old TV. The kitchen has no water pipes or exhaust fans and it's shared with other tenants.
This is the lot she found herself in after her husband, a Muslim, went back to Xinjiang—home to a massive Muslim-minority population—to visit relatives in April 2016. But then he was arrested and sentenced to one of China's famous "transformation through education" camps; he must "study" there for six years before being considered for a release.
He's not alone. In December 2018, two Muslims who lived near the woman's rental property were forcibly sent back to Xinjiang. Her brother-in-law was also summoned back to Xinjiang by the authorities. This March, five more Muslims were forcibly sent back. The Chinese Communist Party, or CCP, are forcibly banishing Xinjiang natives who make a living in other provinces—sending them back to the place of their registered household. This is why, as the woman said she "dare not to go back [to Xinjiang]. The control [to which people are subjected] there is too strict…."
The woman said her husband was arrested because he doesn't drink or smoke, as most devout Muslims don't. But since May 2015, Xinjiang authorities have not only forced Uyghurs to sell both cigarettes and alcohol, but are arresting those who are reported for not partaking. It's part of China's police mentality. Those who don't drink or smoke are considered to have "extreme religious thought" and are thus susceptible to being arrested.
And so, she traveled back to Xinjiang, under great personal risk, to try to free her husband. But not only was she unable to, she found herself under strict surveillance and control. Every evening, she was forced to study law and the Chinese language. Every Monday, she was required to attend a flag-raising ceremony and sing the national anthem. In the evening, she had to learn Communist songs. If she didn't participate in these activities, she would be locked up in a transformation through education camp.
She was also forced to work at a government-run factory, working 12 hours a day and earning only about 1,000 RMB (or $150 USD). In short, not nearly enough for she and her two boys to make ends meet. Then again, she didn't really have a choice. If she didn't follow the government orders, she could have been considered a person having a "problematic ideology" and locked up in a transformation through education camp.
Instead, she moved back to Shanxi Province, along with her two sons, and doing all she could to survive. She has sold dried fruit in the winter and naan bread in the summer. Her monthly income is about 3,000 RMB (about $430 USD). Apart from her children's tuition and various living expenses, every three months, the woman is also requested to give 500 RMB (about $70 USD) to contribute to the expenses for her imprisoned husband.
Personnel from the local police station in Shanxi and of an agency known as the "Xinjiang Working Group in Shanxi Province" visit the woman at irregular intervals to inquire about her situation, give her books for learning law and the Chinese language, and demand that she send videos of her participation in each Monday's flag-raising ceremony back to her hometown. As a result, she doesn't do what's actually in her heart of hearts, which is to go to the mosque and worship.
"There are surveillance cameras everywhere in the mosque," she said. "As soon as we're photographed, the police will question us about why we went there and what our purpose was. Each time, I just stand outside the mosque, look at it from afar, and then leave," she said.
Although she can talk to her husband over the phone, each call is only three minutes long. She's not allowed to speak Uyghur and is required to speak Chinese only.
source:BITTER WINTER