A comprehensive crackdown is in progress: believers registered, sent to transformation through education "classes," more surveillance cameras installed.
Ye Jiajia
As Bitter Winter reported last week, the religious persecution in the eastern province of Shandong is escalating. In preparation for a visit from the central religious inspection team, local governments across the province have dismantled crosses, demolished temples, and vigorously cracked down on house churches. The recently received information indicates that the investigation of and control over religious venues and religious believers throughout the province is becoming more severe, paving a way to even more intense suppressions.
Religious venues thoroughly investigated
On April 19, the United Front Work Department of the Party committee of a county in Linyi city issued a notice, ordering to thoroughly investigate all Christian meeting venues and Buddhist temples in the county, reporting on the results to higher authorities.
The investigation of religious venues and believers is extensive in scope, and the division of tasks is highly detailed. Each state-run institution is given responsibilities to investigate every family housing unit. Meanwhile, the Education and Sports Bureau, Sanitation and Health Bureau, and Industry and Information Bureau are in charge of carrying out inspections into each school, health institution, and enterprise, respectively.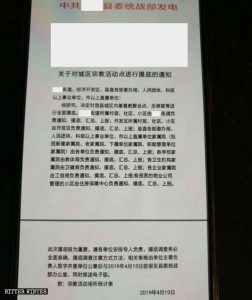 The notice also emphasizes that this investigation is crucial, so each unit must arrange specially-assigned persons to be in charge of the work and ensure that it is comprehensive, and the results are accurate.
A local believer said that, based on the Chinese Communist Party's usual practice of religious suppression, large-scale inspections and systematic investigations are the signs of preparation for further, more comprehensive crackdowns on religious venues.
Believers threatened with "study classes"
The same day, the Guanxian county government under the jurisdiction of Liaocheng city convened an urgent meeting to discuss the outcomes of the unannounced visit by the provincial-level religious governance inspection team, which had discovered that religious groups unapproved by the state were active in the county. It was demanded from the local governments across the county to investigate and report detailed information about religious believers, including Protestants, Catholics, Buddhists, Taoists, and Muslims, and fill out forms with detailed information about each believer for filing purposes.
To help the investigation work and to comprehensively monitor the whereabouts of religious persons, the county's authorities have also launched "Sharp Eyes Project," demanding each village to install surveillance cameras: six for smaller villages and at least eight for localities with larger populations. Each village must also set up a monitoring and observation station and assign "observation officers," completing the installation of the county-wide network of surveillance cameras within 40 days.
Observation officers must constantly keep an eye on the activities of religious persons and watch out for any strangers entering or leaving the village. The believers who are discovered holding a meeting will receive harsh punishment.
One observation officer revealed that some believers identified during the investigation – those that are known to openly practice their faith, those who "band together" (a term used by the CCP, referring to proselytizing activities), and those who continue their religious practices despite having been "educated" – will be locked up in "study classes" at Guanxian County Vocational and Technical College to undergo transformation through education.
To aid law enforcement in carrying out crackdowns against the religious, the authorities have instituted the position of the village or auxiliary officers who are part of the reserve police force. According to one of them, "The country is now taking measures to crack down on all kinds of religious beliefs. Some policies of the nationwide campaign to 'clean up gang crime and eliminate evil' have actually been formulated to target religious believers."
Religious groups designated as "xie jiao" suffer the most
The CCP places religious groups that are not subject to government control or that the CCP believes are rapidly growing and pose a threat to the regime on a list of xie jiao and carries out the most severe crackdown against them. Meanwhile, the CCP misleadingly conflates xie jiao with those religious groups that in Western countries are maliciously called "cults" as a way to justify its actions.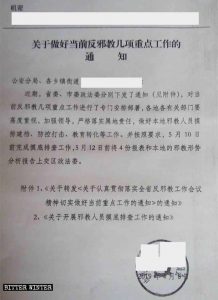 This April, in Shandong Province alone, at least 50 members of The Church of Almighty God were arrested, and 47 were questioned and photographed.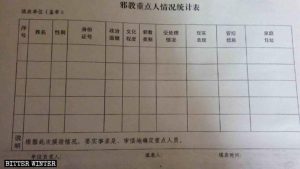 Bitter Winter has obtained a confidential document, entitled Notice on Doing a Good Job on Several Current Anti-Xie Jiao Key Tasks, issued in April by the Political and Legal Affairs Committee of a locality in Shandong Province. The document demands that each government department attach great importance to the anti-xie jiao work, effectively conduct investigations, and implement preventative and control measures making sure that believers of these groups do not hold gatherings or organize any other activities. Crackdowns on these groups and "transformation through education" of believers are indicated as main tools.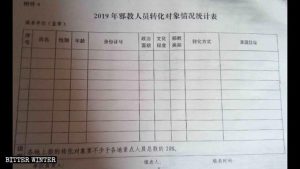 Apart from The Church of Almighty God, All Sphere Church, the Three Grades of Servants, the Association of Disciples, Falun Gong, and other groups on the xie jiao list are indicated as primary targets of the crackdown to "reduce reserves, control increases, and prevent changes."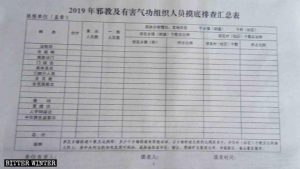 source:BITTER WINTER