Whether it's a mosque, a residential area, or shop signboards, anything with Islamic symbols is being altered or destroyed by the authorities. This campaign is now in full force in Henan.
Wang Yichi
The CCP has passed a new law regarding Islam, whereby it will dedicate itself to a five-year plan to "sincize" all Chinese Muslims outside of Xinjiang, in Far East China, which is home to millions of ethnic Muslims, most of them Uyghurs. Xinjiang is also where the Chinese government is already doing its ugly work by sending these Muslims to "transformation through education" camps. And in order to bring Muslims into submission, bit by bit, the CCP must destroy their religious symbols across the whole country.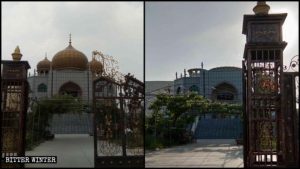 In early May, the China Islamic Association in Puyang County, under the jurisdiction of Puyang City in central China's Henan Province, issued a notice saying that the provincial religious inspection team has decided that all mosques must comply with this sinicization campaign. Therefore, the domes of the mosque located on South Ring Road must be altered to an ancient-style Chinese building to correspond with the architectural style of buildings on the road. The association emphasized that this is now the trend in the whole country.
On May 4, the Puyang County government began forcibly dismantling the mosque's domes and star-and-crescent symbols. The demolition work lasted for six days.
"This is nationwide. Anything with these symbols must be altered," an official from the Religious Affairs Bureau warned local Muslims. "If you obstruct [the dismantling work], the mosque will be torn down."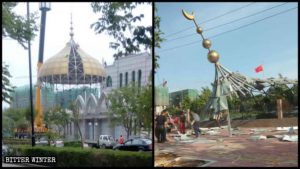 According to one local Muslim, there were five star-and-crescent symbols on the top of the mosque's domes, which were coated with pure copper; they were built at a cost of more than 300,000 RMB (about $43,000), and were the largest Islamic symbol in the local area.
"The mosque's star-and-crescent symbol is a symbol of Islam. No matter which country they go to, as long as they see the star-and-crescent symbol, Muslims can find a home," a local Hui resident told Bitter Winter. "After everything is sinicized in the future, how will there be any ethnic characteristics?"
The Hui resident also revealed that local government officials have installed surveillance cameras inside the mosque to monitor Muslims who come to worship.
Apart from mosques, Islamic symbols on buildings in residential areas have also been forcibly dismantled. On May 5, more than 20 workers hired by local government officials in Liangyuan district of Henan Province's Shangqiu city forcibly dismantled six round Islamic structures at the top of a residential building in an ethnic Hui community.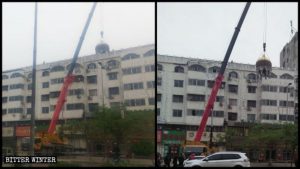 Video: The demolished Islamic structure is being crushed.
When a resident asked the government personnel why they were dismantling the structure, the Party secretary of the subdistrict office said they were enforcing a government regulation to crack down on religion.
That day, all six Islamic symbols were destroyed and the pieces hauled away. Since the biggest round Islamic symbol was connected to the floor of a building and could not be dismantled, it has been retained temporarily. "We will have to wait until the building is demolished to dismantle it," a worker said.
source:BITTER WINTER