The daily experience of Bitter Winter in covering the topic and how best civil society can leverage this critical coverage. Or, one by one, we make a difference.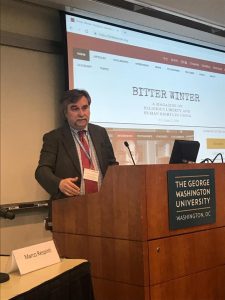 Marco Respinti
The following remarks have been presented on June 7, 2019, during the "Media Approaches" panel at "Confronting Atrocities in China: The Global Response to the Uyghur Crisis," an international conference held at the Elliott School of International Affairs of the George Washington University (GWU), in Washington, D.C., June 6-7, 2019, and organized by the World Uyghur Congress in cooperation with the Uyghur Human Rights Project, the Uyghur American Association, and the Central Asia Program at GWU, with the financial support from the National Endowment for Democracy, at George Washington University. The panel was moderated by Mr. Alim Seytoff, Director of the Radio Free Asia Uyghur Service, and featured, beyond the Author, German journalist Mr. Harald Maass, Tukish journalist Mr. Mustafa Akyol, a Senior Fellow at the Cato Institute of Washington, D.C., and Turkish journalist Ms. Merve Sebnem Oruç.
Ladies, Gentlemen, as-salāmu ʿalaykum (السَّلَامُ عَلَيْكُمْ) ‒"Peace be upon you". It may sound patronizing on my behalf to use this greeting in front of an audience like this, but, believe me, it's sincere.
Thank you very much for giving me the opportunity of addressing you during this very important conference on the harsh persecution that the Chinese Communist Party, or the CCP, is waging against the Uyghur population in Xinjiang because of its religion and ethnicity.
The slogan "Never again" was devised decades ago to call the world's attention on the genocide of the Jews, in the hope that nothing alike should be repeated ever. But it has been. And it is being repeated today in China. This is why the focus on the situation of the Uyghurs should never diminish. In recent months, media have luckily turned to it, lighting a light on the suffering of many. But it is not enough. The Chinese regime hasn't changed its attitude at all, and this pushes us all to do more.
It is a special honor to speak almost at the end of such an insightful and thought-provoking conference, just three days after the 30th anniversary of the Tiananmen massacre. For being here, I do heartily thank the organizers, who invited me to come from the other side of the world, and especially Mr. Dolkun Isa, president of the World Uyghur Congress, who kindly invited me to attend as a speaker already on January 31, in the European Parliament, in Brussels, Belgium.
Speaking after the moving testimonies of this morning is very hard, and it may not be that interesting for you, but I am here to say that I stand by your side, this afternoon and always.
I work as a professional journalist in Italy. Communication is my daily bread, and this panel, titled Media Approaches, is intelligently devoted to the media responses to the Uyghur tragedy. Along with other panelists, I have been asked to share my experiences in covering the issue, also trying to imagine how civil society can leverage this critical coverage.
I speak to you today also as the Director-in-Charge of Bitter Winter. In this capacity, I will try to cover the topic, in part, to some extent interpreting and transmitting the feelings and impressions of my great colleagues. Scattered in many countries over three continents, they relentlessly and painstakingly do their best seven day a week to inform the public: editors, associated editors, news editors, writers, journalists, reporters, correspondents, staff writers, web masters, and translators –they form a fantastic team devoted to the truth, liberty, and justice. I publicly thank all and every one of them.
Don't get me wrong. We are not a band of super-heroes. We are just an online magazine, which turned one year old on May 2 this year, that covers exclusively religious liberty and human rights in China. We include all persecuted religions in China and try to defend every one of them. We, in fact, strongly believe that the state, like any other human power, has no right to limit the freedom of belief and the public expression of any faith.
Born out of a quite original combination of scholars, journalists, and activists of human rights from different countries who work together to give voice to the voiceless, Bitter Winter has a unique feature: its network of several hundred correspondents in all Chinese provinces. This means that we publish materials from within the persecuted, oppressed, and occupied country.
Many have saluted our unconventional work. I proudly say this in public without any shyness because it is not my bravery which accomplishes it, but that of many reporters and correspondents who, at high risk for their security, report continuously on what happens in China and how religions are treated or mistreated. The exclusive photographs and videos that we have published are theirs. They deserve all the credits and merits.
For example, Bitter Winter has become known for its incredible videos documenting, for the first time, one of the so-called transformation through education camps from the inside, as well as the children of detained Uyghur parents, kept in so-called Loving Heart kindergartens and schools in Xinjiang to undergo full-time "re-education" by the CCP.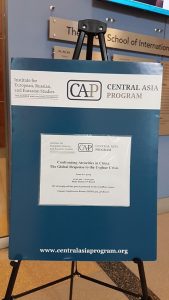 Documenting religious persecution
Yes, our reporters did and continue to do an excellent job. It is not yours truly who bombastically says this, but the CCP itself. In fact, between August and December 2018, the Chinese Communist regime has arrested 45 of them for filming incidents of or gathering news about the Party's persecution of religious freedom and violation of human rights. 22 of them were from Ili and Hami prefectures in Xinjiang: 4 have been subsequently released, while the situation of the other 18 arrested in Xinjiang remains unknown. The reporter who courageously produced the afore-mentioned unique video of a transformation through education camp in Xinjiang – one of those where at least 1 million Uyghurs are detained only because they are believers and belong to an ethnic minority – was among the arrested. Some of them may have possibly suffered torture, and some surely did.
In general, the 45 arrested have been usually detained and interrogated on the charge of "divulging state secrets" or "involvement in infiltration by foreign forces." Some reporters have been sent to "legal education centers" to undergo mandatory indoctrination. Luckily, in total 23 of them have been subsequently released after different periods of detention (in some cases, for a month), but all are now kept under strict surveillance, and this paralyzes their work for Bitter Winter. Twenty-two are still detained, and we know nothing of their fate, not even where they are. And remember: most of those missing in action have been arrested in Xinjiang for reporting on Uyghur repression, even if some of them are not Uyghur.
Let me also underline here that for some of the arrested the police did not find evidence that they had sent materials to Bitter Winter. This is important because we know that Bitter Winter itself has become a target, and especially its reporters and correspondents. Others have been arrested, even if at this point we don't know their exact number.
Being found "guilty" of documenting religious persecution in China is a bad crime for the CCP, but it is even more serious a crime if that documentation goes on the virtual pages of Bitter Winter. The fate of the "guilty" become worse.
Well, I have chosen to address the assigned topic of this panel recounting this direct experience. Journalism is not the most crucial piece in the puzzle of religious persecution in China, and especially of the Uyghur tragedy, but communication is, almost in all cases. You can produce the best product ever, but if you don't know how to sell it to the public, you will waste time and money. All know this today, especially politicians, who have a harder time with communication than with their work itself. So, journals, TV, radio, and the Internet are strategic tools. You can be a small group of scholars or activists, but you can accomplish very much if you know how to get to the public. And these days, it is quite simple to become a media-type through a smartphone with a good camera (not Huawei or ZTE, please…), a tablet, and the Internet.
The "Bitter Winter Experiment"
Let me just quote three examples and pay tribute to them. The first is "Uyghur Rally," the small but effective operation founded in December 2018 by two non-Uyghurs, Mr. Yosef Roth and Ms. Corby Johnson of New York City. They do not have a lot of money, but they focus on their goal and, above all, know how to appeal to the media, quickly multiplying the impact of their public events and flash-mobs.
The second is Ms. Ziba Murat, the daughter of Dr. Gulshan Abbas, an accomplished, now retired medical doctor, who has been sent to what the CCP calls "a professional school" for Uyghurs in Xinjiang. She decided that she wanted to do something for her disappeared mom, and, through a few common friends, contacted Bitter Winter, submitting a simple, nice article of personal testimony which we willingly published this year on Mother's Day.
The third and last of my examples is Bitter Winter itself. As said, our reporters and correspondents did a great job, but it could have remained confined to a small patrol of amateurs or a not that bigger platoon of specialists if it were not for many friends who greatly echoed us. To name just a few: the World Uyghur Congress, the Uyghur Human Rights Project, the Uyghur American Association, Radio Free Asia, the Hong Kong Free Press, The Epoch Times, Alliance Defending Freedom, Human Rights Without Frontiers, the European Federation for Freedom of Belief, the European Interreligious Forum for Religious Freedom, the International Religious Freedom Roundtable, the International Observatory of Religious Liberty of Refugee, AsiaNews, ChinaAid, and Radio Maria in Italy.
To sum all up and conclude. We are all like David against Goliath. But Goliath starts marking the time and even, to some extent, suffers the blow because of quality reporting and intelligent communication. Remember our 45 who have been arrested because of their quality reporting and smart communication that drove the CCP mad. As usual, unity is a strength. If we work together, if we network, out small forces multiply. The "Bitter Winter experiment" of putting together different professionals (journalists, scholars, activists, and exiles) and different religions (even atheists) for the sake of truth, liberty, and justice, works and ‒ excuse my boldness ‒ is a model that should be diffused and repeated. It can be a small way by which civil society, meaning everyone us, public figure or not, famous or not, can start concretely responding to the Uyghur crisis.
For sure, I am neither a Muslim nor a Uyghur, but I have learned to love my fellow Uyghur Muslims by witnessing their daily suffering. Here is another task for civil society: It should work as an amplifier of the news that you and we bring to the first page every day. It should multiply our posts; it should shake the silent and wake up the sleepy; it should never surrender to his master's voice. It's easy today to do: through mailing lists, blogging, vlogging, social media, and also good traditional socializing and word of mouth. The CCP, as all totalitarian regimes do, fear people, fear freedom of expression and press, fear a conscious civil society. A journalist is no one without an audience, which reads him and decides to stand and act.
Thank you
source:BITTER WINTER/MUSLIM UYGHURS