Student "spies" are secretly monitoring teachers and students, reporting any information about religious beliefs or activities to the school.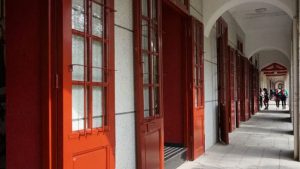 Ye Lan
A Christian university student from Beijing has recently encountered an incident that has left her with lingering fear. That day, she and a few other Christians from the same university were talking to a female classmate. At first, their conversation was very amicable, but when the topic turned to religion, the classmate's facial expression immediately changed, and she threatened to report them to the school authorities.
The classmate disclosed that she was a "security officer" who had been appointed by the school administration to monitor her fellow students for "inappropriate" remarks. She also revealed that "security officers" like her are lurking around the university to observe students, ready to report on any suspicious situations to the school at any time.
The Christian student was shocked. She told Bitter Winter: "Not only are we dormitory roommates who spend a lot of time together, but we're also very close friends. And yet she was able to hide so deeply. If she hadn't told me, I wouldn't know that such 'security officers' exist at our school."
On account of their friendship, the "security officer" didn't report her friends to the school, but she warned them that this was a one-time exception and told them that they aren't allowed to talk religion to students anymore.
This is not an isolated incident; similar anti-religion measures have been adopted in universities across the country. A confidential document issued by a university in central China, calls to strengthen the management of classroom teaching, as well as the establishment of a "system for student information officers to give feedback on classes, to strictly prevent teachers from disseminating religious thought in the classroom."
"Now, almost every class in the universities has one or more student information officers, who specially monitor the teachers during class to see whether they make any remarks considered dissenting or related to religious beliefs." the person in charge of a university religious student fellowship in Quanzhou city of southeast China's Fujian Province told Bitter Winter. "Some teachers at universities in Xiamen city have already been reported and fired because of their faith."
The fellowship that he was responsible for was shut down last October. "There were also student informants in the fellowship, planted by the school and government," the person added. "They got to know a lot about the church. After the school obtained the information about students participating in gatherings, the school summoned them for questioning one after another." At present, most students who participate in the fellowship have been summoned for questioning. The school administration even called the students' parents, inciting them to forbid the students from believing in God.
According to the person-in-charge of the fellowship, now, for safety reasons, they can only hold gatherings in the form of concerts, tea parties, and alike. To prevent anyone from eavesdropping, they even nailed a wooden soundproof panel to the wall and added a layer of sponge to the door, which they plan to replace with a soundproof one.
Universities have always been the target of strict government control in China. Student information officers are widely used for monitoring the thoughts and remarks of teachers and students at universities. In recent years, the once-secretive existence of these information officers has gradually become more open and known to everyone.
source:BITTER WINTER/Ye Lan