A nearly 70-year-old and one of the most influential house churches in Fujian Province ceased to function on May 31; the church's pastor heavily fined.
Ye Ling
Located in Xiamen city of southeast China's Fujian Province, Xunsiding Church was a well-known and popular house church founded in 1950. On May 19, the Ethnic and Religious Affairs Bureau of Xiamen city's Siming district issued an administrative penalty notice to shut down the church.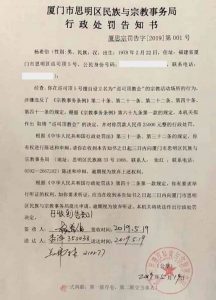 Xunsiding Church came under intense government's attacks last year when the church's pastor, Yang Xibo, signed A Joint Statement by Pastors: A Declaration for the Sake of the Christian Faith, condemning the CCP's persecution of house churches. On December 14, Pastor Yang was detained when he went to Chengdu to visit the persecuted Christians of Early Rain Covenant Church and was escorted home the next day by four officials from the Xiamen's Ethnic and Religious Affairs Bureau. Since then, the pastor has been closely monitored and forbidden from leaving Xiamen.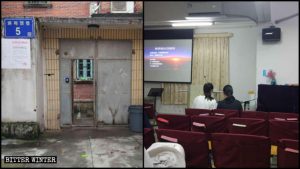 According to a ChinaAid report, the church faced persecution even earlier, when on May 18, 2018, authorities ordered to close down the kindergarten it runs. On January 14, the church was raided again, and the kindergarten was demolished on the grounds that its "facilities posed a hidden safety hazard."
On May 11, officials from the Ethnic and Religious Affairs Bureau, Public Security Bureau, neighborhood committee, and other government institutions summoned Mr. Yang for a meeting and threatened him that Xunsiding Church would face the same fate as Beijing's Shouwang Church and Chengdu's Early Rain Covenant Church – two large and well-known churches that were shut down last year. They ordered him to stop holding gatherings and dissolve the church because it violated the new Regulations on Religious Affairs.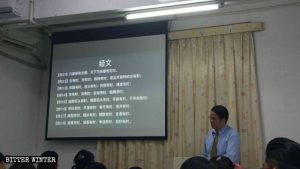 Mr. Yang didn't compromise. "Until the present day, the CCP has raided our home 13 times. I'm prepared to be arrested," he reportedly said during one of his sermons,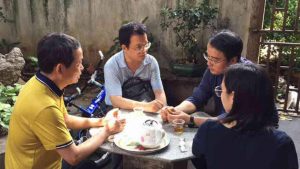 During the days of May 12-19, the harassment of the church and its congregation intensified even more. The authorities acquired the believers' personal information using the facial recognition cameras that had been installed at the entrance to the church and ordered the neighborhood committees in the communities where those believers reside to visit and persuade them to sign statements promising not to attend any more gatherings at Xunsiding Church.
One believer recalled, "There were neighborhood committee officials, as well as regular police and auxiliary officers. Two SWAT police officers keep guard at the entrance. Everyone's ID information was registered."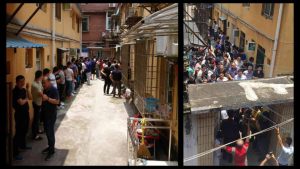 Some believers were even pressured by the leaders of their work units. One congregation member told Bitter Winter that on May 15, a leader from his work unit used threats to coerce him into signing the statement. "If I didn't sign it, all of my relatives who work for government departments would be implicated and would lose their jobs," the believer revealed. "I had no choice but to sign the statement."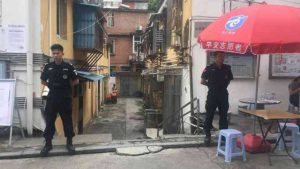 On May 19, the Ethnic and Religious Affairs Bureau of Xiamen's Siming district issued an Administrative Penalty Notice, stating that Yang Xibo is suspected of violating the new Regulations on Religious Affairs for establishing a Xunsiding Church without authorization. The church was ordered to be shut down, and Yang Xibo was fined 25,000 RMB (about $ 3,600).
Yang Xibo filed an appeal the next day, requesting the Ethnic and Religious Affairs Bureau to hold a hearing, which was organized at 10 a.m. on May 31, but the church's appeal was rejected, and the decision to shut down the church was sustained. That evening, police officers surrounded the church and prohibited anyone from entering.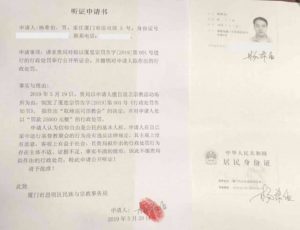 According to a local Christian, Xiamen authorities are planning to shut down all house churches within two years, and since Xunsiding Church was quite influential in the area, it became one of the primary targets for closure. He also revealed that other house churches in Xiamen, such as Living Springs Church, Haifu Church, Jimei Church, and Olive Mount Church, all came under government's attacks last month. The Jimei Church was ordered to stop holding gatherings before May 31.
source:BITTER WINTER/Ye Ling