Foreign-affiliated churches are continuously harassed: religious venues closed down, believers investigated and prohibited from traveling abroad.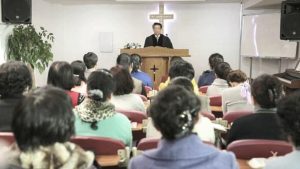 Tang Zhe
Since the United Front Work Department, the Ministry of Public Security, and the State Administration for Religious Affairs issued the Plan for the Special Campaign on Legal Investigation and Prosecution of South Korean Christian Infiltrations last year, South Korean Christian churches across China have come under harsh suppression.
In April, the Education and Sports Bureau of a county in Handan city the northern province of Hebei issued a notice to all primary and secondary schools under its jurisdiction, demanding to investigate and report back the religious status of all teachers and students. South Korea-based churches, such as the Sacred Music Church and Aiwei'er Church (愛唯爾教會), are mentioned specifically in the document as prohibited to be associated with for the staff and pupils; schools' administrations instructed to organize ideological, anti-religious meetings. A teaching staff member said, "This investigation is rigorous. If teachers were found believing in God, they would be fired!"
Churches shut down
Provincial governments were active in implementing crackdown campaigns against foreign-related churches throughout the past year, South Korean Christians being the primary targets.
In July, a South Korean church meeting venue in Rushan city of eastern China's Shandong Province was closed after a tip-off. "You're not allowed to preach to or hold gatherings with the Chinese people, Christian or not." Government personnel shouted at the church pastor. Over a month later, he and some South Korean Christians were forced to return to South Korea.
Earlier, in June, an ethnic Korean house church in Longjing city, in the Yanbian Korean Autonomous Prefecture of Jilin Province, was also shut down because of the ties with South Korea. Since then, to avoid persecution, church members changed their meeting venue frequently. "We now have to go to the top of a mountain to hold gatherings," said a church believer. "Sometimes, we hold gatherings in a farm field, under a bridge, or in a car. When the weather is cold, we gather at some empty, uninhabited houses. We don't dare to hold gatherings too many times in any one place because we're afraid of being discovered."
In last May, about 30 personnel from various government departments of Kunming city in the southwestern province of Yunnan, including the Public Security Bureau and the National Security Brigade, stormed into a meeting venue of Cana Church – a local South Korean evangelical church – and prohibited more than 100 believers from holding gatherings.
"There are still three years remaining in the lease for the venue of gatherings, but it was unilaterally terminated. This is the fourth time that we've been forced to move our meeting venue over a five-year period," one of the church's co-workers told Bitter Winter.
The co-worker also said that two months prior to the shutdown, officials investigated the surrounding buildings, looking for any that were used as religious meeting venues and registering tenants' information; only after ascertaining information did they act in May.
Visits to South Korea prohibited
In October, fourteen Christians from Wenzhou city in the eastern province of Zhejiang were planning to go to South Korea to attend some religious gatherings and travel the country. After booking their trip, one after another, the Christians received phone calls from the city's State Security Bureau, prohibiting them from going abroad and demanding that they return their plane tickets.
On October 25, the police intercepted the 14 Christians at Hangzhou city's Xiaoshan Airport. Officers claimed that they were suspected of endangering national security and were forbidden from boarding the plane. Two weeks later, the police summoned the pastor, who organized the trip.
More than ten Christians from a house church in Xuzhou city from the eastern-central province of Jiangsu were called in for questioning by the police after they returned from a trip to South Korea in July. Officers explained that the reason for investigating their journey was to prevent "foreign religions" from invading China and endangering national interests. They questioned if there were any South Koreans in the church and why they went to South Korea.
In March 2018, twenty Sola Fide Christians from Shandong's Weihai city wanted to go to South Korea to attend a gathering but were prohibited from doing so. The police said that going abroad to participate in a gathering constitutes illegal religious activity. A few days later, two preachers from the church were arrested, the police also called more than ten other Christians, trying to find out who the trip's organizer was.
source:BITTER WINTER/Tang Zhe