Authorities in northwest China's Xinjiang Uyghur Autonomous Region (XUAR) detained ethnic Uyghurs and other Muslim minorities in internment camps on a vast scale last year, while ramping up surveillance tactics to gain information about religion practices, the U.S. State Department said in an annual report released on Friday.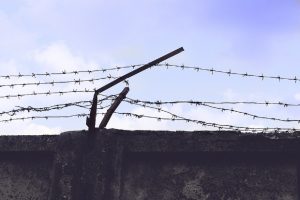 China's government "detained at least 800,000 and up to possibly more than 2 million Uyghurs, ethnic Kazakhs, and members of other Muslim groups" in camps and "subjected them to forced disappearance, torture, physical abuse, and prolonged detention without trial because of their religion and ethnicity since April 2017," the State Department's 2018 International Religious Freedom Report said.
The report, which included a separate section on the XUAR this year due to "the scope and severity of reported religious freedom violations specific to the region," said that authorities in the region "maintained extensive and invasive security and surveillance, in part to gain information regarding individuals' religious adherence and practices."
The government cited concerns over the three evils of "ethnic separatism, religious extremism, and violent terrorism" as grounds to restrict religious practices of Muslims in the XUAR, and intensified detentions amid the implementation of a regional counterextremism regulation enacted in March 2017 and the National Counterterrorism Law, which addressed "religious extremism," the report said.
Though Beijing initially denied the existence of internment camps, China has tried to change the discussion, describing the facilities as "boarding schools" that provide vocational training for Uyghurs, discourage radicalization and help protect the country from terrorism.
Reporting by RFA's Uyghur Service and other media organizations, however, has shown that those in the camps are detained against their will and subjected to political indoctrination, routinely face rough treatment at the hands of their overseers, and endure poor diets and unhygienic conditions in the often overcrowded facilities.
Authorities punished people of all ages for praying and barred youths from participating in religious activities, including fasting, during the Muslim holy month of Ramadan, the State Department said in its report, adding that China's government also sought the forcible repatriation of Uyghur Muslims from foreign countries and detained some of those who returned.
In the Tibet Autonomous Region (TAR) and other Tibetan areas of China, authorities continued to engage in "widespread interference in religious practices," especially in Tibetan Buddhist monasteries and nunneries, the report said, noting reports of forced disappearance, torture, physical abuse, prolonged detention without trial, and arrests of individuals due to their religious practices.
In other parts of China, a State Department-designated Country of Political Concern (CPC) since 1999, the government exerted control over religion and restricted activities and personal freedom of religious adherents when it perceived them as threatening state or ruling Chinese Communist Party (CCP) interests, the report said, while only state-sanctioned religious groups were permitted to hold worship services.
The State Department noted reports of deaths in custody and that the government tortured, physically abused, arrested, detained, sentenced to prison, or harassed adherents of both registered and unregistered religious groups for activities related to their religious beliefs and practices.
'War on faith'
Speaking at an event in Washington marking the release of the new report, Secretary of State Mike Pompeo told reporters that in China, "the government's intense persecution of many faiths … is the norm."
"The Chinese Communist Party has exhibited extreme hostility to all religious faiths since its founding," he said, adding that "the party demands that it alone be called God."
He also highlighted what he called "the staggering scope of religious freedom abuses in Xinjiang," that had led the State Department to include a special section on the XUAR "in an effort to document" violations there.
U.S. Ambassador-at-Large for International Religious Freedom Sam Brownback said China had "declared war on faith," noting "increasing Chinese government abuse of believers of nearly all faiths and from all parts of the mainland."
He condemned the internment camps in the XUAR as facilities "designed to strip away the culture, identity, and faith of these religious communities," interference in Tibetan Buddhist practices—including in the selection, educations, and veneration of Tibetan Buddhist lamas—and repression of Christians, as well as the "forcible organ harvesting" of religious prisoners of conscience.
"And to this we say to China: Do not be mistaken, you will not win your war on faith," Brownback said.
"This will have consequences on your standing at home and around the world."
Myanmar
In Myanmar, Pompeo said, ethnic Rohingya Muslims "continue to face violence at the hands of the military," adding that "hundreds of thousands have fled or been forced to live in overcrowded refugee camps."
In its report, the State Department noted continued violence, discrimination, and harassment against the Rohingya in Rakhine state in the aftermath of an "ethnic cleansing" campaign against the group in 2017 that resulted in the displacement of more than 700,000 refugees to Bangladesh.
"Rohingya who remained in Burma continued to face an environment of particularly severe repression and restrictions on freedom of movement and access to education, healthcare, and livelihoods based on their ethnicity, religion, and citizenship status," it said, citing the United Nations and nongovernmental organizations (NGOs).
Government and military officials used anti-Rohingya and anti-Muslim rumors and hate speech circulating on social media in formal meetings, public speeches, and other official settings, while public remarks made by the minister of religious affairs in November last year were widely understood to denigrate Muslims, it said.
In addition to Rohingyas, Muslims throughout Myanmar—a Buddhist majority country that has also been on the CPC list since 1999—reported discrimination, restrictions on religious practice, and being denied access to positions in the government, the report said.
Vietnam
In Vietnam religious leaders—particularly from non-sanctioned religious groups—reported government harassment, including physical assaults, arrests, prosecutions, monitoring, travel restrictions, and property seizure or destruction, the State Department said, as well as denials or no response to requests to register with the state.
The report cited severe harassment of religious adherents by authorities in the Central Highlands, particularly members of the Evangelical Church of Christ, and in the Northwest Highlands for H'mong Christians and Catholics, as well as for Catholic and Protestant groups in Nghe An province.
The majority of harassment incidents were attributed to local or provincial authorities, the report said of Vietnam—another country on the State Department's list of CPCs.
Laos
In Laos, authorities—especially in isolated villages—arrested, detained, and exiled followers of minority religions, particularly Christians, the report said.
The State Department noted that authorities in Laos—a country on the CPC watchlist—in some cases warned citizens not to convert to Christianity, forbade members to gather for religious services, and pressured members of minority religions to renounce their faith, while Christian groups reported problems registering and constructing churches, as well as with obtaining permission to travel within the country.
Christians also reported harassment from authorities when they congregated in homes and other unregistered facilities for religious purposes, the report said.
North Korea
The State Department said that the government of North Korea's policy toward religion is "intended to maintain an appearance of tolerance for international audiences while suppressing internally all religious activities not sanctioned by the state," though it acknowledged that the country's inaccessibility and lack of timely information make arrests and punishments difficult to verify.
The report cited defectors as saying that religious practitioners regularly concealed their activities from neighbors, coworkers, and other members of society due to fear that they would be reported to the authorities.
Brownback called North Korea—on the State Department's CPC list since 2001—"horrible on human rights and religious freedom."
"It's really a deplorable situation that's taking place … Unless they change radically, they'll continue to be a Country of Particular Concern for us," he added.
Copyright © 1998-2016, RFA. Used with the permission of Radio Free Asia, 2025 M St. NW, Suite 300, Washington DC 20036.
source:RFA