Of our 45 correspondents arrested in 2018, 24 have been released, but the remaining were imprisoned for speaking the truth. A leopard cannot change its spots.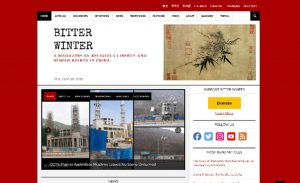 Marco Respinti
The story of our 45 reporters arrested by the CCP between August and December 2018 is now pretty famous as well as sad. We have updated our readers once, as we got new details on the conditions of their arrest and the good news of the release of more or less half of that group.
It is now time for a few more data and comments on the risk and danger that our correspondents experience daily to inform the world through Bitter Winter on the grave situation of human rights and religious liberty in China.
As we reported, 22 of the 45 arrested correspondents were taken in Ili and Hami prefectures in Xinjiang, were Uyghurs especially suffer persecution for religious and ethnic (i.e., racist) reasons. Not all of them are Uyghurs. There are also some that risk their lives and go to jail for defending people of different religions and diverse ethnic groups. Of those 22, four were released, while the situation of the other 18 remains unknown months after their arrest. As the situation in Xinjiang is extremely dire, at the heart of what scholars, analysts, and politicians are calling the "Uyghur crisis," no real investigation is now possible.
Apart from the mentioned 45 arrested, more reporters were apprehended in the following weeks, after Christmas 2018 and in the first half of 2019. Out of several cases that we know of but don't have more details, we can only verify two, though only based on sparse information. Remember that Xinjiang is a sealed region, caged into a massive system of control and surveillance which is escalating the quality, not only the quantity of the repression. As many academics studying the subject suggest, the vast and severe internment camp system, within which the infamous transformation through education camps work, is just one part of the problem. The other part, and increasingly most staggering, is that the whole of Xinjiang, camps or not, is becoming a vast open-air prison for citizens whose every daily activity and each movement are strictly monitored, often resulting in crackdowns.
At this point, it is all the more important to stress, once again, that Bitter Winter itself has become a target of the CCP repression in China. From the beginning, the CCP has made us feel its proximity, but as time passes, and we become more effective in denouncing their crimes, this proximity becomes more palpable than before.
We know that the governments in the provinces of Henan, Zhejiang, and elsewhere issued confidential documents to crack down on Bitter Winter in 2019, ordering a thorough investigation of our reporters, correspondents, and friends in Mainland China. Some were reported while collecting news material, forced to drop their work and flee the scene to dodge the arrest by the police.
Here's the outline of the two new documented cases.
A Bitter Winter reporter from Ningxia Hui Autonomous Region was arrested in November for collecting evidence about the persecution of the Hui Muslims; no information is available about the person's whereabouts. Another one, from Shaanxi Province, was also arrested in November and released on bail after his family spent money to pull a few strings. Currently, he is still under close surveillance and was warned by the police not to leave the city he is confined in and be available for agents upon demand.
On the other hand, the CCP keeps a vigilant eye on the news published daily by Bitter Winter, constantly trying to trace our reporters and correspondents by finding out some clues in our reports. This not only calls for reinforced prudence and even more vigorous fact-finding and verification of the information we receive, emails we get and people we meet but it also re-motivates and energizes all of us daily to follow this effective and vital path.
As Bitter Winter reported, last December, an elderly blind Buddhist believer, who had lived in a temple in Hubei Province's Yangxin county for eight years, was ordered to move out and lived in poverty afterward. We were told that in March this year, government personnel went to that county to inquire into our local reporters based on the information in the report and said that the cases concerning religious persecution published abroad harm the image of the CCP government.
Yes, we are walking on the right path, enlightening the frightening darkness that the CCP is imposing on the vast country. We will never stop, but we must carefully choose our steps. Even more importantly, we need the support of every one of our readers in all possible ways they can devise to help: not us as such, but the persecuted we advocate for.
source:BITTER WINTER/Marco Respinti