People are denied basic rights, such as jobs and social security if their faith is disclosed. Even their relatives suffer after investigations by employers.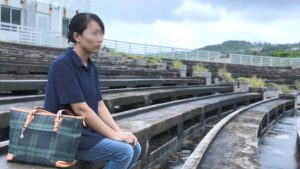 Guan Shaoqi
Against the backdrop of the CCP's brutal suppression of religious belief, government institutions, state-and-privately-owned enterprises are making sure that no people of faith are working in their midst. As a result, many people of faith are denied or lose their jobs.
Employees are thoroughly investigated
In April, a cleaner at a government institution in the eastern province of Zhejiang was fired from her work unit because of her Christian faith. Knowing very well the extent of the ongoing persecution against the religious, she intentionally marked "no religion" on the religion survey form distributed by her employer to be filed out. So, the firing came as an unwelcome surprise.
"When filling out the form, I thought that my work unit probably wouldn't investigate me because I was just doing manual labor, I wasn't a civil servant," the believer explained her reasoning.
What she didn't expect was that her employer would verify the information on her survey form with the information she had to fill out in her household for the so-called political background review certificate. All residents were required to provide their personal data, such as the name, ID number, place of residence and registration, criminal record, participation in illegal or extremist religious organizations.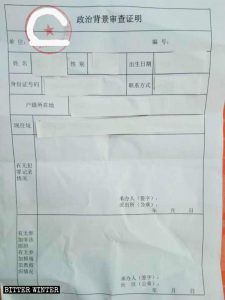 Since her status as a house church Christian was indicated in the household registrar, she was let go from her work, disregarding that her husband was severely ill and could not work, and she desperately needed her salary to cover his treatment expenses.
A railway worker in the northeastern province of Heilongjiang told Bitter Winter that his work unit ordered all train conductors to go to police stations in the places of their household registration to have political background review certificates issued, proving that they and their family members do not have any religious beliefs. Only then would they be allowed to go on duty as usual.
Questionnaires and forms to register believers are nationwide and comprehensive in China – people of all faiths from schools and public institutions to businesses and the military. Employers are extensively investigating the religious beliefs of workers, causing believers to feel anxious and frightened. This is why as soon as their identity as believers is exposed, they will be repeatedly questioned, investigated, suppressed, and even fired from their job.
Some officials in China have claimed that the registration of believers is implemented to prevent religious infiltration. "The method of putting pressure on believers in every respect – their work, relatives, and social security – as a disguised way to outlaw religious belief can be called a comprehensive crackdown," commented a government insider.
Employment opportunities restricted in every respect
Meanwhile, a member of a Three-Self church from Pingdingshan city in the central province of Henan lost a hard-won job merely for making a careless remark. Last August, she was hired as a dormitory manager. Having been told that she has been officially employed, the woman shared with the head of human resources: "I believe in the Lord, I never cheat or swindle others. I will do a good job." To her surprise, she was fired two days later, the person in charge saying that the government doesn't allow them to hire any Christians.
The hiring of believers is restricted even to such low-paid positions as toilet cleaners. One of them who worked in a Pingdingshan park was reported to the management for listening to Christian hymns while cleaning and was fired.
Meanwhile, a hotel in Henan's Yima city has expressly refused to hire people of faith after the police fined it for hosting a Christmas party for believers last year. The hotel manager was so distressed because of the ordeal that he prohibited the recruitment of Christians, to avoid any future persecution.
On September 5 last year, a hospital in Putian city in the southeastern province of Fujian issued a Notice on Intensifying Investigations into Religious Belief and Religious Infiltration. The document demanded that the entire hospital's staff, interns, and even students receiving standardized training underwent comprehensive investigations of their religious beliefs. The results were ordered to be sent to the hospital's office of the "cleaning up gang crime and eliminating evil" campaign – a widespread pretense by the Chinese authorities to suppress and persecute believers.
Believers of banned religious groups suffer the most
The predicament of believers on the list of the xie jiao is especially hard. Pressured by the authorities and affected by the propaganda targeting the religious groups and movements that are not under direct government control, some private enterprises are treating members of these groups as "terrorists," and explicitly prohibit them from being recruited.
Meituan is a well-known online food ordering and delivery platform in China. The primary requirement for those applying to work there is the ability to drive a motorcycle to deliver meals. But the recruitment advertisement from Shenyang city in the northeastern province of Liaoning states explicitly that anyone with ties to Uyghurs or members of the Falun Gong and The Church of Almighty God (CAG) should not apply, according to one of the applicants for the position. And this is not an isolated case.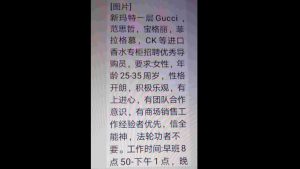 Last May, employees of a power plant in the northern province of Shanxi found an anti-xie jiao propaganda banner by the main entrance to their workplace, and the management ordered them to sign their names on it before entering the plant. If anyone refused, they would be suspected of being religious and could risk being fired.
Relatives of churchgoers deprived of jobs
Even relatives of believers from the banned religious movements are losing employment possibilities as a result of the CCP's "guilt by association" policy.
A man in Fujian Province applied to stand as a candidate for village committee elections and submitted his personal information. Shortly afterward, the police informed him that he failed his political review because his elder sister is a member of the CAG. His sister's religious belief has previously caused problems for the man: in 2015, he was selected for a position in a state-owned company but lost the opportunity because of the negative political review.
A young man who applied for a job at a subway station in Zhejiang Province lost even an opportunity to be considered, also because of the membership in the CAG by a relative – his mother. Similarly, membership in the Church by her mother-in-law prevented a woman from the eastern province of Shandong to get a job at an army supermarket.
source:BITTER WINTER/Guan Shaoqi