Even dances and aerobics for seniors to traditional Buddhist music are prohibited in public spaces, for fear of the spread of religion.
by Li Guang
A county under the jurisdiction of Xingtai city in the northern province of Hebei held a "religious reform training meeting" in April, with a focus to intensify the crackdown and suppression of Catholicism, Protestantism, and Buddhism. Among other measures discussed at the meeting, officials from the provincial United Front Work Department prohibited playing Buddhist music or dancing to it in public places. Additionally, village officials were ordered to organize cultural activities to keep villagers away from religion, restricting and eliminating all activities with religious overtones.
In late March, a neighborhood committee secretary prohibited dozens of seniors from dancing to Buddhist music on the plaza of a residential district in the county-level city of Dingzhou, under the jurisdiction of Hebei's Baoding city. The reason given was that the lyrics contain religious terms, which does not conform with the central government's policies.
Similar measures have been implemented in other provinces and regions of China. In the central province of Henan, on May 10, approximately 120 people were doing aerobics to Buddhist songs at the Century Square in the Yicheng district of Zhumadian city, when two uniformed police officers ordered them to stop.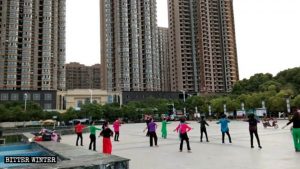 The officers stated that according to government regulations, playing religious music is prohibited in public areas. People at the scene explained that they were merely doing physical exercises and weren't holding a religious activity, but the officers rebuked and warned that they would be arrested if they play Buddhist music again. Helplessly, the people had no choice but to disperse.
"We're not even allowed to play Buddhist music while dancing. Where are our human rights and freedom?" a woman who participated in the dancing said angrily. In response, an official of the local neighborhood committee said, "The law provides for freedom of belief, but that is only for the eyes of foreigners. Freedom is 'freedom' within the scope specified by the government; it cannot exceed that scope."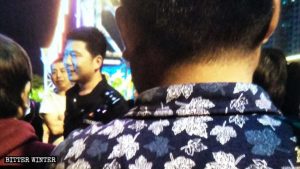 A local Buddhist commented that Buddhist songs are not allowed in public spaces because the government fears that if people listen to religious music, they will start believing in Buddhism, undermining the government's rule and authority.
In place of Buddhist music and dancing, authorities are vigorously promoting revolutionary and Communist Party-glorifying "red" songs, even in temples. A Buddhist monk from Hongtong county, under the jurisdiction of Linfen city in the northern province of Shanxi, told Bitter Winter that last September, the county's Ethnic and Religious Affairs Bureau required his temple to raise the national flag and sing the national anthem. Since then, traditional chants and beating of drums can no longer be heard inside the temple during Buddhist festivals. Instead, they have been replaced with "red" songs, such as Socialism is Good and Sailing the Seas Depends on the Helmsman.
Meanwhile, in a Buddhist temple, located in Zouping city in the eastern province of Shandong, unusual chanting can be heard during ceremonies: Believers are required to chant their loyalty to the Communist Party and its leaders, such as "Be Mao Zedong's monk," "be Deng Xiaoping's householder," "be Hu Jintao's instructor," "fulfill Chairman Xi's Chinese dream."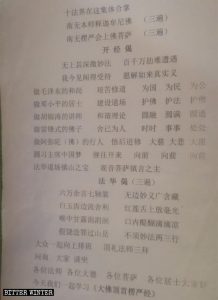 The suppression of anything religion-related has become a daily occurrence under the current regime. "In China, the government's intense persecution of many faiths – Falun Gong practitioners, Christians, and Tibetan Buddhists among them – is the norm. The Chinese Communist Party has exhibited extreme hostility to all religious faiths since its founding. The party demands that it alone be called God," stated US Secretary of State Mike Pompeo in a speech, dedicated to the release of the 2019 Report on International Religious Freedom by the State Department, on June 21.
source:BITTER WINTER/Li Guang