The vice governor of northwest China's Xinjiang Uyghur Autonomous Region (XUAR) on Tuesday defended the government's policy of incarcerating Uyghurs and other Muslim minorities in internment camps, repeating for the United Nations Beijing's claims that the camps are part of a vocational training program that is saving those influenced by religious extremism, but drawing criticism from rights groups who said the U.N. should not be used as a stage from which to promote state propaganda.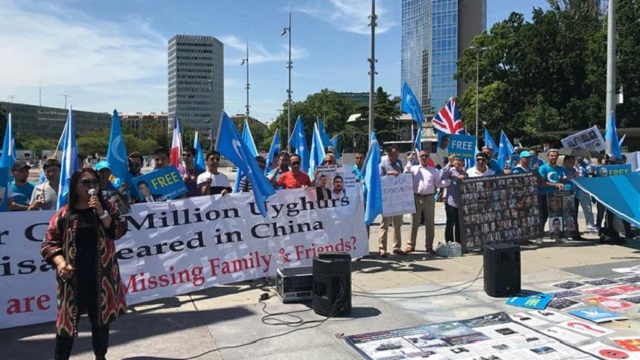 "By setting up vocational education and training centers in accordance with the law, we aim to educate and save those who were influenced by religious extremism and committed minor legal offenses," Erken Tuniyaz, a Uyghur who is also a member of the Standing Committee of the ruling Communist Party of China's XUAR Committee, told the United Nations Human Rights Council in Geneva.
Tuniyaz dismissed international condemnation of the camps, where experts say up to 1.5 million people accused of harboring "strong religious views" and "politically incorrect" ideas have been held since April 2017, saying that the facilities had allowed detainees to "break away from the spiritual control of terrorism and extremism, gain access to modern knowledge, and enhance their employability."
He also hit out at nations, nongovernmental organizations, and media outlets that "ignored Xinjiang's progress with regard to social stability and human rights."
The vice governor said that people of all ethnic groups in the XUAR are "united as closely as the seeds of a pomegranate," and stressed that freedom of religious belief is "protected by law" in the region, while vowing to promote sustained development of human rights there.
Tuniyaz's comments came a day after U.N. human rights czar Michelle Bachelet opened the three-week rights council session on Monday by saying that she has continued to press China on issues related to the XUAR, including unfettered access to the region to investigate reports of persecution and suffering in the camps.
Earlier this month, after China's ambassador to the U.N. invited Bachelet to visit the XUAR to "see for herself" what he called "education training centers" in the region, the Office of the United Nations High Commissioner for Human Rights (OHCHR) told RFA's Uyghur Service that she would not accept unless given access to the camps on her own terms.
If Bachelet accepts a trip to the XUAR, she would become the highest level U.N. official to visit the region.
Last week, Vladimir Voronkov, the U.N.'s under-secretary general for counter-terrorism, traveled to the XUAR on an official visit, drawing condemnation from Washington, which said the trip risks lending credence to China's claims that detentions in the region are related to a counterterrorism issue, rather than a violation of human rights.
On Tuesday, the U.S.—which stopped attending the Human Rights Council last year after alleging that the forum is biased against Israel—called Tuniyaz's appearance "an embarrassment" to the U.N. for providing "a representative of one of the world's worst human rights abusers a platform for propaganda."
Rights groups weigh in
Tuniyaz's comments also prompted criticism from international rights groups on Tuesday, with New York-based Human Rights Watch's China director Sophie Richardson dismissing the vice governor's claims of religious freedom in the XUAR as "lies" in a post to Twitter.
Richardson also expressed concern that Beijing's "ludicrous pomegranate propaganda has made its way from Tibet to Xinjiang" as part of the "Chen Quanguo legacy," referring to the XUAR party secretary who was promoted to head the region in 2016 after deploying similarly repressive policies in China's Tibet Autonomous Region (TAR).
In an interview with RFA, Richardson called Tuniyaz's remarks "in no way surprising" and "entirely consistent with propaganda that simply refuses to engage facts and that seems to go out of its way to be insulting to Uyghurs and other Turkic Muslims [by referring] to them as 'Xinjiang people,' to suggest implicitly that they are all suspicious and must be 'retrained,' even if they've committed no crime."
"The fact that the man got up and spoke without acknowledging a single human rights violation against a Uyghur is impressive—that took work—and I don't mean that in a good way," she said.
"China is clearly pouring a lot of effort into discouraging efforts to talk about Xinjiang at the Human Rights Council and it's really up to member states to use that forum to show Uyghurs inside and outside of China that they really are on their side and are going to press for an end to abuses."
Tuniyaz's comments also prompted Sarah Brooks of the Geneva-based International Service for Human Rights to question in a tweet why the "world's top human rights body stays open for perpetrators" when Bachelet is routinely barred from visiting regions in crisis.
"Giving floor to Xinjiang vice-governor calls into question Council's credibility," she added.
Dolkun Isa, president of the Munich-based World Uyghur Congress exile group, who led a protest in Geneva on Monday, called the vice governor "a traitor" whose words "showed his loyalty to China and showed his betrayal of his own people."
He noted that Tuniyaz was "ushered out through the back door … surrounded by 20-30 Chinese diplomats and security personnel" as soon as he had finished his speech, and that no one was allowed to ask him any questions.
"Many diplomats I spoke to after the event seemed quite stunned and described the situation to me like a prisoner had been brought in and brought out for a quick show trial."
Camp system
Though Beijing initially denied the existence of internment camps, China has tried to change the discussion, describing the facilities as "boarding schools" that provide vocational training for Uyghurs, discourage radicalization and help protect the country from terrorism.
Reporting by RFA's Uyghur Service and other media organizations, however, has shown that those in the camps are detained against their will and subjected to political indoctrination, routinely face rough treatment at the hands of their overseers, and endure poor diets and unhygienic conditions in the often overcrowded facilities.
In May, U.S. Secretary of State Mike Pompeo, in an apparent reference to the policies of Hitler's Germany and Stalin's Soviet Union, cited "massive human rights violations in Xinjiang where over a million people are being held in a humanitarian crisis that is on the scale of what took place in the 1930s."
U.S. Ambassador-at-Large for International Religious Freedom Sam Brownback recently told RFA in an interview that countries around the world must speak out on the Uyghur camps, or risk emboldening China and other authoritarian regimes.
The U.S. Congress has also joined in efforts to halt the incarcerations, debating legislation that seeks accountability for China's harsh crackdown on the Uyghurs. The Uyghur Human Rights Policy Act would appoint a special State Department coordinator on Xinjiang and require regular reports on the camps, the surveillance network, and the security threats posed by the crackdown.
Reported by Adile Ablet for RFA's Uyghur Service. Translated by Alim Seytoff. Written in English by Joshua Lipes.
Copyright © 1998-2016, RFA. Used with the permission of Radio Free Asia, 2025 M St. NW, Suite 300, Washington DC 20036.
source:RFA