Clergy and congregation members from state-approved and house churches alike worry that the persecution of Christianity is only going to escalate.
by Wu Haiping
Of the more than 100 reported cases of cross removals from state-approved Three-Self and unofficial house churches in the northeastern province of Jilin, 54 occurred in Changchun city and 38 in Yushu city. Some house church meeting venues were shut down after the removal of crosses. However, this represents only a small fraction of all the recent instances of forced cross removals.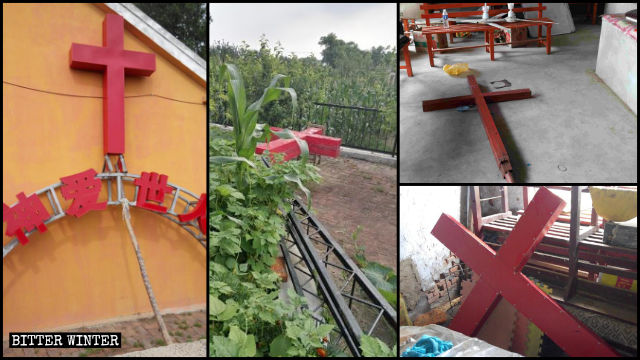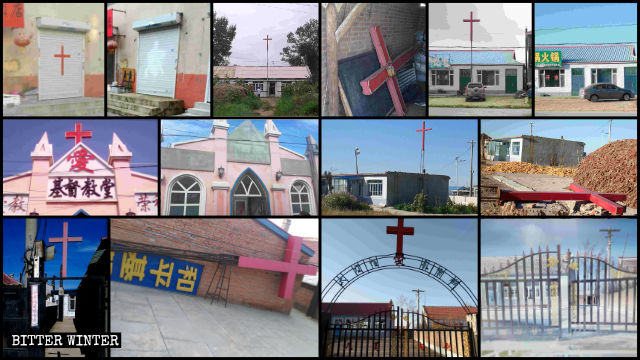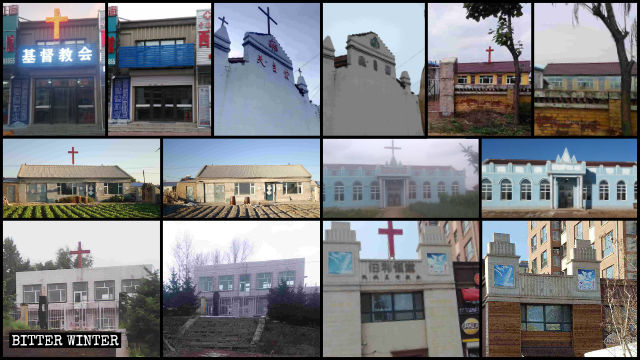 "If we didn't remove the cross, the meeting venue would be shut down, so we had no choice but to compromise," said a co-worker at a Three-Self church meeting venue in Qian Gorlos county under the jurisdiction of Songyuan city.
A Three-Self church preacher from Dongfeng county, under the jurisdiction of Liaoyuan city, commented on the large-scale campaign of cross removal, saying, "When Jesus did His work, people believed in Him and did not believe the earthly monarchs. They were persecuted as a result. The same situation is happening now. Xi Jinping believes that he is the king of China." The preacher thinks that by saying that crosses are too high, the authorities mean that there are too many Christians in China, and this is unacceptable to President Xi.
According to the person in charge of a house church meeting venue in Songyuan city, the local government sealed off the church and dismantled its cross under the pretext of "cleaning up gang crime and eliminating evil" – a popular excuse to crack down on the religious.
When shutting down some meeting venues, government officials claimed that house churches without a permit is a xie jiao, and that all such venues must be shut down. However, as Bitter Winter has repeatedly reported, many house churches have applied for a permit for several years without ever receiving it.
In some localities, the order to dismantle crosses was issued by the local Two Chinese Christian Councils. "Since participating in studies on the 'sinicization' of Christianity, I discovered that the Two Chinese Christian Councils have never done anything useful and have never coordinated anything between the government and Christians," commented a co-worker at a Three-Self church in Changchun city. At the very least, they haven't even resolved the Bible copyright issue. They haven't done any substantive work at all, nor have they protected us. Instead, they continue to betray us. Actually, they are the CCP's mouthpiece and lackey; they are simply put on display for foreigners to see. In the future, we don't want to deal with them anymore, and we're prepared to transfer to the underground churches at any time."
Other house church congregation members are concerned about future developments of Christianity in China. A Sunday school teacher from a house church in Changchun city said that she didn't want to believe the people who said that Jilin will soon experience the same level of persecution against the Christians as in the central province of Henan. Because of the high concentration of Christians, anti-religious campaigns there are particularly severe. As an example, more than 300 religious venues had their crosses removed, and 410 Christian meeting venues were shut down in Henan's Xinxiang city alone last year.
"I never expected that it would happen here so soon," the teacher said. "The situation is dire now; the state's religious persecution is becoming increasingly severe; it is going to get worse and worse."
A Three-Self pastor from Changchun city fears that the government will impose mandatory constraints on house churches. "Either they merge with the Three-Self Church, or they will be shut down. In one area in Henan, there were originally 80 clergy members, and now, that number has been reduced to eight; even Three-Self churches are being torn down. When they told me about this, I was shocked. This is too ruthless. I feel that these things aren't far from us either."
The persons in charge of some Three-Self churches also think that the CCP's control over their churches will become increasingly severe. They are prepared to transfer to the underground Church at any time. "Now, they're starting to use various means on a step-by-step basis to shut down these unlicensed churches and meeting venues, merge the small ones that are of insufficient scale with the Three-Self Church, and then slowly eliminate them through assimilation. In the end, regardless of whether you have relevant permits, your church or venue will be shut down. Even the situation of Three-Self churches doesn't look very hopeful," said one Three-Self pastor.
The concerns of these clergy members are not unfounded. At the same time as the government is dismantling crosses, it has also commenced work to investigate and scrutinize churches.
"How many people are there in the church, how much land the church occupies, the building's ownership, the form of activities that it holds, the identity and background of clergy members—all of these have been investigated," a co-worker at a Three-Self church said worriedly. "We're the first ones to suffer a crackdown."
Another house church preacher said, "The Communist Party says the reason for imposing control over the church is out of fear that people will oppose its regime. In fact, Christians will never revolt. One should never try to reason with an unreasonable person. The Communist Party is digging its own grave now. No other political party is like it."
source:BITTER WINTER/Wu Haiping