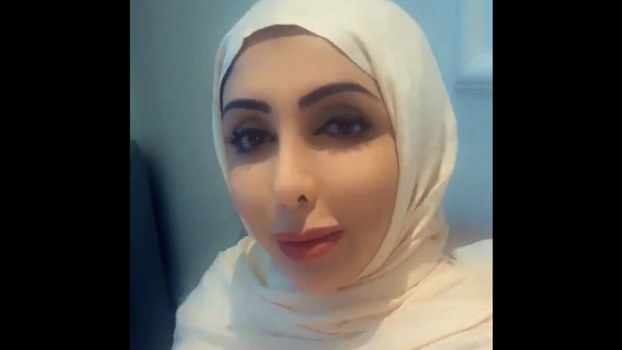 Princess Hend Faisal Al Qassimi, a member of the United Arab Emirates (UAE) royal family, took to Twitter on Sunday to issue a rare voice of support from the Muslim world for ethnic Uyghurs enduring persecution in northwest China's Xinjiang Uyghur Autonomous Region (XUAR). The author and fashion editor who has spoken out against Islamophobia, including by recently shaming Indian nationals living in Dubai who had posted anti-Muslim tweets, was responding to a call by Uyghur activist Arslan Hidayat on social media for Muslims to post images of themselves marking Ramadan to show solidarity with Uyghurs, who are largely prevented from participating in the religious activities of the holy month by Chinese authorities.
In her video, Al Qassimi greets her fellow Muslims observing Ramadan and expresses her hope that authorities will release the up to 1.8 million Uyghurs and other Muslim minorities accused of harboring 'strong religious views' and 'politically incorrect' ideas who are believed to have been detained in a vast network of internment camps in the XUAR since April 2017. She also calls on adherents of Islam to 'stand together against this Muslim Holocaust that's happening in China.' Al Qassimi's response prompted Hidayat to post a tweet calling on 'royalty in the Arabian gulf and #Muslim influencers around the world' to follow her lead and 'publicly voice their solidarity with the #Uyghur Muslims who are suffering in #China's #ConcentrationCamps.'
Al Qassimi's video came days after the Munich-based World Uyghur Congress exile group issued a statement for Ramadan noting that the Organisation of Islamic Cooperation (OIC) and the leaders of Muslim-majority nations in the Middle East have been 'shamefully silent' on the persecution of Uyghurs in the XUAR, and calling for pressure on China to 'stop its crimes against humanity' in the region. It also follows a July 2019 meeting in Beijing between Chinese President Xi Jinping and UAE Crown Prince Mohammed bin Zayed al-Nahyan, during which the Emrati royal backed Beijing's crackdown on the Uyghurs, citing security concerns.
Speaking to RFA's Uyghur Service, Al Qassimi acknowledged that the Muslim and Arab world has been largely unaware of the situation in the XUAR citing language barriers and ongoing wars in many Muslim-majority nations, but said she hopes to help highlight the plight of the Uyghurs.
I stumbled upon [the campaign] on Twitter, and I had no idea that this was happening. I visited China and I liked it very much. I love the culture, I like the food, I love the fashion. I like how a country that was a farming nation became a superpower. I was very happy for them. But later on, when I saw what they were doing to the Uyghurs, I didn't like it and I hope that we can do something to stop it. Maybe we can speak to the Chinese government and tell them to stop.
I posted a video today and, in that video, they show that China did this against the Uyghurs [in part] because there were 33 killings [during an incident of Uyghur unrest] in a train station, but one person doesn't represent 11 million [Uyghur] people. And I know they were concerned because they didn't want to become another spot for terrorism. But even us Muslim countries, sometimes suffer from these extremists. And extremists can come from any religion or even a political side. It doesn't have to be a Muslim—it can be an extremist Christian or an extremist Hindu, like we see today in India.
What I don't understand is how can [Beijing] allow this to continue? How can they afford to put people into camps? This is not good for business for China. I think they should simply spread the message of peace between the people that they're scared of, but this is not a solution. Killing people or putting them inside these camps is not a solution.
'You'd be fighting for your life'
You don't know this about the Arab world. They're going through a crisis themselves. We just finished a war, so when people are fighting for their lives here, they can only take care of so many things. If you are living in Turkey and you have a war with Russia and somebody comes and tells you, "We have a war in Africa, come help us, we're Muslims," would you turn around? You'd be fighting for your life.
There's war in Libya, there's war in Yemen, there's war in Syria. People are dying by the hundreds of thousands. In Lebanon, in Palestine, in Iraq—they have ISIS, they have Al Qaeda. It's horrible, it's a nightmare. I know a family that was rich—they don't have food to eat. They're being starved to death … So, do you think people like this have time to go on the internet and check out what's happening in Uyghur country? No. They're not bad, but they're also suffering. The whole world is suffering. Everyone is carrying a burden, but the Arab world especially is famous for [this] … These countries are going through a war. They don't have time to go learn about the Chinese. They don't speak their language and they don't know about them.
This is a responsible thing we should do. I'm hoping that by simply speaking about what China is doing in a polite way, maybe they will turn. I'm not doing it in an aggressive way because if you do it in an aggressive way, they will attack, and they will not listen … We should stand together and approach the Chinese government about ending the camps.
Reported by Nuriman Abdurashid for RFA's Uyghur Service. Written in English by Joshua Lipes.
Source: Copyright © 1998-2016, RFA. Used with the permission of Radio Free Asia, 2025 M St. NW, Suite 300, Washington DC 20036. https://www.rfa.org.