Star-and-crescent and other symbols, also writings in Arabic, are purged from shops and restaurants, as the CCP enforces its plan to "sinicize" China's Muslims.
by Hu Ke
To achieve its five-year (2018–2022) plan to "sinicize" all Muslims outside Xinjiang, the CCP is purging Islamic culture nationwide. This massive campaign continued even amid the height of the coronavirus outbreak, also in the southwestern province of Yunnan.
From March to May, Islamic symbols and writings in Arabic were painted over or covered on signboards of 70 Hui-run businesses in Chuxiong, the capital of Chuxiong Yi Autonomous Prefecture in the province.
According to some shop owners, officials from various state institutions, among them the Public Security Bureau, the Urban Management Bureau, and the Ethnic and Religious Affairs Bureau, ordered them to remove the symbols from their signboards or replace them entirely. Otherwise, their business licenses would be revoked. Local officials said that the order came from the central government and that the signboard removal campaign was nationwide.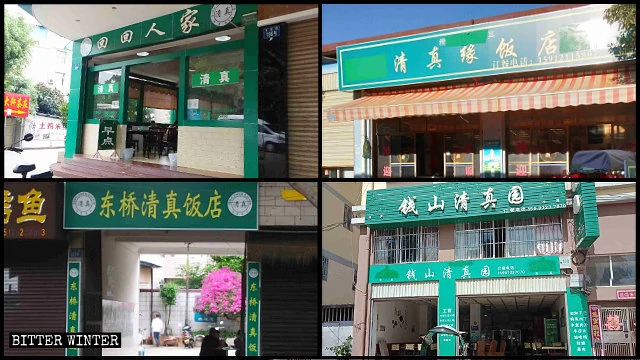 "We were notified verbally, not shown any document," a shop owner explained. "An official from the Ethnic and Religious Affairs Bureau told us that there was some document which demanded to purge writings in Arabic all over the country."
"The government is suppressing our faith, but we have no way of reasoning with them," a barbecue restaurant owner said. "If we Hui people tried to argue with officials, they would call us rioters and arrest us on any trumped-up charges."
"Writings in Arabic can hardly be found in Chuxiong, and the government also bans schools in Arabic" a local imam voiced his concerns to Bitter Winter. "All mosques will be rectified, and Hui people will be completely 'sinicized' in less than 50 years."
A baker from the prefecture's Lufeng county expressed similar concerns. He said that from December to May, Islamic symbols were removed from the signboards of 62 halal shops in the county. "The state is out of control, like during the Cultural Revolution," the baker continued. "The United Front Word Department ordered to remove domes from all mosques. Outside them, Hui men are not allowed to wear white caps and women—headscarves. Hui Muslims will disappear in two or three generations."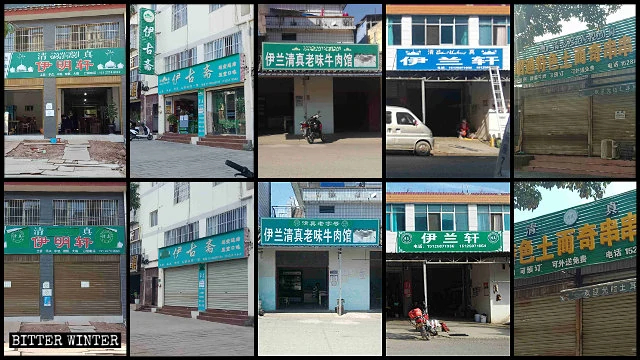 Signboards on 176 Hui businesses in Chongming, a county in the provincial capital Kunming, were "sinicized" in May. According to a county resident, the campaign started six months before.
"My business was greatly affected after halal symbols had been painted over," a restaurant owner said. He explained that because elderly Hui people can only read in Arabic, after the signboards were modified, they can't understand what is written in Chinese and don't dare to enter his restaurant, not knowing if it is halal.
Residents in Yuxi city's Huaguang village are primarily Hui. Last December, the government forcibly removed the dome and star-and-crescent symbols from the memorial archway entrance to the village. According to some villagers, the government wanted to convert the archway into a Chinese-style structure.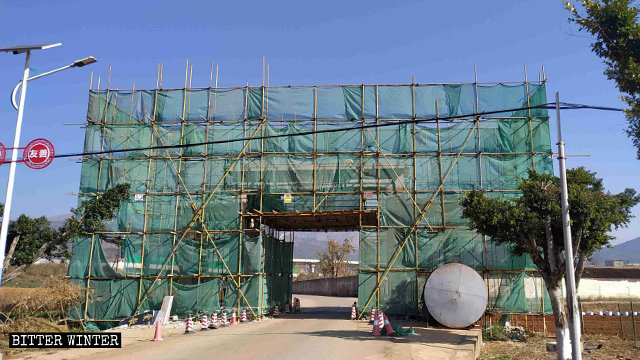 "The government says that Muslims are terrorists and suppresses us," a villager said angrily, talking about the modified archway. "Everything Islam-related is controlled and rectified throughout the country. The Communist Party does as it pleases, and we have no right to object."
"We must oblige to the CCP's rule, but we won't give in again if they decide to demolish mosques," another Hui resident is determined to defend his faith.
Source: Bitter Winter