Joining the Chinese Patriotic Catholic Association does not mean that persecutions end: state-sanctioned venues are also harassed, unduly controlled, and shut.
by Yang Xiangwen
For years, unregistered Catholic churches across China are being pressured into joining the government-run Chinese Patriotic Catholic Association with threats and intimidations, promised peace of mind and unobstructed worshiping as long as they are under the state's control. But the reality is far from it: numerous registered venues are harassed and intimidated, regardless of their official status.
The government of Linyi county in Dezhou, a prefecture-level city in the eastern province of Shandong, shut down in June two churches affiliated with the CPCA, claiming that "not many congregation members attend gatherings."
On June 6, all crosses, other religious symbols, and benches were removed from the Wangdangjia village church. The "Catholic Church" signboard above its entrance was covered with wooden boards. The Catholic church on Cuijia lane was soon similarly closed.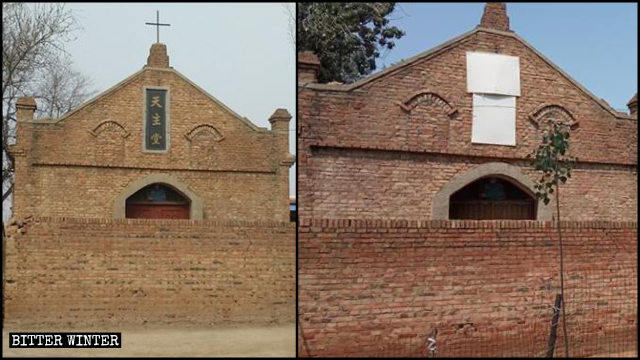 On May 19, local officials ordered to remove the cross and statue of the Virgin Mary atop the Wuqiu village Catholic church in Jinling town, administered by Lanling county of the prefecture-level city of Linyi, because "they were taller than the village committee building."
On November 10 last year, the Tancheng county government came to a registered Catholic church to demolish its bell tower, a statue of Jesus, and a cement pillar on which the previously removed cross used to stand. They declared that such religious structures were not allowed. The rectified church now looks like a regular residential building.
Registered Catholics are also suppressed in the northern province of Hebei. A Zhangmengtun village Catholic church in Dingzhou city, opened in 2017 with the government's approval, was built in Western style.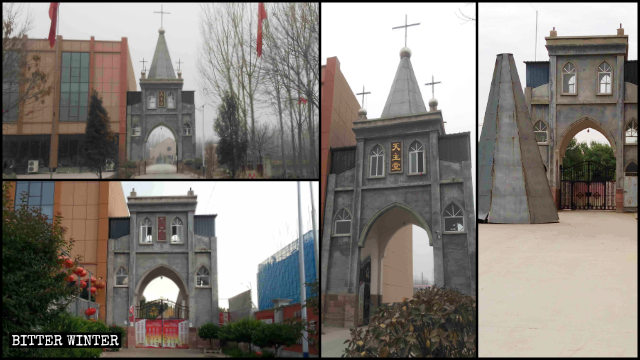 On June 2, town officials came to shut down the church. They first destroyed some of the church's Roman-style pillars, removed all religious symbols inside and outside the church, including the altar and podium, benches, and pictures of the 14 stations of the Way of the Cross, an ornamental dove on the church roof, and painted over cross symbols on ceramic tiles.
In mid-May, officials from the United Front Work Department and other state institutions, accompanied by National Security Brigade and police officers, came to oversee the removal of five crosses from a Catholic church in Julu county, administered by the prefecture-level city of Xingtai. The sign with Chinese characters for "Catholic Church" was also removed from this 83-year-old, state-approved venue.
The church deacon of another church in Hebei, whose cross was removed, and a surveillance camera installed at the entrance in July, explained that the church had joined the CPCA, hoping to be left in peace organizing worship services. "But the situation has changed, and registered churches are sometimes harassed more than the unregistered ones. They also have their crosses are removed," the deacon said. "The government is even more confident in controlling registered churches. Had we known this beforehand, we would not have joined the CPCA."
Source: Bitter Winter