Accounts of one Uyghur woman's family members locked up in Xinjiang's internment camps support what is described in the recently leaked CCP's secret document.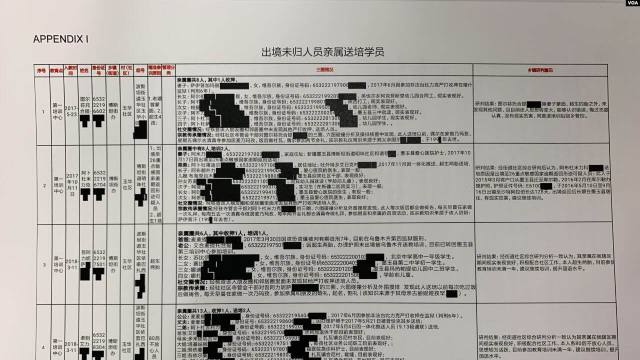 by Chang Xin
The so-called "Karakax List," a recently leaked Chinese government database with personal details of over 300 Xinjiang residents locked up in transformation through education camps and nearly 3,000 of their relatives, provides an invaluable insight into the well-organized CCP's campaign to suppress Uyghur Muslims. The 137-page document includes collected information on how often people pray, what they wear, whom they contact, and what their family members do. Most importantly, the document lists the reasons for detention, such as violations of China's birth control policies, wearing a veil, even some years ago, applying for a passport, having relatives abroad or "clicking on a web-link and unintentionally landing on a foreign website."
"This remarkable document presents the strongest evidence I've seen to date that Beijing is actively persecuting and punishing normal practices of traditional religious beliefs," commented Dr. Adrian Zenz, one of the world's leading experts on CCP's policies in Xinjiang and a senior fellow at the Victims of Communism Memorial Foundation in Washington DC.
The Chinese government called the document "a fabrication" and continues to deny the mass campaign to suppress ethnic Muslims in Xinjiang. But the stories of members of just one family in Xinjiang prove otherwise. Bitter Winter recently talked to an Uyghur woman, who doesn't want her identity revealed out of fear, whose 37 close relatives were arrested in one month on the accusations as listed in the Karakax List. Among them: giving birth to too many children, traveling to other countries, like Turkey, attending worship services, and alike.
"First, my husband and his brother were arrested, and a week later, two of my cousins. Not long after that, four more of my family were taken away," the woman started listing the arrested relatives. Some of them were sent to transformation through education camps, while others were sentenced to prison, one of them to 25 years.
As it is described in the Karakax List, some woman's friends were apprehended by the government for old pictures of them in which they are seen wearing headscarves or beards.
One of her cousins was taken away because "she has given birth to too many children." According to the Karakax List, violations of family planning laws is one of the most frequently used excuses to detain Muslim women in Xinjiang. Since her arrest, the cousin has not been heard from, and the family fears that she could be dead.
This was the second arrest for the woman's husband. "It's very common here. In 2017, the government unexpectedly took away many people who have been arrested before," she said, adding that she has been prohibited from visiting her husband since the summer of 2018.
The woman is afraid for his life because of many stories of deaths in transformation through education camps. A member of her immediate family and two distant relatives died while in detention. When the family of one of them went to see his body after they had been notified of his death, they noticed that the young man, in his 30s, no longer had his front teeth.  The family demanded to know why, but the police only said that he had died from a heart attack. No further medical records or documents, which would have explained the cause of death, had been provided to the family.
"Two other distant relatives who passed away after being arrested were also given the same cause of death: 'heart problems,'" the woman continued. "Moreover, the families were notified of their deaths only three days after their burial. Our friend, who is a police officer, saw the body of one of them, and he said that he had visible bruises on his neck and other parts of the body."
"Many families suffer similar persecutions, especially in Hotan prefecture and Kashi city," the woman said. "Almost all adults have been taken away, leaving their kids behind, who are then sent to orphanages. This not only happens to Uyghurs but also to Kazakhs."
The Uyghur woman told Bitter Winter that some of her distant relatives and friends had also been arrested for visiting foreign countries years ago, having used an app called Zapya, possessing religious objects, or even because arrest quotas had to be reached.
A police insider from Xinjiang revealed to Bitter Winter that the state assigns a detention quota of Uyghurs for each officer, some of who make groundless arrests to reach them.
The interviewed woman lives with five children, some of whom are her relatives' kids, and she takes care of them. It's not easy, she admits, but she doesn't want them to end up in a government orphanage. Even though many Uyghur families take in the children of arrested parents, many are still sent to orphanages.
Source: Bitter Winter