In the name of fighting poverty, the CCP moves impoverished households from across China to Xinjiang, while sends Uyghurs to other provinces for forced labor.
by Hu Ke
Last July, the government of Zhaotong city's Suijiang county in the southwestern province of Yunnan encouraged residents to move to the Xinjiang Uyghur Autonomous Region, promising to allocate up to 0.7 acres of farmland and provide housing. An allowance of 300 RMB (about $ 42) per month was promised to each household member for three years in exchange for a deposit of 2,000 RMB (about $ 283), which would only be paid back after households moved their registration to Xinjiang within three years.
A local government employee revealed to Bitter Winter that in March, over 2,000 households from Suijiang moved to Xinjiang. A county resident said that once people relocated, the government demolished their houses and revoked their household registrations. Some wanted to return, but because they were not allowed to get back their household registrations in Yunnan, they had to stay in Xinjiang.
A woman who returned to Zhaotong for business didn't want to disclose details of her life in Xinjiang since local officials there warned her not to "make irresponsible remarks" or her family members would be punished.
In 2017, most of the relocated Zhaotong city residents were told to settle in Xinjiang's Kashi prefecture's Caohu town, supposedly, to aid "the development of Xinjiang and alleviate poverty in Zhaotong." According to government officials, "Xinjiang has a vast territory with a sparse population and insufficient labor force." At the same time, ten of Zhaotong's 11 counties, districts, and county-level cities are designated as national-level poverty-stricken areas.
Similar relocation policies in the name of poverty alleviation are also implemented in Yuncheng, a prefecture-level city in the northern province of Shanxi. According to state-run media reports, 167 residents from the city's Jiang county were moved in March to Xinjiang's Kashi and Hotan cities. This move was intended to "solve the problem of employment for the county's impoverished households and other people with employment difficulties," a government report claims.
Meanwhile, Uyghurs from Xinjiang are being relocated to other areas of China as slave laborers under the pretext of "solving the surplus labor force problem and poverty alleviation." Such transfers did not stop even during the coronavirus outbreak.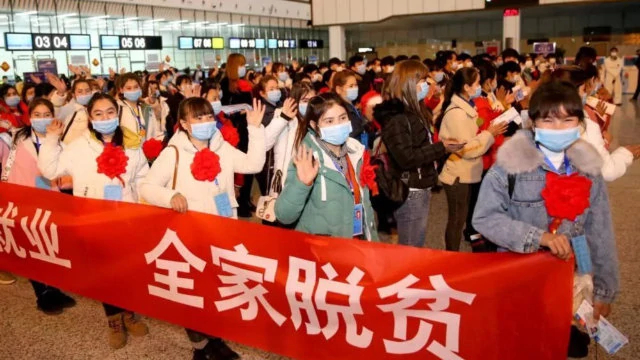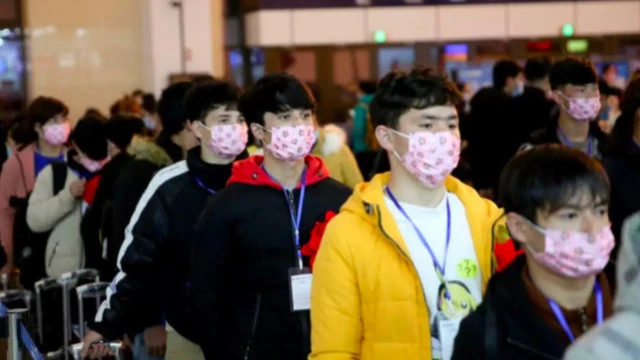 According to a May 13 report by China Central Television, one of the CCP's main mouthpieces, from January to April, the Xinjiang government "organized labor transfers" from the region's impoverished households, as per poverty alleviation measures adopted by the State Council, the chief administrative authority in China. Two hundred ninety-two thousand workers from southern Xinjiang's four prefectures—Kashi, Hotan, Aksu, and Kizilsu Kyrgyz Autonomous Prefecture—were relocated: 231,000 within their areas of residence, 51,000 to other parts of Xinjiang, and 10,000 to other provinces of China.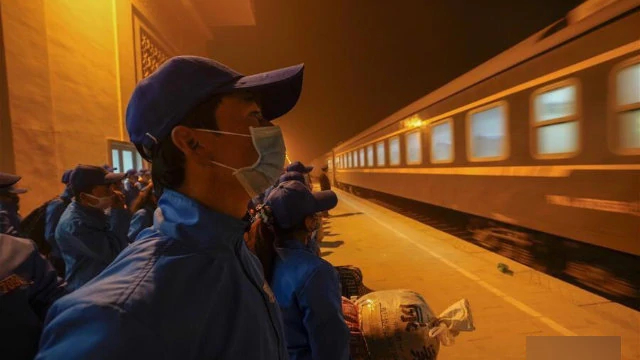 "How is this poverty alleviation when the CCP went to so much trouble to transfer Uyghurs to other provinces while sending so many impoverished people to Xinjiang?" commented a Han Chinese from Xinjiang who now lives abroad. "If that many people seek employment in Xinjiang, why does the CCP encourage workers from other provinces to move there? Can Xinjiang natives be richer only in other provinces and Han Chinese only in Xinjiang? This is yet another means by the CCP to 'normalize' and eliminate the Uyghur culture."
Source: Bitter Winter