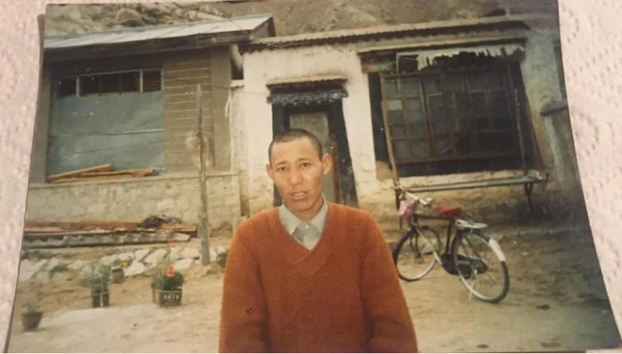 A Tibetan protester named Trinley Choeden, also called Samdrub, died in a hospital in Tibet's regional capital Lhasa earlier this year after suffering years of bad health following two terms in prison, RFA has learned.
News of Samdrub's death in February was delayed in reaching outside contacts due to information clampdowns imposed by Chinese authorities in politically sensitive Tibetan areas of China, another former prisoner now living in exile said.
"Samdrub died on Feb. 17, 15 days after being admitted to the Lhasa People's Hospital," Ngawang Woebar told RFA's Tibetan Service, adding that he had learned the news of Samdrub's death only recently.
"This shows how it's getting more and more difficult for many of us to receive communications from inside Tibet," Woebar said, citing sources in the region.
Samdrub, aged 50 at the time of his death, had served seven years in prison for participating in a series of protests, and was present at a 1987 protest in Lhasa in which a Chinese police station was burned.
"He was finally arrested and sentenced to three years in prison for taking part in a peaceful demonstration with 16 other monks on May 12, 1992 in Lhasa," Woebar said.
After he had served his full term, Samdrub, who was a monk at Lhasa's Drepung monastery, was not allowed to return there, and he found temporary work in Lhasa printing and copying religious scriptures of the Kagyu school of Tibetan Buddhism.
"But he continued to distribute political pamphlets and literature, and as a result he was arrested at his place of work and was sentenced to another four years in prison," Woebar said.
"And after his release, he was found to have developed certain health conditions, including diabetes," he said.
Samdrub is the fourth former political prisoner known to have died in Tibetan areas of China in just the last six months, with the others being Gendun Sherab from Rongpo Rabten monastery in the Tibet Autonomous Region (TAR), Tsering Bakdro from Gyama village in the TAR's Maldro Gongkar county, and a monk named Choegyi from Phugu township in Sichuan's Serthar county.
Torture and harsh conditions in Chinese prisons often cause permanent damage to the physical and mental health of Tibetan prisoners held there, leaving many in chronic ill health or even paralyzed after their release, and many die shortly after their release or after many years of suffering at home, sources say.
According to the he bipartisan U.S. Congressional-Executive Commission on China advisory panel, which keeps a political prisoner database, there were more than 500 Tibetan political or religious prisoners in detention in 2018.
Reported by Nyima Namseling for RFA's Tibetan Service. Translated by Dorjee Damdul. Written in English by Richard Finney.
Source: Copyright © 1998-2016, RFA. Used with the permission of Radio Free Asia, 2025 M St. NW, Suite 300, Washington DC 20036. https://www.rfa.org.