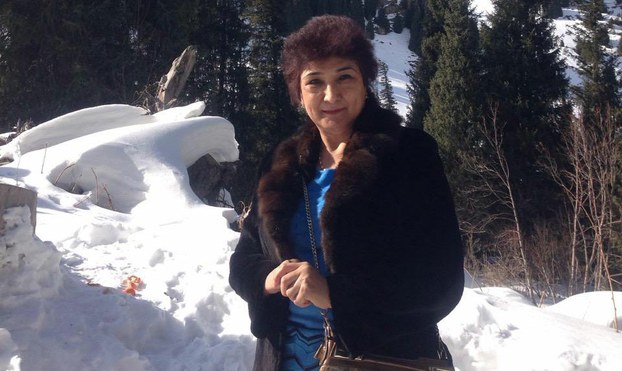 A Uyghur singer celebrated for her love ballads has been sentenced to a lengthy prison term for "separatism" following a secret trial in northwest China's Xinjiang Uyghur Autonomous Region (XUAR), according to multiple sources.
Rashida Dawut, a long-time member of the Xinjiang Muqam Troupe in the XUAR capital Urumqi who produced popular solo albums in the 1990s, was sentenced to 15 years in jail for "separatism" by the Urumqi Intermediate People's Court in late 2019, a source claiming to have close knowledge of the situation recently told RFA's Uyghur Service.
The source, speaking on condition of anonymity for fear of reprisal, said that a number of people involved in the arts and literature in the XUAR had been informed of Dawut's imprisonment, and several of them confirmed to RFA that she was sentenced, although they were unable to say for how long.
"I know that Rashida Dawut was sentenced, but I don't know [the length]," a former member of the XUAR Song and Dance Troupe told RFA in a phone call, before hanging up.
An employee of the Bingtuan Opera Troupe—a name used to refer to the quasi-military Xinjiang Production and Construction Corps (XPCC)—told RFA authorities had recently notified them that Dawut was sent to prison.
"I can't answer that because I don't know," the employee said, when asked how many years Dawut had been sentenced to.
The employee said that a woman named Mahinur, who directs the opera's dance group, was also present in the meeting where Dawut's imprisonment was announced. Calls to Mahinur's home went unanswered.
RFA spoke with both the Urumqi Women's Association and the XUAR Women's Association and was told by an official at the former that "no one at the office gave us any clear notice about that," when asked the length of Dawut's sentence. A staffer at the regional office denied knowledge of the case.
Court sources
RFA also spoke with employees of the municipal court system in Urumqi, including an employee with the Tianshan District People's Court, who confirmed that the Urumqi Intermediate People's Court was responsible for Dawut's verdict, but was unable to provide details of the sentence.
"I don't know the answer to that—they didn't tell us," the staffer said.
"We don't handle cases like this one. This was a different kind of case," he said, suggesting that it was political, rather than criminal.
But a staffer at the criminal division of the Urumqi Intermediate People's Court told RFA he knew of Dawut's verdict, and heard she was sentenced to 15 years.
"That was a case from last year … We haven't gotten any sort of formal notification of the verdict here," he said.
"I heard [she received] 15 years … [The trial] took place before the new year."
Other sources suggested to RFA that Dawut, who has family living in the U.S. state of Virginia, had spent time between 2018 and 2019 detained at one of the XUAR's vast network of internment camps, where authorities are believed to have held up to 1.8 million Uyghurs and other Muslims since April 2017, although RFA was unable to independently verify the claim.
'Bits of information'
In an interview with RFA, U.S.-based Uyghur historian Qahar Barat said that even basic confirmations of incarcerations in the XUAR are valuable to the wider community because of what he said are "inherent problems" with information and transparency in Chinese governance.
"We tend to see government offices as the most prestigious of their kind," he said.
"Thus, any organization that goes by the name of a government organ must be responsible for, answer for, and inform the public, the world, and other governments about the good and bad things that take place within the scope of their work. This is an absolute responsibility."
Barat said that because Beijing doesn't provide local governments with the right to do so, the onus is on others to "discover the truth wherever we can."
"Because the government has shirked its roles and its responsibility to answer [for the things it does], these bits of information are the most credible things we have," he said, adding, "There's nothing else we can do."
Beijing initially denied the existence of internment camps in the XUAR, but last year changed tack and began describing the facilities as "boarding schools" that provide vocational training for Uyghurs, discourage radicalization, and help protect the country from terrorism.
Reporting by RFA's Uyghur Service and other media outlets, however, indicates that those in the camps are detained against their will and subjected to political indoctrination, routinely face rough treatment at the hands of their overseers, and endure poor diets and unhygienic conditions in the often overcrowded facilities.
Reported by Shohret Hoshur for RFA's Uyghur Service. Translated by Elise Anderson. Written in English by Joshua Lipes.
Source: Copyright © 1998-2016, RFA. Used with the permission of Radio Free Asia, 2025 M St. NW, Suite 300, Washington DC 20036. https://www.rfa.org.