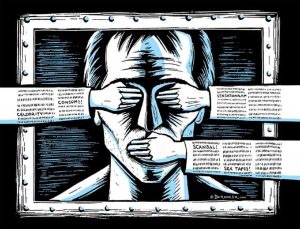 Foreign correspondents in Hong Kong have begun a petition calling on the Hong Kong government to explain its decision not to renew the visa of a Financial Times editor after he hosted an event featuring a pro-independence speaker.
FT Asia news editor Victor Mallet's application to renew his employment visa was rejected earlier this month, in a move that the U.K.'s foreign minister has said is likely "politically motivated."
Mallet left Hong Kong on Friday.
The decision came after Mallet, then acting chairman of the Foreign Correspondents' Club (FCC), hosted a lunch event in August at which Hong Kong National Party (HKNP) founder Andy Chan was the speaker, in the face of public criticism from both Hong Kong and ruling Chinese Communist Party officials.
The HKNP has since been banned by the Hong Kong government under colonial-era laws governing sedition that rights groups said were intended only to ward off violent threats to the city's political system.
"This visa decision suggests that free speech may not be permitted in certain unspecified areas [of discussion]," the FCC said in a statement on its website on Friday, with a link to a petition for an official explanation for the refusal.
"The absence of an official reason or a clear explanation makes the decision appear arbitrary and lacking any basis in Hong Kong law and creates an impossible working environment for the media," the statement said.
No explanation given
While the city's chief executive Carrie Lam has dismissed any link between Chan's FCC appearance and the decision on Mallet's visa as "speculation," the government has yet to offer any other explanation, it said.
"Throughout its long history the FCC has hosted politicians, businesspeople, professionals, and artists of varied political persuasions, including senior members of the Hong Kong and Chinese governments and their critics," it said.
"The importance of this visa sanction goes far beyond the Foreign Correspondents' Club and its short or long-term future in Hong Kong; it goes far beyond the FT Hong Kong bureau losing its Asia News editor, and beyond Victor Mallet himself," it said.
The American Chamber of Commerce (AmCham) also hit out at the denial of Mallet's visa application, warning that it could hit the city's competitiveness "as a leading financial and trade center."
"The rejection of a renewal of work visa for FT correspondent Victor Mallet sends a worrying signal," AmCham President Tara Joseph said in a statement earlier this week. "Without a free press, capital markets cannot properly function, and business and trade cannot be reliably conducted."
AmCham warned that such incidents "cannot be brushed off as individual, isolated events every time they happen."
It said Hong Kong ought to make it clear to the international business community that free speech and free flow of information was still intact.
"A free press is a core component of Hong Kong's success, and that includes the international and local media located here," the statement said.
A changing climate
Benson Wong, politics professor at Hong Kong's Baptist University, said AmCham's statement was likely a product of a changing climate on China under the administration of President Donald Trump.
"We are now seeing cold-war style clashes between China and the United States, and Hong Kong will inevitably be an important battleground," Wong said. "I think the Hong Kong government must be considering the possibility that some form of conditional sanctions will be meted out to it."
Democracy campaigner Joseph Cheng, a former politics lecturer at Hong Kong's City University, said there are parallels between Mallet's case and the refusal of a work visa to a trade representative from Taiwan, which the Chinese Communist Party claims as its territory in spite of never having ruled the democratic island.
"They are stepping up pressure on Taiwan by not allowing its representative to come to Hong Kong," Cheng said. "They are also preventing a journalist from continuing to work in Hong Kong."
"All of this shows us that Beijing is heading in a certain direction: showing us that if you cross [the Chinese government], you will pay the price," he said.
'Open and inclusive'
An official who answered the phone at the city's Commerce and Economic Development Bureau said its position on the decision on Mallet's visa had been made clear by its chief, Edward Yau, who said last weekend that Hong Kong would remain an "open and inclusive" city and the denial of Mallet's visa didn't undermine this.
Meanwhile, Labour party would-be candidate Lau Siu-lai was denied permission to run in a by-election to the city's Legislative Council (LegCo) next month.
Lau was stripped of her seat after Beijing ruled the oaths of six pro-democracy lawmakers invalid in 2016.
Agnes Chow, of the pro-democracy party Demosisto, was barred from standing in a Hong Kong Island by-election in March after the returning officer ruled her unlikely to uphold the city's mini-constitution, the Basic Law.
Demosisto has said it supports greater self-determination for Hong Kong, which was promised a high degree of autonomy under the terms of its 1997 handover to Chinese rule.
Reported by Wen Yuqing for RFA's Cantonese Service, and by Jing Yuan and Hwang Chun-mei for the Mandarin Service. Translated and edited by Luisetta Mudie.
Source: Copyright © 1998-2016, RFA. Used with the permission of Radio Free Asia, 2025 M St. NW, Suite 300, Washington DC 20036. https://www.rfa.org.