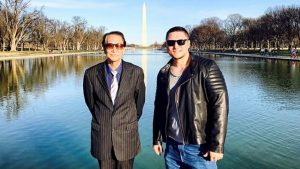 Authorities in northwest China's Xinjiang Uyghur Autonomous Region (XUAR) are holding a prominent Uyghur journalist and poet in a political "re-education camp," according to his son, who said the arrest is being used as leverage against him because he is living in exile in the U.S.
Bahram Qurban, the son of former editor-in-chief of the official Xinjiang Cultural Journal Qurban Mamut, told RFA's Uyghur Service that his parents visited him for a month in the U.S. beginning in February 2017, marking the first time the three had seen each other in more than nine years.
After the couple returned home to the XUAR, 68-year-old Mamut went missing, and Qurban said that he later learned that his father had been taken to one of a network of re-education camps in the region, where Uyghurs accused of harboring "strong religious views" and "politically incorrect" ideas have since April 2017 been detained without legal process.
"I inquired about him and learned that he had been arrested," he said.
"He never committed any crime, but the authorities regularly arrest people who have relatives living abroad [to gain leverage over them]. I believe that is why he was arrested. While it isn't my fault, I feel that I am the reason for his arrest."
Qurban said he believes his father was "arrested in February this year," adding that by incarcerating Mamut, Chinese authorities had acted in violation "not only of international law, but of their own constitution."
Meanwhile, he said, his 66-year-old mother Aynisa Yaqup had been admitted to the hospital because her heart condition had worsened after Mamut's arrest, and he had lost contact with his elder sister, 38-year-old Dilare Qurban.
"For an elderly retired couple, this is an unimaginable assault," Qurban said.
"My father has always been a very career-driven person—I grew up watching him work late into the night, and it is an extremely demanding task to produce and publish a high-quality journal," he added.
"We are very proud of his achievements that were the result of tireless and selfless hard work. He made every effort in producing one of the best journals in the region because of his work ethic and love for his people. He was simply doing his duty, and certainly had not committed any crimes."
Mamut, of Kuchar (in Chinese, Kuche) county in the XUAR's Aksu (Akesu) prefecture, earned a bachelor's degree in literature from Xinjiang University in 1976 and worked as a journalist and editor for the official Xinjiang People's Radio Station until 1984.
He worked for the Xinjiang Cultural Journal from 1985 until he retired as editor-in-chief in 2011, and was known for selecting works by the region's most influential writers on Uyghur culture, history, politics and social development for publication.
Intellectuals targeted
Repeated efforts by RFA's Uyghur Service to contact local officials about Mamut's situation went unanswered by the time of publishing, but one of the journalist's neighbors—a Uyghur student who is currently studying abroad—said that he had also recently learned of the arrest.
The neighbor, who spoke on condition of anonymity, but said that he had lived on the same street as Mamut's family "since I was little," told RFA that Dilare Qurban had posted a photo of the journalist on social media in December last year with a comment that read, "my poor father."
"At that time, we were unaware of what had happened, so we didn't pay much attention to it, but I then heard news of his arrest in April … from other neighbors," he said.
"They confirmed that he was arrested at the end of November or the beginning of December last year. I also heard that there were threats [against other family members] involved as well."
News of Mamut's arrest comes amid reports of several Uyghur writers and intellectuals being taken into custody by authorities in the XUAR and either jailed or sent to re-education camps.
Speaking from exile in the U.S., the Uyghur poet Tahir Hamut recently told RFA that since the re-education campaign began last year, authorities had singled out "anyone involved in preserving Uyghur culture and promoting Uyghur values."
"Qurban Mamut played an important role in illuminating the ethnic consciousness in a most cultured manner," he said.
"We must make every effort to raise our voices to highlight the persecution of such prominent figures in an effort to attract international attention."
Camp network
Western governments have increasingly drawn attention to re-education camps in the XUAR in recent months as media reports detail the stories of Uyghurs who have been detained in the facilities.
U.S. State Department spokesperson Heather Nauert recently said the U.S. government was "deeply troubled" by the crackdown on Uyghurs in Xinjiang, adding that "credible reports indicate that individuals sent by Chinese authorities to detention centers since April 2017 number at least in the hundreds of thousands, and possibly millions."
Adrian Zenz, a lecturer in social research methods at the Germany-based European School of Culture and Theology, has said that some 1.1 million people are or have been detained in the re-education camps, which equates to 10 to 11 percent of the adult Muslim population of the region.
The Congressional-Executive Commission on China (CECC), a U.S. congressional advisory panel, last week issued an annual report on China's human rights situation, calling it "dire" and on a "continued downward trajectory, by virtually every measure."
"Of particular concern is the mass, arbitrary, internment of as many as 1 million or more Uyghurs and other Muslim ethnic minorities in "political reeducation" camps in western China," the report said.
Senator Marco Rubio, CECC chairman, and Representative Chris Smith, co-chairman of the body, said they plan to introduce the Xinjiang Uygur Human Rights Act, which would "direct U.S. resources to address gross violations of universally recognized human rights, including the mass internment of over a million Uyghurs and other predominately Muslim ethnic minorities in China and the intimidation and threats faced by U.S. citizens and legal permanent residents."
Chinese authorities had earlier denied the existence of internment camps, but this week they launched a state media propaganda blitz extolling the success in countering extremism of what they now call "employment training centers."
China's state-run news agency Xinhua quoted a senior Chinese official as saying over the weekend that Muslims in Xinjiang must practice "Chinese-style Islam" to promote ethnic solidarity and religious harmony in the troubled region.
Reported by Gulchehra Hoja for RFA's Uyghur Service. Translated by RFA's Uyghur Service. Written in English by Joshua Lipes.
Source: Copyright © 1998-2016, RFA. Used with the permission of Radio Free Asia, 2025 M St. NW, Suite 300, Washington DC 20036. https://www.rfa.org.