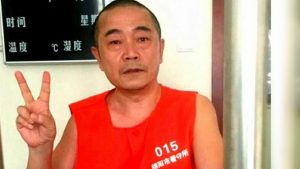 A Paris-based press freedom group on Thursday called on the international community to step up pressure on the ruling Chinese Communist Party to release two detained editors of prominent human rights websites.
"Until their arrest in November 2016, Chinese citizen journalists Liu Feiyue and Huang Qi ran two major human rights news sites in China, covering topics such as corruption, health scandals and forced evictions," Reporters Without Borders (RSF) said in a statement on its website, calling for their immediate release.
Liu, founder of the Civil Rights and Livelihood Watch website, was arrested on Nov. 17, 2016 on suspicion of "incitement to subvert state power." He is currently being held at the Suizhou No. 1 Detention Center in the central province of Hubei.
Huang, founder of the Tianwang website, which won an RSF prize in 2016, was arrested on Nov. 28 of that year and is being held at the Mianyang Detention Center in the southwestern province of Sichuan on suspicion of "illegally supplying state secrets overseas."
Fourteen rights groups called for Huang's immediate release on urgent medical grounds ahead of a United Nations review of China's rights record earlier this month, warning that his condition is so serious that there is an immediate threat to his life.
"Huang Qi and Liu Feiyue did an admirable job in documenting the social injustices that are commonplace in China," RSF East Asia director Cédric Alviani said. "They should receive the highest praise from the State rather than a criminal trial."
"The United Nations has officially recognized the arbitrariness of their detention, therefore there is no reason why they should still be detained," Alviani said.
RSF said Huang suffers from "serious illnesses that are the legacy of eight years in prison and labor camps," and has also been a victim of torture, and the subject of a recent petition to the U.N. Special Rapporteur.
Huang's mother Pu Wenqing, a qualified doctor, says her son's life hangs in the balance.
"Given that Huang Qi's blood pressure is so high, we are worried that he could suffer from a sudden death or stroke and coma, because the authorities aren't treating his hypertension," she told RFA in an interview on Nov. 6.
Huang's lawyer Liu Zhengqing was scheduled to visit Huang last week, but Pu said the attorney may face obstacles from the authorities, because he published details of the activist's condition.
"Liu Zhengqing published all of his [lawyer's] notes in detail, so in this case, they are likely to stop him from seeing Huang Qi," she said.
"The main reason, if he's prevented from visiting Huang Qi, may be because of the blood pressure fraud, and the fact that they won't let him have his medication," Pu said, referring to attempts from the authorities to prevent Huang's health situation from becoming known.
"Whenever the lawyer visits Huang Qi, new information comese out, and the authorities think that's not in their interest," she said.
China is one of the world's top jailers of journalists, with more than 60 professional and citizen journalists currently behind bars. Mainland China ranked 176th out of 180 in RSF's 2018 World Press Freedom Index, it said.
Reported by Gao Feng for RFA's Mandarin Service, and by Wong Lok-to for the Cantonese Service. Translated and edited by Luisetta Mudie.
Source: Copyright © 1998-2016, RFA. Used with the permission of Radio Free Asia, 2025 M St. NW, Suite 300, Washington DC 20036. https://www.rfa.org.