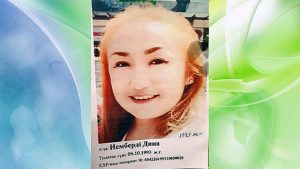 Chinese authorities in the northwestern region of Xinjiang have sent a prominent ethnic Kazakh artist to a camp for "re-education," RFA has learned.
Dina Eganbayurt, a resident of Xinjiang's Ili Kazakh Autonomous Prefecture and a graduate of the Xinjiang Arts Institute, was sentenced in a secret trial to three years' imprisonment, without notifying her family of the charges against her, sources in the region said.
Serikzhan Bilash, a founder of Atajurt Kazakh Human Rights, an organization in Kazakhstan that helps ethnic Kazakhs who have left neighboring Xinjiang, said Eganbayurt was a resident of Ili's Hefeng county at the time of her sentencing.
"She was sent to a political study concentration camp in April 2018, and I heard she was sentenced to three years, with no reason given whatsoever," Bilash told RFA. "She is a highly talented alumnus of the Xinjiang Arts Institute."
He said Eganbayurt's mental health has deteriorated since her incarceration.
"She has become seriously ill inside the political study concentration camp, and people say she has lost touch with reality," Bilash said. "Her relatives don't know what kind of illness she has, though."
An employee who answered the phone at the Xinjiang Arts Institute on Thursday referred inquiries about Eganbayurt's status to the propaganda department.
A woman who answered the phone at the propaganda department declined to comment when contacted by RFA, however.
"I have never heard of this person," the woman said. "I only just started working here, sorry."
Eganbayurt's uncle told RFA that he had tried to visit her several times in the camp, to no avail.
"She's being held in Tarbaghatay, in Hefeng county," he said. "But I just can't find out where."
"[Her father] hasn't been able to visit; her mother tried too," the uncle said. "She is an ethnic Kazakh Muslim."
Mass detentions in XUAR
Mass detentions in the Xinjiang Uyghur Autonomous Region (XUAR) have drawn significant attention from the international community, and particularly from the U.S., where lawmakers have called for access to the camps and proposed sanctions against officials and entities in China deemed responsible for abusing the rights of ethnic Uyghurs and other Muslim minorities.
While Beijing initially denied the existence of re-education camps, the chairman of the XUAR government, Shohrat Zakir, told China's official Xinhua news agency in October that the facilities are an effective tool to protect the country from terrorism and provide vocational training for Uyghurs.
But reporting by RFA's Uyghur Service and other media organizations has shown that those held in the camps are detained against their will, are subjected to political indoctrination and rough treatment at the hands of their overseers, and endure poor diets and unhygienic conditions in the often overcrowded facilities. The atmosphere is more like a prison than any kind of school, multiple sources say.
Adrian Zenz, a lecturer in social research methods at the Germany-based European School of Culture and Theology, has said that some 1.1 million people are or have been detained in the camps — equating to 10 to 11 percent of the adult Muslim population of the XUAR.
In November 2018, Scott Busby, the deputy assistant secretary in the Bureau of Democracy, Human Rights and Labor at the U.S. Department of State, said there are "at least 800,000 and possibly up to a couple of million" Uyghurs and others detained at re-education camps in the XUAR without charges, citing U.S. intelligence assessments.
Citing credible reports, U.S. lawmakers Marco Rubio and Chris Smith, who head the bipartisan Congressional-Executive Commission on China, recently called the situation in the XUAR "the largest mass incarceration of a minority population in the world today."
Reported by Qiao Long for RFA's Mandarin Service. Translated and edited by Luisetta Mudie.
Source: Copyright © 1998-2016, RFA. Used with the permission of Radio Free Asia, 2025 M St. NW, Suite 300, Washington DC 20036. https://www.rfa.org.