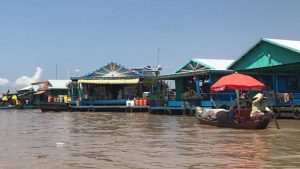 Ethnic Vietnamese evicted last year from a floating village on Cambodia's Tonle Sap Lake are beginning to return, citing poor conditions at the site chosen for their relocation and claiming they need to look after fish farms left behind, Cambodian sources say.
The move to evict residents of the floating village follows a campaign two years ago that saw thousands repatriated to Vietnam from their homes on the Tonle Sap, where global warming and overfishing have reduced the seasonal inflow and outflow of water on the environmentally threatened lake.
Meanwhile, more than two-thirds of around 2,300 residents were moved from the lake last year to land almost a mile away in Kampong Chhang province, with around 700 families allowed to remain because their homes use floating nets to farm fish.
Around 30 percent of those most recently moved have now returned to their former homes on the lake, though, saying they too have fish to protect, Sum Chan Kea—provincial coordinator for Adhoc, a Cambodian rights group monitoring the Tonle Sap evictions—old RFA's Khmer Service on Friday.
"The government doesn't have a clear plan" to help the families moved from the Tonle Sap, Sum Chan Kea said, adding that those returning may only be using claims of a need to guard fish farms as a pretext for coming back.
Local authorities have failed to create adequate infrastructure at a relocation site on land nearly a mile away in Kampong Chhnang province, with a road leading to the site already difficult to travel, Sum Chan Kea said.
"I went there, and they have no water or electricity, and their children have no schools," Sum Chan Kea said.
Provincial deputy governor Sum Sovannarith was unavailable for comment Friday, but has previously told RFA he would work to improve conditions at the relocation site, and that all ethnic Vietnamese families would be finally moved from the lake by July.
Animosity between Vietnam and Cambodia goes back centuries, but was heightened by the Vietnamese war in 1979 that ousted Cambodia's Khmer Rouge regime and paved the way for long-ruling prime minister Hun Sen's ascension to power.
Accusations over the demarcation of the border between Vietnam and Cambodia have become a prominent feature in Cambodian politics as Hun Sen's opponents have attempted to paint the strong man as a tool of the Vietnamese.
Reported by RFA's Khmer Service. Translated by Samean Yun. Written in English by Richard Finney.
Source: Copyright © 1998-2016, RFA. Used with the permission of Radio Free Asia, 2025 M St. NW, Suite 300, Washington DC 20036. https://www.rfa.org.