Even the very young are giving oaths to the Communist Party, pledging to resist religion and report on believers in their families.
Xin Lu
At the symposium for ideological and political theory teachers held on March 18 in Beijing, President Xi Jinping repeatedly stressed the necessity of cultivating generations of talents that will support the CCP leadership and the Chinese socialist system. This must start with schools, he said, to make young people the successors of communism, with teachers doing everything to prevent the spread of "false ideas and thoughts."
Directed by their leader, schools and kindergartens throughout China are making sure that the new generation of China is growing imbued sufficiently with the "right ideas and thoughts" of communism and atheism.
Signing ceremonies for atheism
In early April, the Suiyang District Education and Sports Bureau in Shangqiu city, in the central province of Henan, ordered primary and secondary schools to hold signing events, pledging to stay away from religion.
In Gaoxin town, under the district's jurisdiction, such events were held at all 18 schools and kindergartens.
In one secondary school, the principal summoned all teachers and students to the playground, for an ideological meeting to prohibit them from having any religious beliefs, threatening that any students found to believe in God would be expelled. Supervised by their teachers, all students were forced to sign their names on a propaganda banner.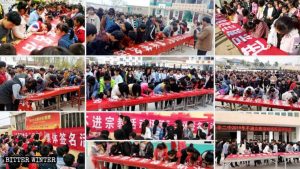 The school administration also distributed a letter from Suiyang District Education and Sports Bureau to the parents and students of all schools under its jurisdiction, demanding that parents read it carefully and promise not to let their children take part in any religious activities.
Every primary and secondary school, as well as all kindergartens, have been required to display in a visible location a banner that sends a message to resist religions entering school campuses.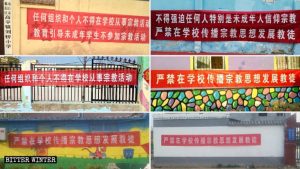 Spy on your family and report the religious
The principal of a primary school in Jinzhong city, in north-central China's Shanxi Province, took an even more drastic step. On March 4, all teachers and students had to take an oath by raising their hands in swearing an oath to firmly resist religious belief. Having any religious symbols or wearing clothes with them was strictly prohibited and students were ordered to report anyone that they know who believes in God.
The students were warned that the United States and other countries are using religion to influence Chinese people's thinking, and told students that they must remain vigilant.
Measures forcing students to report religious persons have also been implemented in Beijing.
In late March, more than 20 plainclothes police officers arrived at the grade six classroom of a primary school in Beijing's Fangshan district to question each student about whether any of their family members are religious. Officers even tried to obtain the information by bribing the children, promising 500 RMB (about $ 75) as a reward.
The police also ordered the students to fill out a questionnaire about religion and sign an oath promising not to believe in God and steadfastly follow the Party. The students were requested to take the form home for their parents to sign it as well.
Believe in science, not heterodox teachings
On March 7, authorities from Zaotou town, under the jurisdiction of Shangrao city in east China's Jiangxi Province, demanded that all of the town's primary schools and kindergartens hold class meetings on the topic "Believe in science and keep away from xie jiao." Schools were required to take photos and videos of the meetings and submit them to the authorities.
One kindergarten principal said that after receiving the notice, he immediately implemented it. He threatened all teachers that if any of them were found to hold religious beliefs, the kindergarten would be shut down. The principal also sent a video of students attending a class meeting to the WeChat social messaging app specified by the authorities for review.
Video: The teacher leads kindergarten pupils in shouting anti-religious slogans: "Believe in science and keep away from xie jiao; starting with children, we're the best."
A kindergarten teacher lamented, "Children believe their teacher the most, so the government is making us indoctrinate them with these ideas. It is clearly to make children reject faith from an early age. They are still young and don't understand everything. I don't want to do this, but I have no choice: to meet the government's requirements, I have to go through these formalities."
source:BITTER WINTER