Monetary rewards by the government nurture the culture of snitching in China, putting people of faith in permanent danger and resulting in the closure of churches.
by Wang Yichi
As part of its all-encompassing campaign to eliminate religious venues that are not part of state-controlled churches, the CCP is implementing measures to lure the population to inform on believers in exchange for money. As in the widely-publicized case of bounty hunters in Guangzhou, the capital of the southern province of Guangdong, when residents were offered substantial monetary rewards to tip-off the police about any "illegal religious activities." According to an edict, issued by the Guangzhou City Bureau of Ethnic and Religious Affairs, such activities include: "construction of temples without approval, or of Buddha statues built without authorization, the private organization of pilgrimages, gathering in unauthorized Christian meeting venues, illegal online proselytizing, unauthorized religious training, unauthorized printing of religious publications, etc."
Coupled with other means of suppression, such as threatening the landlords of religious venues with fines of up to $30,000, congregations of house churches and other "unofficial" places of worship have been deprived of any possibility to practice their faith.
A reader recently reported to Bitter Winter that uniformly-produced propaganda posters had been displayed throughout Huiji district of Zhengzhou city, in the central province of Henan. "Providing venues for illegal religious activities is prohibited. Please promptly report any illegal religious activities if discovered. In serious cases, those who facilitate illegal religions will be fined 20,000 to 200,000 RMB [between $ 2,900 and 29,000]," the poster reads. The phone number for a hotline for informants is also provided.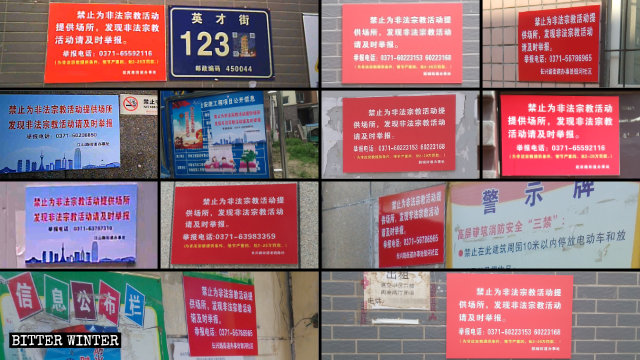 Residents of Zhengzhou have reported that most of these posters are displayed at the entrances to residential communities and supermarkets, on elevator doors, bulletin boards, and in other populated places.
A Christian from Huiji district told Bitter Winter that soon after the propaganda posters were hung throughout the area, she received a warning from community personnel that she couldn't attend religious gatherings anymore because of the increasing pressure from the authorities on people of faith.
"Seeing these posters makes me very sad; I often cry while praying. For us Christians, our meeting venue is our home. Not having a place to gather is like not having a home," an elderly believer from a Three-Self church meeting venue commented.
In April, some sub-district offices organized inspections targeting house churches. The landlord of a house church meeting venue was threatened to be fined if she were discovered renting her property to believers. Having no choice, she asked the congregation to leave the property.
"We really didn't want to vacate the property, because we can't find a meeting venue now," the person in charge of the church said helplessly.
"None of my family members are Christians. They don't support my belief in God, so I can't organize gatherings at home. Now that landlords are afraid of being implicated, none of them dare to rent apartments to people who believe in God," said a believer.
The pressure on landlords of religious venues to stop renting to believers is growing exponentially across China. Qinzhuang Three-Self Church, located in Zhengzhou city's Gaoxin district, is a typical example. After the government forcibly demolished the church last September, more than 200 believers decided to rent a building for their gatherings. In December, someone reported their new location to the authorities, and the church was once again shut down. Now, believers constantly change their meeting locations. Sometimes, they pray and sing silently in a corridor. Because of harsh persecutions, the number of attendees has decreased dramatically, only about a dozen believers attend the gatherings now.
"When our church was looking for an apartment, we didn't dare say that it would be used for holding gatherings. We just said that we were starting a company; that is how we found our current place," said an elderly church co-worker. "The past two years of religious persecution have been the most severe since the Cultural Revolution."
Source:BITTER WINTER/Wang Yichi