A nationwide campaign to forcibly collect people's biometric data is in full swing across China, often misleadingly presented as a means "to fight crime."
by Wang Yong
Bitter Winter has previously reported that the government in China's northwestern region of Xinjiang is collecting a full range of biometric information from all residents between the ages of 12 and 65 for a region-wide database.
The CCP is also extensively implementing this program in other parts of China, often disguised as the "fight against crime." The Ministry of Public Security started creating a searchable, national DNA database in the early 2000s, as part of a larger police information project known as the Golden Shield.
However, as Human Rights Watch reported in 2017, documented cases show that such collection of DNA samples doesn't appear to be connected to solving crimes.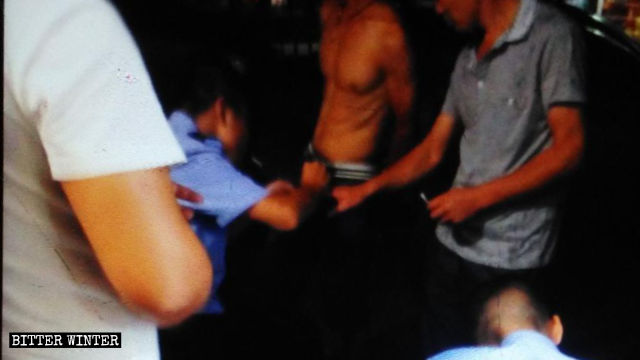 Officials: blood samples help solve criminal cases
Jiangxi provincial government in southeast China recently started collecting blood or saliva samples from males in every household in each of the province's cities and counties.
On the morning of July 24, local police went to the homes of village residents in Shangzhuang town, under the jurisdiction of Fengcheng city, to collect blood samples from males in each family: one adult and one child.
According to residents, blood testing is generally carried out by village officials and officers from the local police station. Residents are also required to fill out a "DNA Database Personnel Information Form."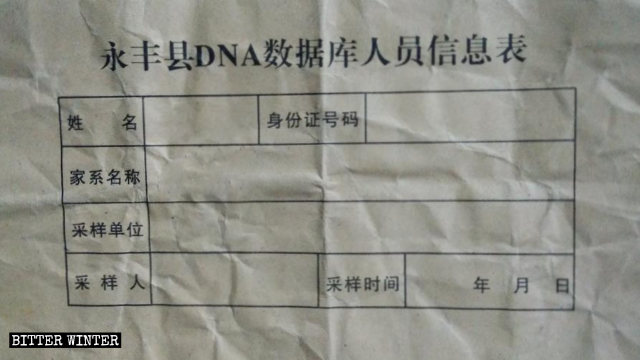 When residents asked what the reason for collecting blood samples was, the officials explained that this was done to have persons' DNA on file, so if they or their offsprings break the law, they can be found no matter where they are – even abroad. The officials added that this is a unified nationwide operation.
A village resident from Weinan prefecture in the northwestern province of Shaanxi whose blood was drawn recalled that police officers had a stack of forms with the names of all male household members of all generations that had to have their blood taken.
A village official told him that having the database with blood samples helps during investigations. "If a person breaks the law, the scope of the investigation can be narrowed down based on blood sample information. It's more difficult to investigate based on fingerprints only."
Another local government insider confirmed this statement. "The collection of blood samples is mandatory; they will be used to establish a national blood database. If a criminal case occurs, the suspect can be located and found very quickly using the database. If someone commits a crime, no matter where, he or she can be found out."
The police warned some village residents who were unwilling to give their blood that their names would be reported to the Public Security Bureau. "In the future, the Bureau will not handle the affairs of the people who are unwilling to have their blood tested, even if they want to," the officers threatened.
A local police station in Fuqing city in the southeastern province of Fujian issued a public notice for blood sample collection in preparation for the seventh national census and the launch of the third generation digital ID cards for Chinese citizens. Apart from a GPS module that will track the owner's location at all times, the new card will also store the person's biometric data, such as blood type and DNA information. Therefore, some male residents in the jurisdiction will be selected to have their blood samples collected. The notice also stated that this work is conducive to promoting "genealogical culture" and helps with "improving social service functions."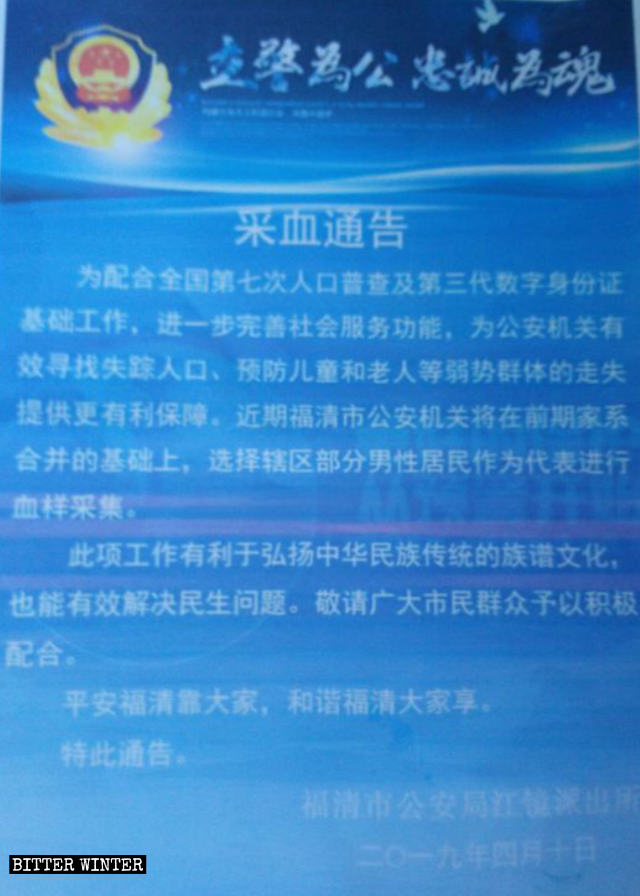 DNA collection, the resulting databases, and their use have been causing human rights and privacy concerns around the world for years. The European Court of Human Rights (ECHR) in Strasbourg, France, ruled in December 2008 against the United Kingdom, ordering the authorities to destroy the collected DNA details of hundreds of thousands of people with no criminal convictions. Keeping of such data was in breach of article eight of the Human Rights Convention, covering the right for private and family life, the ECHR declared.
The danger of DNA data misuse is especially grave in countries with the questionable rule of law. The Wall Street Journal reported in 2017 that many of the ways the Chinese police are collecting samples would be impermissible in the United States where law enforcement agencies are only allowed to take DNA samples from criminals arrested for felonies, unless the police obtain a court authorization or personal consent.
The same article mentions that China plans to expand the current DNA database to include 100 million records by 2020. To achieve this goal, the number of records that China needs to collect each year is equivalent to the scale of the national database that the US has spent more than 20 years to establish. To achieve this goal, any person – even children – could be forced to provide a DNA sample.
Children's DNA secretly collected without parents' knowledge
A healthcare worker from Fujian's Fuzhou city revealed to Bitter Winter that in April, he and a group of his colleagues went to several villages under the city's jurisdiction to perform medical checkups on kindergarten children – from toddlers to 6 years of age. This is a usual practice, he said. Three officers from the police station joined the healthcare team. To their surprise, the officers started collecting DNA samples from boys, using the kits they had brought along, and registered the children's personal information, without notifying their parents.
The police filed the samples secretly collected from these children in the Public Security Bureau's database, claiming that this was done to "prevent children from getting lost" and to help "find their parents through DNA."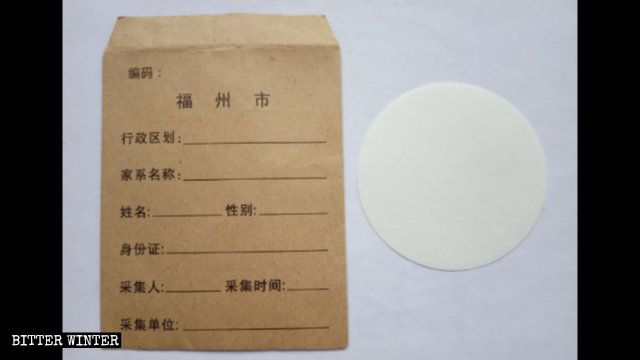 The healthcare worker said that there are 30 kindergartens in the area, and most of the boys had their DNA secretly collected. To his knowledge, no one has notified the children's parents until now.
Refuse saliva tests – no pension for you
Since this April, each household in Jinxian and Nanchang counties, both under the jurisdiction of Nanchang city in Jiangxi Province, is beening forced to provide saliva samples for the DNA database. "If there are no men in a household, then women must undergo the testing," a local government official said.
A village resident revealed to Bitter Winter, "Had I refused to undergo the testing, my pension would have been revoked. It's not an option for me. The village chief and the testing personnel sat in my home and wouldn't leave. What could we do about it?"
When some village residents questioned the reason for the collection of saliva, the police lied to them, saying, "Saliva testing is for your own good. It's to see whether you have any infectious diseases. If you're ill, the state will treat you."
One of the residents said she wasn't sick and didn't need to undergo testing. "You're going to be tested whether you want to or not," an officer said, while he and his colleague gripped the woman's arms. He then placed a cotton swab in her mouth and forcibly collected a saliva sample from her.
Article 8 of the International Declaration on Human Genetic Data stipulates that "Prior, free, informed and express consent, without inducement by financial or other personal gain, should be obtained for the collection of human genetic data, human proteomic data or biological samples, whether through invasive or non-invasive procedures, and for their subsequent processing, use and storage." Apparently, the CCP is completely disregarding this international regulation.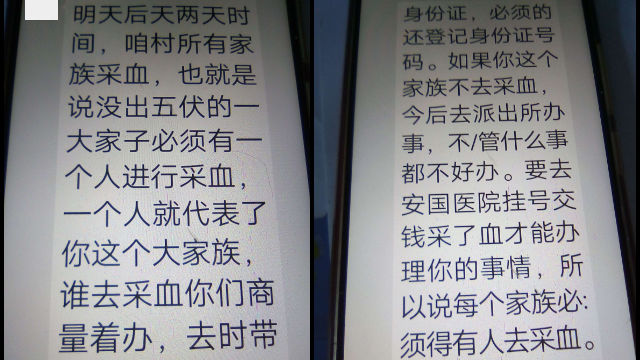 According to reports received by Bitter Winter, this year, people had their blood and fingerprints collected in the provinces of Zhejiang, Hebei, Henan, Shandong, and other locations of China. Most of the recorded cases happened in rural areas. Also, biometric data were collected from miners, merchants, and secondary school faculty.
Believers are also targeted for DNA collection
CCP's large-scale collection of DNA and other biometric data has made people uneasy. Certain "key persons" and vulnerable groups that are monitored by the Chinese government, such as dissidents, human rights activists, and religious group members, have also become targets of forced blood sample collection. Members of The Church of Almighty God (CAG), which have suffered long-term suppression by the CCP, are among them. Some believe that their DNA data could become another means for the CCP to track them down for arrests.
"A plainclothes officer tightly grasped my arm while another held the blood collection device and was about to prick my finger. I exerted all my strength to shake them off and then turned around seeking to escape, but they forcibly dragged me back," a CAG member from Shaanxi Province recounted to Bitter Winter how the police tried to take his blood. Because he didn't comply, officers forcibly took him to the police station where four of them held him down on a stool and forcibly collected his blood and fingerprints.
Source: Bitter Winter