A young Uyghur boy whose parents are being held in internment camps in northwest China's Xinjiang Uyghur Autonomous Region (XUAR) has drowned, according to sources, who said they were unsure who had been caring for him when he died.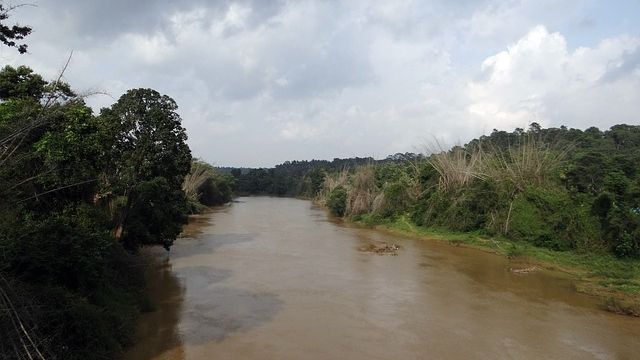 A video recently posted to social media showed the body of the three-year-old boy, which was discovered on Aug. 22 in a small river in the prefecture level municipality of Turpan (in Chinese, Tulufan), but provided few other details.
RFA's Uyghur Service telephoned the police department in Turpan's Karaghoja disctrict to verify the video and spoke with an officer who confirmed the boy's death.
"He is from Astana district," said the officer, who spoke on condition of anonymity, adding that "his name was Perhat, but I don't know his family name."
RFA also spoke with a Han Chinese resident of Astana, who said she had moved to the area about 10 years earlier from Henan province and was aware of the drowning.
"His name was Paluke," she said, using the Han Chinese version of Perhat.
"His parents live in our district and he was around three years old."
The woman, who also declined to provide her name, said that Perhat's parents had been detained in the XUAR's vast network of internment camps, where authorities are believed to have held more than 1.5 million Uyghurs and other Muslim minorities accused of harboring "strong religious views" and "politically incorrect" since April 2017.
She said that the parents had three children, without providing details about Perhat's siblings.
"We have both Han Chinese and Uyghurs in the same village, but we don't mingle much with the Uyghurs, so I don't know his parents' names," she said.
"I'd guess there are more than 100 Uyghurs who are detained in the camps from our district, but I don't know where Paluke's parents are being held."
A security official from Astana, however, was able to provide more information about Perhat's family.
"His father is a farmer named Tudighayit and his mother's name is Atikem Mamat," the official said.
"His father has been detained for three years and his mother for nearly a year, but I don't know the location of their camps or why they were taken," he added.
"I'm not sure who had been caring for the boy."
Children at risk
RFA has previously reported about how Uyghur children whose parents are held in camps are regularly sent to orphanages that are seriously overcrowded, with sources calling the conditions "terrible" and describing children "locked up like farm animals in a shed."
RFA has also received several reports of Uyghur children in the XUAR dying or suffering severe injuries while their parents are detained and they lack adequate care.
In June, sources told RFA that the body of a Uyghur girl aged around five years, whose parents were believed to be held in an internment camp, was recovered from a river near a graveyard in the seat of Hotan (Hetian) prefecture's Ilchi district a month earlier.
In December last year, Rahmutullah Shirbaqi, the two-year-old son of a Uyghur couple detained at a camp in Hotan's Qaraqash (Moyu) county, drowned after falling through ice into an irrigation ditch while in the care of his elderly grandparents.
In August 2018, sources told RFA that a 10-year-old boy from Kashgar (Kashi) prefecture's Makit (Maigaiti) county, whose parents were being held in a re-education camp, had drowned in the area's Zerepshan River.
And in March last year, sources reported that eight-year-old Esma Ahmet, whose father was being held at a re-education camp, had suffered burns to nearly 60 percent of her body a month earlier when a stove overturned at her home in Hotan's Guma (Pishan) county, and was in urgent need of medical treatment.
While Beijing initially denied the existence of the camps, China this year changed tack and began describing the facilities as "boarding schools" that provide vocational training for Uyghurs, discourage radicalization, and help protect the country from terrorism.
But reporting by RFA's Uyghur Service and other media outlets suggest that those in the camps are detained against their will and subjected to political indoctrination, routinely face rough treatment at the hands of their overseers, and endure poor diets and unhygienic conditions in the often overcrowded facilities.
Mass incarcerations
Mass incarcerations in the XUAR, as well as other policies seen to violate the rights of Uyghurs and other Muslims, have led to increasing calls by the international community to hold Beijing accountable for its actions in the region.
At the Ministerial to Advance Religious Freedom in Washington in July, U.S. Secretary of State Mike Pompeo called the internment camps in the XUAR "one of the worst human rights crises of our time" and "truly the stain of the century."
U.S. Vice President Mike Pence also slammed the camps "where [Uyghurs] endure around-the-clock brainwashing" and survivors have described their experience as "a deliberate attempt by Beijing to strangle Uyghur culture and stamp out the Muslim faith."
U.S. Ambassador-at-Large for International Religious Freedom Sam Brownback recently told RFA in an interview that countries around the world must speak out on the Uyghur camps, or risk emboldening China and other authoritarian regimes.
The U.S. Congress has also joined in efforts to halt the incarcerations, debating legislation that seeks accountability for China's harsh crackdown on the Uyghurs. The Uyghur Human Rights Policy Act would appoint a special State Department coordinator on Xinjiang and require regular reports on the camps, the surveillance network, and the security threats posed by the crackdown.
Reported by Shohret Hoshur for RFA's Uyghur Service. Translated by Alim Seytoff. Written in English by Joshua Lipes.
Source: Copyright © 1998-2016, RFA. Used with the permission of Radio Free Asia, 2025 M St. NW, Suite 300, Washington DC 20036. https://www.rfa.org.