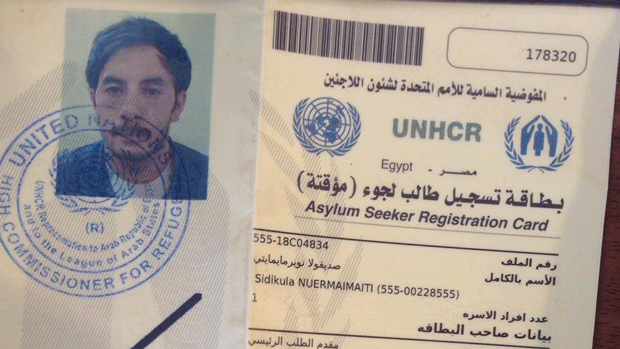 A Uyghur man sent back to Cairo this week after trying to enter Saudi Arabia has disappeared in Egyptian custody, amid fears he may now be forcibly returned to China, family members say.
Sidiqulla Nurmemet (in Chinese, Sidikula Nuermaimaiti) had flown from Cairo to Jeddah in Saudi Arabia on Oct. 23, Nurmemet's cousin Abdusalam, who lives in Jeddah, to RFA's Uyghur Service in an interview.
"Since he has some relatives in Jeddah, and because life in Egypt was getting hard, he decided to come to Saudi Arabia to live with his cousins. He got a temporary visa to Saudi Arabia and flew to Jeddah from Cairo at 12:50 a.m."
Abdusalam said he had spoken to Nurmemet on the phone after his arrival at the Jeddah airport.
"He told me that [border control officers] were asking him for money to pay for an electronic visa, and that although he had cash, they wanted him to use a credit card. So I brought my own credit card and went to greet him there," Abdusalam said.
Officers at passport control told Nurmemet that he looked like someone who had earlier entered Saudi Arabia on another passport, and that since he was now showing a new passport they wouldn't allow him to enter the country and would have to send him back to Egypt, Abdusalam said.
"I saw him being taken away. It broke my heart. He had never been to Saudi Arabia before," he said.
Also speaking to RFA, a friend living in Turkey said that Nurmemet had later sent a voice message at 11:20 a.m. saying he had just landed in Cairo and was waiting to pass through passport control.
He has not been heard from since, his friend said, speaking on condition of anonymity.
"He saw my last message, but he didn't respond, so I assume that his phone had been taken away by the police."
"We hired an Egyptian lawyer, but he was not allowed to meet with him, and we have been told that the Egyptian authorities are conducting an investigation into why [Nurmemet] was barred from entering Saudi Arabia," he said.
Nurmemet's friends now fear that Egypt may deport him to Xinjiang, where as a member of the region's ethnic Uyghur minority he is at risk of political persecution and imprisonment, he said.
"It has been two days since he disappeared," he said. "We ask for the international community's help to stop him from being deported back to China," he said.
Calls by RFA to the Jeddah Immigration Office were turned away on Friday, with officers declining to comment, saying they don't speak English.
Months in hiding
Born in 1989 and a native of Hotan (in Chinese, Hetian) prefecture in northwestern China's Xinjiang Uyghur Autonomous Region (XUAR), Nurmemet had come to Egypt in 2014 to study Islam at Cairo's Al-Azhar University, and had gone into hiding following a mass deportation of Uyghurs back to Xinjiang in the summer of 2017.
He has a family and two children in his hometown in Hotan, family members said.
Beginning in early July 2017, more than 200 Uyghurs, many of them religious students at Al-Azhar, were detained in Egypt after being rounded up in restaurants or at their homes, with others seized at airports as they tried to flee to safer countries, sources said in earlier reports.
Dozens were then deported back to Xinjiang, where rights groups said they faced a serious risk of arbitrary detention and torture, while many who had earlier gone home on their own in response to a Chinese government order to return for "registration" were also taken into custody.
XUAR authorities are believed to have detained some 1.5 million Uyghurs and other Muslim minorities accused of harboring "strong religious views" and "politically incorrect" ideas in a vast network of internment camps since April 2017.
Among factors leading to Uyghurs' internment is having traveled to foreign countries or having relatives who live there.
Reported by Gulchehra Hoja. Translated by Mamatjan Juma. Written in English by Richard Finney.
Source: Copyright © 1998-2016, RFA. Used with the permission of Radio Free Asia, 2025 M St. NW, Suite 300, Washington DC 20036. https://www.rfa.org.