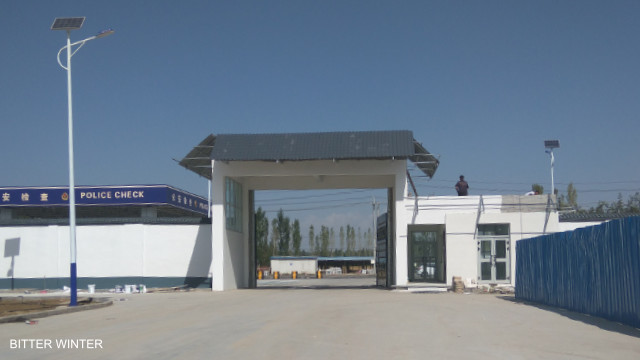 China's treatment of ethnic Uyghurs in the Xinjiang Uyghur Autonomous Region (XUAR) drew major criticism from 23 members of the United Nations Tuesday as they backed a British statement condemning the mass detention and surveillance of the ethnic Muslim minority at the hands of the Chinese government.
The statement, delivered by U.K. Ambassador Karen Pierce, addressed issues "regarding credible reports of mass detention; efforts to restrict cultural and religious practices; mass surveillance disproportionately targeting ethnic Uighurs; and other human rights violations and abuses."
"We call on the Chinese government to uphold its national laws and international obligations and commitments to respect human rights, including freedom of religion or belief, in Xinjiang and across China," said the statement, which included support from the United States, Japan, Australia, Canada and several Western European countries.
It also called on China to stop the arbitrary detention of Uyghurs and allow U.N. human rights and special procedures officials "immediate unfettered, meaningful access to Xinjiang."
The Munich-based World Uyghur Congress (WUC) exile group applauded the statement, but said that the response from the U.N. has been "far from adequate."
"Although we have been deeply disappointed from the response from the United Nations system, which is obligated to address abuses on this scale, it is encouraging to see voices still speaking out loudly," WUC President Dolkun Isa said in a statement Wednesday.
Following the British statement critical of China, 54 other members of the U.N. signed off on a Belarus statement that commended China's "remarkable achievements in the field of human rights."
Many of those countries have been on the receiving end of human rights criticism, including Russia, Pakistan and the Democratic Republic of Congo.
China calls critical statement slanderous
China's Foreign Ministry Spokesperson Geng Shuang accused the supporters of the U.K. statement of "attacking and slandering" China calling the statement an "anti-China show" supported by only a few Western countries, during a press conference Wednesday.
He also drew attention to the human rights records of the U.S. and U.K., saying they were "nothing to be proud of."
"They are in no position at all to criticize others," said Geng.
"We advise them to take off the mask of "human rights guardians", stop politicizing the human rights issue and applying double standards, and stop interfering in others' domestic affairs under the cover of human rights," he said.
Mass incarcerations in the XUAR, as well as other policies seen to violate the rights of Uyghurs and other Muslims, have led to increasing calls by the international community to hold Beijing accountable for its actions in the region.
In September, at an event on the sidelines of the United Nations General Assembly in New York, U.S. Deputy Secretary of State John J. Sullivan said that the U.N. has failed to hold China to account over its policies in the XUAR and should demand unfettered access to the region to investigate reports of the mass incarceration and other rights abuses against Uyghurs.
House committee greenlights Uyghur rights act
Meanwhile in Washington, a bill that directs the U.S. government to prepare reports on China's treatment of Uyghurs was passed by the Foreign Affairs Committee of the U.S. House of Representatives Wednesday, clearing a major hurdle towards becoming law.
The committee added an amendment to Senate Bill 178, the Uyghur Human Rights Policy Act that would include sanctions and export restrictions to prevent U.S. technology supply chains from being utilized to help China surveil and identify people through facial or voice recognition, or biometrics.
"We're talking about concentration camps," said Representative Chris Smith (R-N.J.) while discussing the importance of the bill.
"The surveillance at all levels of [Uyghurs'] lives is unconscionable and it's reminiscent of what the Nazis did, in terms of rounding people up, torturing them, and putting them into forced labor," he added.
The bill was introduced by Senator Marco Rubio (R-FL) in January and was passed in the Senate on Sept. 11.
It must now pass through the intelligence and judiciary committees before it is sent to the president to be signed into law.
The Washington-based Uyghur Human Rights Project issued a statement welcoming the congressional action that they said "forcefully condemned" the Chinese government's human rights crimes against Uyghurs.
"The House action on this bill today sends a strong message that all branches of the U.S. government are taking action to counter the human rights abuses taking place in East Turkestan," said UHRP Director Omer Kanat, using a name preferred by many Uyghurs to refer to their historic homeland.
Source: Copyright © 1998-2016, RFA. Used with the permission of Radio Free Asia, 2025 M St. NW, Suite 300, Washington DC 20036. https://www.rfa.org.