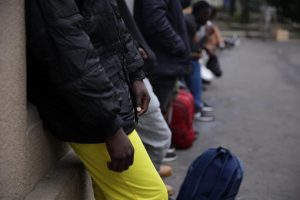 Paris child protection authorities employ inadequate procedures that arbitrarily deny formal recognition as a child to unaccompanied migrant children, denying many the services they desperately need.
Human Rights Watch found, similar to the situation it reported in July 2018, that authorities are using summary age assessments to determine eligibility for services, in violation of international standards and French regulations. As a result, children are deprived of access to essential services they are entitled to, including housing, education, and health services. In the meantime, many must sleep on the streets.
"Migrant children who arrive in Paris alone are living in the streets because of unfair procedures," said Bénédicte Jeannerod, France Director of Human Rights Watch. "Child welfare authorities in Paris should make sure that no child faces danger because of slipshod and arbitrary assessments of their age and their needs."
Paris officials said that they already had taken steps to address the problems even as Human Rights Watch issued its report in July outlining the concerns. But interviews with children who sought recognition of their status in August and September and a review of documents indicate that little had changed.
French regulations require authorities to follow comprehensive, multidisciplinary age assessment procedures, ordinarily meaning interviews of several hours in duration.
In a typical case, a 16-year-old Afghan boy told Human Rights Watch that authorities concluded he was not a child after speaking with him for 30 minutes the day he arrived in Paris. Similarly, a humanitarian group tracked the cases of about 100 youths who sought formal recognition as children in August and September and found that 60 percent had interviews of only about 20 minutes.
Unaccompanied migrant children in France are entitled under French law to housing, education, and other services. However, authorities must formally recognize them as children for them to gain access. There are ssignificant differences in material benefits and legal status available to child migrants under the Family and Social Action Code (Code de l'action sociale et des familles) and the immigration law as compared with adult migrants, creating incentives for young adults to misrepresent their age. If authorities have serious doubts about an individual's claim to be under 18, they can take appropriate steps to determine age, provided that they do so in line with appropriate standards that ensure respect for their rights and dignity.
The regulations also allow unaccompanied children to receive emergency shelter for five days, and in some cases more, before their interview. Aid workers stressed the importance of allowing unaccompanied children some time to recover from their journeys before undergoing age assessment interviews. Sophie Laurant, coordinator of Médecins du Monde's Programme for Unaccompanied Minors, told Human Rights Watch that a period of recuperation after the child arrives in the city is imperative for a proper assessment.
But in many cases, authorities interview unaccompanied children immediately after they go to the the Paris evaluation facility (Dispositif d'evaluation des mineurs isolés étrangers, DEMIE), meaning that children must answer detailed questions without understanding the purpose of the interview. Some children told Human Rights Watch they had just arrived in Paris and had not slept, showered, or changed clothes before their interview. "I was really tired. I don't even remember what they asked me and what I told them," the 16-year-old said of his interview, which took place in mid-September.
Authorities rely on invalid grounds for concluding that a person is an adult. Youths are often denied recognition as children if they lack identity documents. Work in the home country or on the journey to Europe is also regularly cited as a basis for negative decisions, though many children around the world work. And child protection authorities frequently relied on subjective factors such as "bearing" or comportment.
Human Rights Watch found that Paris child welfare authorities have made some slight improvements in their procedures over the past three months. Just one of the children Human Rights Watch interviewed in August and September was turned away at the door, a frequent practice earlier in the year. Even so, humanitarian groups saw other cases of children rejected in that way at the beginning of September.
In another improvement over past practice, all but one of the children interviewed received a letter from the Directorate of Social Action, Children, and Health (Direction de l'action sociale, de l'enfance et de la santé, DASES) indicating the reasons for the refusal to formally recognize them as children. A written notification allows young migrants to appeal the decision before the juvenile judge.
Appeals take several months or longer, during which time young migrants cannot get child protection services or emergency accommodation for adult migrants. Some receive help from aid groups and networks of volunteers. But many live on the streets, where they are exposed to many risks, including exploitation and illegal or other hazardous work. "On the street, you see some kids who sell hashish, other drugs – they have nothing to eat," said a 15-year-old boy from Guinea. "You're forced to take risks."
While they are appealing negative age assessments, unaccompanied children also have no access to school or apprenticeships, which they would otherwise receive.
Paris child protection authorities should ensure that all unaccompanied migrant children receive the comprehensive, multidisciplinary evaluation to which they are entitled under French regulations, Human Rights Watch said. Child protection authorities should also ensure that unaccompanied children receive emergency shelter and adequate information about the purpose of the evaluation beforehand, to allow them to recuperate from their journeys and prepare and effectively take part in the evaluation. Children should be provided with shelter while their cases are under appeal.
"Child protection authorities in Paris have begun the process to meet their obligations under French and international standards," Jeannerod said. "They should urgently see through further reforms to ensure that age assessment procedures fulfil the purpose of French regulations and international standards."
In a report published in July based on research conducted between February and June 2018, Human Rights Watch documented the arbitrary and flawed nature of age assessment procedures for unaccompanied migrant children seeking recognition of their status as children from child welfare services in Paris. Human Rights Watch undertook additional research in August and September to investigate authorities' claims that they had addressed the serious shortcomings identified in the July report.
Human Rights Watch interviewed 19 migrant adolescents in Paris who identified themselves as children under age 18. The total included those who presented themselves between July 4 and September 20 at the Paris evaluation facility to have their age assessed. Human Rights Watch also interviewed humanitarian workers and lawyers working with young migrants and reviewed 21 denial letters issued by the Directorate of Social Action, Children, and Health (Direction de l'action sociale, de l'enfance et de la santé, DASES).
Summary, Flawed Interviews
Children who visited the evaluation office in August and September said that they were assessed in interviews lasting from 2 to 30 minutes, with the exception of one child who was interviewed for more than one hour.
Consistent accounts from two humanitarian organizations suggest that a large number of children going to the office receive a short interview of about 20 minutes, which almost always seems to end with an oral denial and instructions to return the following day for the written decision. A few children each week receive an appointment for a full interview.
Some youths continue to be summarily turned away at the door without being interviewed (a practice known in French as a "refus guichet"). A 16-year-old Guinean boy told Human Rights Watch on September 20 that the receptionist had summarily rejected him at the door that morning. "They told me they had already seen me . . . and not even a minute later I had to leave," he said, adding he had not been there before. Two humanitarian associations described similar cases, albeit in smaller numbers than in the first half of 2018.
Child protection authorities are permitted to refuse access summarily to people who are clearly over 18. When Human Rights Watch met in May with an official from the French Red Cross, which carries out age assessments in Paris under an agreement with authorities, he said as an example, that a person who appeared to be in his 40s would be turned away without an interview. But none of the youths Human Rights Watch spoke to who said they had been refused interviews appeared to Human Rights Watch researchers to be clearly over 18.
French regulations say that interviews should be conducted in a manner "characterized by neutrality and compassion," and international standards require a "safe" environment and "fair" treatment, in a way that is sensitive to the child's age, gender, psychological maturity, and emotional state.
The research between February and June 2018 revealed that the authorities were not fully complying with these standards, and the accounts from youths interviewed in August and September suggest that these problems persist. In a typical account, a 16-year-old boy from Cote d'Ivoire said on August 29 that his interview two weeks earlier made him uncomfortable, impeding his ability to tell his story: "I felt embarrassed. He [the evaluator] didn't make me feel comfortable. I can see they're mean, not nice to me."
The staff do not always conduct interviews in a language that unaccompanied children understand. Médecins Sans Frontières has seen several such cases. They cited the case of an Ethiopian boy assessed in English even though he was unable to communicate details of his background with Médecins Sans Frontières staff in that language.
Adequate Access to Temporary Shelter
French regulations require authorities to provide five days of emergency shelter while they investigate the child's situation. Nevertheless, most of the youths interviewed were evaluated as soon as they arrived at the office, with no time for rest and recuperation even though many had just arrived in Paris after weeks or months in transit.
Instead, many unaccompanied migrant children receive a single night of emergency temporary shelter, and then only after their interview. Only two children interviewed said they received temporary shelter before their interviews, one for a week and a half and the other for two weeks.
The group that collected about 100 reports from youths who went to the DEMIE in August and September estimated on that basis that "[a]bout 60 percent are assessed immediately and given a hotel room for only one night before receiving their rejection letter the next day, and about 40 percent are given a shelter for a few nights before being assessed during a longer interview, currently on average for 10 nights."
Time for rest and recovery before being evaluated is crucial for accurate age assessments. Sophie Laurant, Coordinator of the Unaccompanied Minors Program at Médecins du Monde, said: "Given their profile, story and [health] status when they arrive in France, a period of respite is imperative, and access to physical and psychological care is needed without delay. A youth can only be properly assessed if he is no longer in a state of suffering (physical trauma, psychological wandering, stupefaction, post-traumatic stress disorder, etc.), if he understands what is happening, why the evaluator asks this or that question."
Médecins Sans Frontières, which received 129 children in its Center for Unaccompanied Migrant Children between July 1 and August 31, said that these children are physically and psychologically exhausted when they arrive, after very difficult journeys, whatever their route.
Arbitrary Grounds for Denial
In an improvement over the practice in early 2018, youths now regularly receive written denial letters. Nevertheless, denial letters issued in July, August, and September that Human Rights Watch examined continue to cite grounds that appear both subjective and arbitrary.
The letters employ generic justifications, often in identical wording, with little or no reference to the child's individual background or other details of the interview. The Directorate of Social Action, Children, and Health issued most of these denial letters the day after children were interviewed.
The absence of identity documents, or the fact that documents presented "cannot be definitively associated" with the child being assessed, continue to be cited as grounds for rejection, even though many people leave their homes without their identity documents or lose them along the way, or birth certificates do not include a photo. "The person told me directly, 'There is nothing we can do for you,' because I don't have a birth certificate," said a child interviewed in August. "I was told to come back the next day to pick up the rejection paper."
Working before or during the migration journey, or traveling alone, continues to be seen as a sign of maturity, and therefore of adulthood, though many children around the world travel alone or work, as Human Rights Watch has documented in many countries. Eighteen of the twenty-one letters reviewed mentioned traveling alone, working, or making the migration journey or financing the trip alone as signs that the person is not a child.
A letter to a Cameroonian boy who gave his age as 17 notified him that the refusal refuses to recognize him as a child was based on the ground that "the autonomy [he has] demonstrated during his migratory journey – by working to finance it – is not compatible with the age [he declares]."
As was true for the decisions reviewed for the July report, if a child gives a detailed account of their life and communicates well, that can be a cause of rejection because it is perceived as a sign of maturity. Conversely, a lack of precision or consistency is cited as a reason for rejection.
The letter rejecting a 15-year-old Senegalese boy said that "[his] story is told in a non-spontaneous way" and that "[his] migratory journey is insufficiently detailed and lacks precision."
These demands seem excessive for adolescents who have just arrived from a long and sometimes traumatic migration journey, are often living on the street, and have to go through a stressful interview. This requirement for precision and consistency is also at odds with the brief duration of the many of the interviews, which do not allow for a detailed account.
Other frequent grounds for rejection are that the "academic knowledge [of the individual being evaluated] does not correspond to the life path described and is clearly out of step with that of a teenager of the [declared] age," or that the youth displays significant "reasoning and elaboration skills" or "a mature mode of communication." Brief and ad hoc assessments cannot capture the many variables that may explain why a person may appear more articulate, more confident, or generally seem to have more knowledge than other children of the same age with different life experiences.
Sixteen of the twenty-one rejection letters reviewed relied on the youth's "overall posture" to deny recognition as a child. This subjective criterion is not based on any validated instrument for assessing age through behavior.
The National Red Cross Delegate for Children and Families told Human Rights Watch at the end of May that the Red Cross staff who do the Paris evaluations did not have any recognized evaluation tools to assess age on the basis of attitude, comportment, and behavior. Instead, examiners appear to rely on subjective judgments to reach arbitrary determinations as to who is a child and who is not. These decisions have immediate and long-term consequences for unaccompanied migrant children.
French regulations and international standards call for assessing age through a framework that considers psychological, developmental, and cultural factors, and for undertaking assessments with skill and sensitivity. The procedures used should afford the benefit of the doubt "such that if there is a possibility that the individual is a child, s/he should be treated as such."
Appeal Delays
A child who receives a negative age assessment can appeal to the juvenile court, but appeals can take months. Ladji, a 14-year-old Ivorian boy, said that officials rejected his application in December 2017, but that he had not received the judge's decision as of September.
Delays increase during the summer, lawyers said, because the summer holidays slow the activity of the juvenile court so that judges summon fewer children to hear their appeals.
Children on the Street
A consequence of flawed age assessment procedures is that many children are left to fend for themselves. Unless private citizens take them in, they are left on the street.
Sébastien D., a 17-year old Cameroonian boy, had been sleeping on the streets since officials rejected his application on August 1. At the time Human Rights Watch spoke with him, he had been sleeping in a park in Paris for 17 days. "Since I was rejected by the DEMIE, I have been sleeping on the street, at Place de la République: […] To sleep, you look for a corner, you lay down a piece of cardboard. If you find an older gentleman, he might give you a blanket. Because at night it can be very cold."
Mamadou, a 16-year-old Malian boy, said: "The DEMIE gave me a paper explaining how to call the 115 [the emergency number that adults in France can call to find temporary accommodation] to get a place to sleep. I called the 115, but they told me they couldn't take me because I was a minor. I'm not going to say I'm over 18 just so I don't sleep on the street!"
Alioune, a 16-year-old Senegalese boy, had been sleeping in a park for three weeks when Human Rights Watch interviewed him in August. The Paris officials had rejected his application two months earlier, and he was still waiting for the result of his appeal.
The solidarity and generosity of citizens who agree to provide shelter for unaccompanied children is commendable but cannot be a sustainable solution. Private assistance is too uncertain and variable, depending both on the number of citizens offering to host children and also on the number of unaccompanied children arriving on French territory. Humanitarian associations told Human Rights Watch that a significant number of children were left on the streets as hosts went on vacation during the summer.
Human Rights Watch.Paris: Dire Situation for Migrant Adolescents Arriving Alone. © 2018 by Human Rights Watch.